"They're coming to get you, Barbara."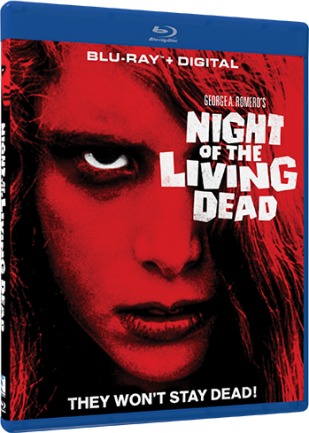 George A. Romero's groundbreaking debut feature, Night of the Living Dead, which introduced the world to a whole new meaning for the word "zombie," is finally getting a U.S. Blu-ray release!  Better yet, it's coming in time for Halloween.
After many rumors and much speculation that the Criterion Collection was working on the title, today Mill Creek officially announce an October 17th Blu-ray release of George A. Romero's Night of the Living Dead – 50th Anniversary Edition.  The announcement was received with some disappointment from the crowd hoping for a Criterion release.  However, I think that any dismay is unwarranted (or at the very least presumptuous).
Keep in mind, Night of the Living Dead is a public domain title, so the Mill Creek release doesn't necessarily negate an eventual release from Criterion or any other label.  Also, there is no reason to believe that Mill Creek's release will be less than stellar.  Mill Creek has produced some excellent Blu-rays in past years including Shakes the Clown, The 5,000 Fingers of Dr. T., and an excellent transfer of Orson Welles' Lady From Shanghai.  Plus, any blu-ray release will likely be an improvement over any DVD copy currently available.
So let's celebrate the U.S. Blu-ray debut of Night of the Living Dead and keep an open mind until the product hits store shelves.
Cheers,
garv