In 1927, The Jazz Singer took the nation by storm with a new cinema novelty — sound.  Looking back, it's a shame that sound hit when it did, because motion pictures had just reached a zenith in visual storytelling.  Directors such as F.W. Murnau, Abel Gance, and William Wellman were producing masterpieces that spoke to citizens of all nations, with no language barrier.  The movies from 1929 into the early Thirties took a step back, as films became studio-bound and tethered within a few inches of primitive audio recording equipment.  It would take years for the movies to catch up visually with the free flowing cinematography of the late silent era.  How many more masterpieces would have been produced if sound hadn't come around until 1935?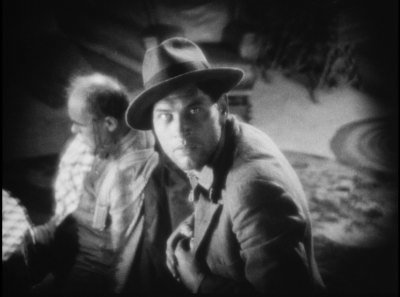 One of the best examples of the art of late silent visual storytelling is William A. Wellman's Beggars of Life (1928), a loose adaptation of Jim Tully's autobiographical stories of his life on the open road as a tramp.  The picture has a boffo opening.  Jim (Richard Arlen), a homeless vagabond, tries to beg a meal from an unresponsive homeowner, only to discover that the resident is dead.  Through a series of masterful photographic dissolves, we find out that the dead man was killed in self defense by Nancy (Louise Brooks), an orphan who was regularly abused and pawed upon by her lascivious step-father.  With Nancy disguised in men's clothes, Jim tries to help her make her way to Canada to avoid the law, while showing her the ropes of life as a hobo.  However, Nancy and Jim's escape hits a obstacle when they encounter a gang of hobos, including a larger-than-life character known as Oklahoma Red (Wallace Beery).
For anyone familiar with Preston Sturges' screwball comedy Sullivan's Travels (1941), Beggars of Life seems like the type of film that John L. Sullivan (Joel McCrea) would have made had he initially gotten his way to make his picture about the downtrodden man.  However, Wellman's film is likely light-years better than what Sully would have produced.  The film is exciting, often funny, thought-provoking, and simply gorgeous to look at.  Between Wellman's direction and Henry Gerrard's beautiful cinematography, Beggar's of Life is a master class in the art of visual storytelling, utilizing dissolves to clearly convey the passing of time and circular-framed camera iris shots to focus the audience's attention.  The location photography gives the film an authentic feel, and various train chases and stunts are filmed in as exciting a manner as the aerial stunts in Wellman's previous Academy Award-winning Wings (1927).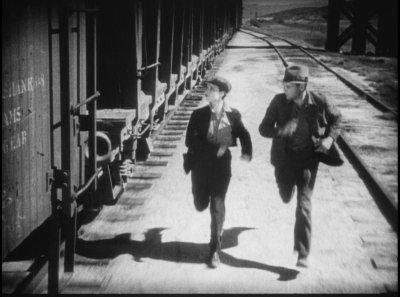 Fans of the silent beauty Louise Brooks, or of the mush-faced character actor Wallace Beery, should consider Beggars of Life required viewing, as it features performances on-par with their best-loved work.  Beery receives top billing here, and although his character is a supporting role, he really owns the second half of the picture.  After all, Wallace Berry was born to play a hobo.  Still Louise Brooks holds her own, and her character is no damsel in distress.  While she initially needs help from Arlen's character, as the film proceeds, she often takes charge and is the one doing the rescuing.
While my own tastes for silent film tend to lean towards slapstick comedy, I am grateful to Kino Lorber for making this classic drama available to audiences in the digital age.  I enjoyed it tremendously and look forward to watching it many times in years to come.
USA/B&W-81m./Dir: William A. Wellman/Wr: Benjamin Glazer (from a story by Jim Tully)/Cast: Wallace Beery, Louise Brooks, Richard Arlen, Robert Perry, Roscoe Karns, Edgar Washington
If You Like: If you saw and enjoyed William A. Wellman's Academy Award-winning Wings (1927), you will likely like Beggars of Life even better.  Wellman thought it was the best of his silent features.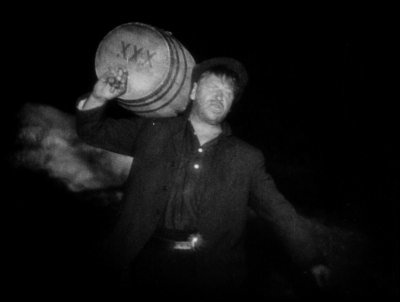 Video: Kino Lorber's  Beggars of Life [Blu-ray]
  features a new 2K restoration from 35mm elements preserved by the George Eastman Museum.  The image is gorgeous, with a silvery nitrate glow. Occasional shots display more damage or image degradation than others, but overall it is an above-average presentation for a film of this vintage.
The package includes the following extras:
An audio commentary by actor William Wellman, Jr.
A second audio commentary by Thomas Gladysz, founding director of the Louise Brooks Society
A booklet essay by film critic Nick Pinkerton, which includes on set remembrances by Louise Brooks.
A beautiful musical score compiled and performed by The Mont Alto Motion Picture Orchestra, employing selections from the original 1928 Paramount cue-sheet (It was common practice in the silent era to send theaters suggested songs to play to accompany specific scenes).
Reverseable cover artwork, reproducing two different original poster images.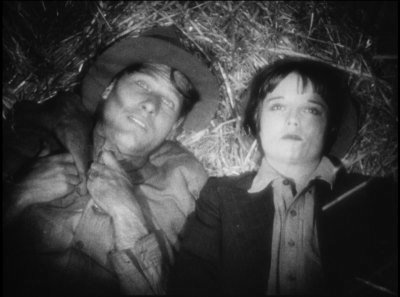 Streaming: Unrestored, lower resolution copies of Beggars of Life can be found on YouTube and elsewhere, but for a film so dependent on images, you should see it in the best quality.
More to Explore: In 1933, the heart of the Great Depression, when most directors were focusing on musicals and other light-hearted fare, Wellman directed another serious examination of life of the homeless downtrodden classes in Wild Boys of the Road, which is available in the DVD set Forbidden Hollywood Collection: Volume Three (Other Men's Women / The Purchase Price / Frisco Jenny / Midnight Mary / Heroes for Sale / Wild Boys of the Road)
.
Trivia: A version of Beggars of Life was created for theaters that were equipped for sound.  In that version, audiences heard Wallace Beery sing as he made his entrance into the film.  Unfortunately, only the completely silent version of the movie survives.  Berry's roguish entrance must have made an even more striking impact on audiences when his voice suddenly appeared in the previously silent picture.
For More Info: Consult the book Beggars of Life: A Companion to the 1928 Film
by Thomas Gladysz (who is one of the commentators on the Blu-ray).