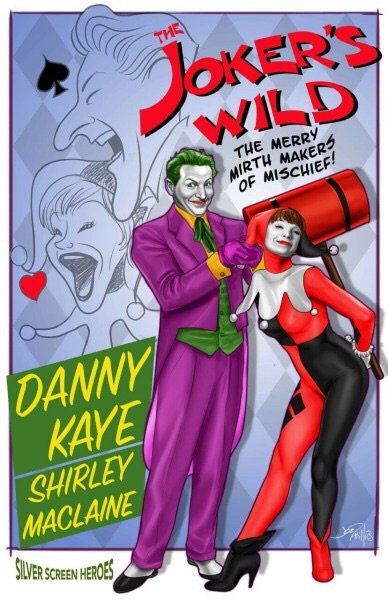 Joe Phillips is a modern-day artist, illustrator, animator, designer, and sculptor working out of San Diego who has a love of classic Hollywood.  In the past, he has produced two series of Silver Screen Heroes posters, which imagined actors and actresses from Hollywood's golden age starring in the type of comic book superhero movies that are in vogue today.  I proudly display an autographed copy of his "Joker's Wild" print with Danny Kaye as the Joker and Shirley MacLaine as Harley Quinn (how's that for casting) in my home office.
Joe is once again revisiting the world of Silver Screen Heroes, but this time he is reimagining them in the style of the late, great Al Hirschfeld ("hidden NINAs" and all).
Sets are now available for purchase in two formats:
A set of 24 9×12 prints for $100
Or a set of 24 postcards for $40
The 24 images are posted below.  And, ya ain't seen nuthin' yet.  Joe is already hard at work on Volume 2 in this series!
To order, send Joe a personal message through his Facebook page or his @joephillipsart Twitter account.
If you don't use either of those social media platforms, you can use the "Contact" form on joephillips.com.
Below are the 24 images included in the set: