Looking for the perfect gift for the movie lover in your life?  The Bottom Shelf Shop is now open, with hand-picked Blu-ray, DVD, and film-related book recommendations.  Just click on the "Shop" links in the menus at the top of the site.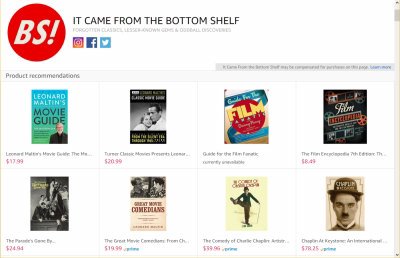 Plus if you purchase something from Amazon after entering the shop (or through any of our Amazon links), we'll receive a small Amazon credit to help us purchase more films to review for the site.  You don't even have to purchase any of our recommendations.  Any Amazon purchase helps us out.
I'll add new products to the shop on a regular basis, so visit often.
By the way, here's an upcoming book title that I'm particularly excited about.  Death in the Desert: The Complete Guide to Spaghetti Westerns
by Howard Hughes isn't due out until August 30, 2018, but it appears to be well-worth the pre-order.  There has never been a good A-Z film guide on Spaghetti Westerns, and this tome promises 500 detailed film reviews by one of the leading experts on the subject.  It will easily earn a place of honor on my bookshelf.
Cheers,
garv