Don your reading glasses, fellow cinephiles,
From time to time, I will use this space to shine a spotlight on various film guides, reference books, and biographies that I feel should be on the bookshelf of every rabid film fan.  Since much of film language and the cult of super-stardom can be traced back to Charles Chaplin, it only seems fitting to start with the very best book ever written about the giant that they called "The Little Tramp."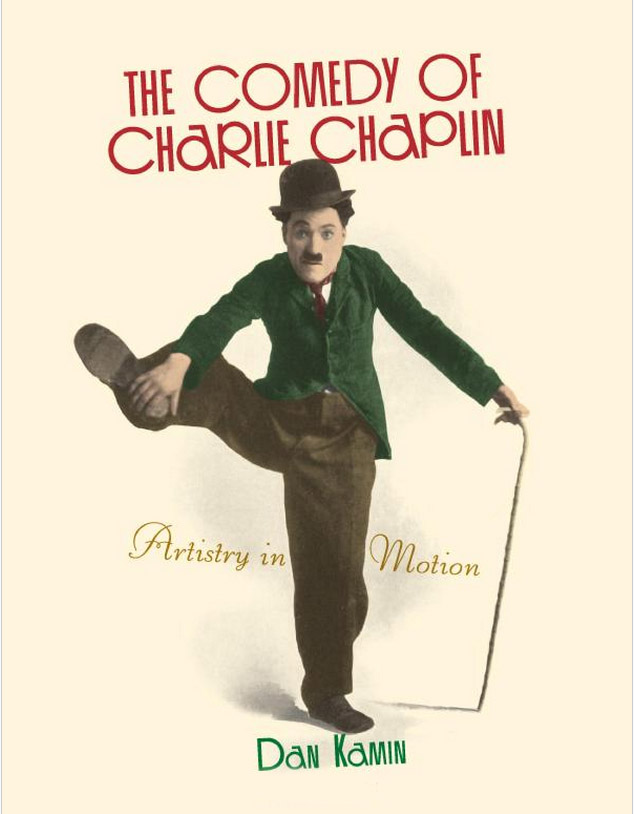 The Comedy of Charlie Chaplin: Artistry in Motion
by Dan Kamin
©2008 The Scarecrow Press, Inc
219 pages
There have been dozens of books written about filmdom's first megastar, from Chaplin's own My Autobiography to Walter Kerr's landmark study of silent film comedy, The Silent Clowns, to David Robinson's definitive biography, Chaplin: His Life and Art, to Jeffrey Vance's beautiful coffee table book, Chaplin: Genius of the Cinema.  While these books and many others have been excellent, they tend to fall into two basic categories–biographies or film studies.
Dan Kamin's tome, The Comedy of Charlie Chaplin: Artistry in Motion, is something different altogether.  It is a examination of Chaplin's art, focusing on what made his films so compelling to audiences of the time and what continues to make his work captivating to new generations experiencing his silent films in the modern era.  This is not merely a film study. It is a study of Chaplin's performances and the way he used the motions of his body to create timeless comedy.  The author is uniquely qualified to analyze and break down Chaplin's body movements, as Dan Kamin is a professional comedian and mime who developed the physical comedy sequences for the films Chaplin (1992) and Benny and Joon (1993) and who trained both Robert Downey Jr. and Johnny Depp for their roles.
Through Mr. Kamin's in-depth analysis of Chaplin's body movements, The Comedy of Charlie Chaplin: Artistry in Motion had an effect on me that no other book on Chaplin and his films has produced–it made me look at the comedian's work in a new way.  Just as the outtakes presented in the Kevin Brownlow and David Gill's breakthrough documentary, Unknown Chaplin, provided a new understanding into the way the comedian improvised and directed his films, Mr. Kamin's book provides new insight into Chaplin's compelling performances.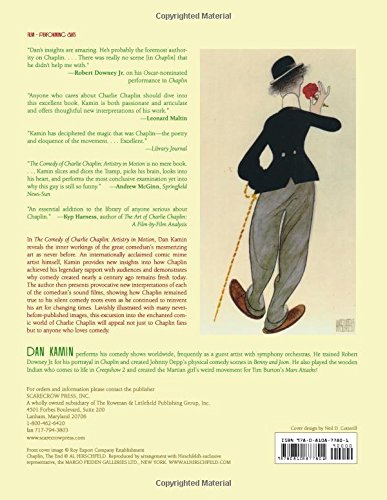 Of course, the book is much more than a detailed examination of Chaplin's movements. It also features coverage of the comedian's theatrical work and how he utilized and adapted his stage training when entering the movies, a detailed examination of the comedian's gags (including a breakdown of eight specific categories of Chaplin's signature transformation gags in which he treats one object as another), a look at the comedian's evolving character and the changing cast of characters that surrounded him as his films became more mature, an extensive analysis of how Chaplin dealt with the problem of adapting his comedy to the new medium of sound films, and a brief overview of the challenges Mr. Kamin encountered in trying to train Robert Downey Jr. to move like the great comedian for the film Chaplin.  Taken as a whole, I found The Comedy of Charlie Chaplin: Artistry in Motion to be the best examination of Charlie Chaplin's art in book form.  It receives my highest recommendation.
This essential film reference is available as a library-bound hardcover, a paperback, and a Kindle e-book: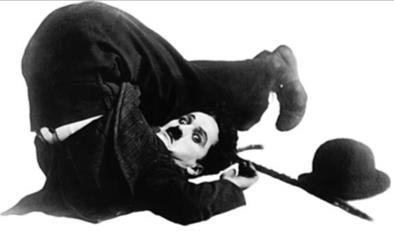 Dan Kamin also provided annotations for Charlie Chaplin's Red Letter Days: At Work with the Comic Genius, a collection of behind-the-scenes articles, originally written in 1916 to 1917 by Chaplin stock company regular, Fred Goodwins:

Related items: