For the release week of December 19th:
Wow!  There are a lot of major releases this week (which is quite unusual for less than a week before Chrismas).  I'm more excited about several of the runners-up this week than I am about some of my #1 picks in prior weeks.  So, without further ado…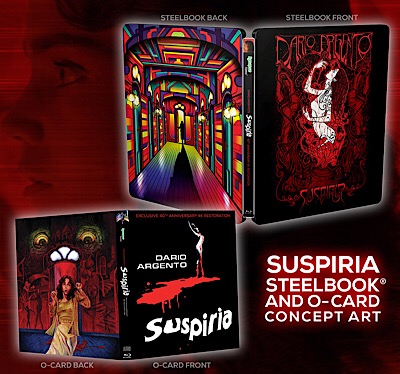 Garv's Pick of the Week: Suspiria: Limited Edition Steelbook [2 Blu-ray + CD / Synapse Films]
: Few home video releases receive as much tender loving care as Synapse's frame-by-frame 4K restoration of Dario Argento's seminal horror, Suspiria.  Synapse enlisted the help of original cinematographer, Luciano Tovoli, to ensure that every frame was color-corrected to his exacting standards.  The nearly "sold out" limited-edition steelbook is packed with special features and includes a soundtrack CD.
Additional Titles of Interest —
The Apartment (Limited Edition) [Blu-ray / Arrow Academy]
: This melancholic comedy may be Billy Wilder's best film (which is saying a lot).  Arrow Academy is giving the title the deluxe treatment, with copious extras and a 150-page hardcover book.
The Amicus Collection [Blu-ray / Severin]
: British horror fans will love this collection of three films from "The Studio That Dripped Blood."  Included are Asylum (1972), And Now the Screaming Starts! (1973), and The Beast Must Die (1974).
The Hospital [Blu-ray / Twilight Time]: A pitch black satire of the medical establishment from the writer of Network.  A serial murderer is killing off patients in George C. Scott's hospital by the most effective method — scheduling them for surgeries performed by the incompetent physicians.
Wuthering Heights [Blu-ray / Twilight Time]: The director of The Abominable Dr. Phibes adapts Emily Bronte's classic.
The Dain Curse (Mini-Series) [2 DVDs / Scorpion Releasing]
: James Coburn stars in a television mini-series adaptation of one of Dashiell Hammett's Continental Op novels.