Screen Archives Entertainment is having a $9.95 sale on select Twilight Time Blu-rays.  The sale is for 10 days only at screenarchives.com, and some titles may sell out, so act fast!
Below is the full information from the Screen Archives Entertainment Facebook Page.  Hey look.  All caps.
10 DAY TWILIGHT TIME SALE!
ALL TITLES LISTED BELOW FOR ONLY $9.95!
SALE BEGINS WEDNESDAY, SEPTEMBER 20TH AT 4PM EDT AND ENDS FRIDAY, SEPTEMBER 29TH AT 4PM EDT!
ORDERS MUST BE PLACED DURING THE SALE PERIOD TO OBTAIN THE SALE PRICING. NO PREVIOUS, CURRENTLY PENDING OR FUTURE ORDERS QUALIFY.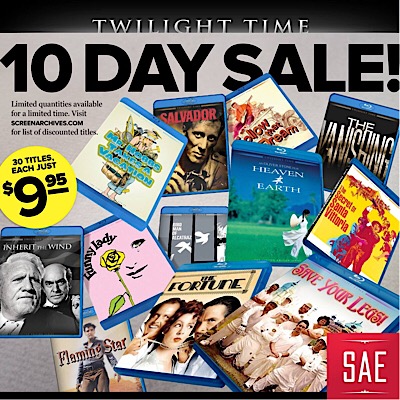 YENTL
FUNNY LADY
INHERIT THE WIND
HEAVEN & EARTH
THE FORTUNE
BIRDMAN OF ALCATRAZ
WHEN THE WIND BLOWS
FLAMING STAR
AUDREY ROSE
THE BELIEVERS
THE VANISHING
UNDER FIRE
THE KILLER ELITE
SALVADOR
THE DOGS OF WAR
CHE!
FOLLOW THAT DREAM
SECRET OF SANTA VITTORIA
RIFF RAFF / RAINING STONES
VIOLENT SATURDAY
RADIO DAYS
SAVE YOUR LEGS!
RESURRECTED
FATE IS THE HUNTER
THE FIRM
MR HOBBS TAKES A VACATION
RITA, SUE, AND BOB TOO
FEVER PITCH
CONRACK
TITUS