The movies are an entertainment medium, but they are also an art form.  Consequently, there is a huge variance in quality, even amongst well-made films.  There are good films.  There are great films.  There are four-star films.  Then, there are those very rare films that transcend the medium and are unique, undeniable works of art.  Lina Wertmüller's Seven Beauties is one of those.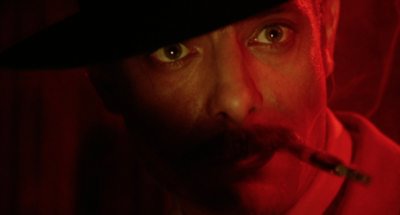 After a jazzy opening montage made up of equal parts World War II stock footage and irony, we meet Pasqualino, an army deserter, played by the amazingly expressive Giancarlo Giannini.  While Pasqualino scrounges to survive in the dark forbidding landscape of war-torn Germany, we are treated to vibrantly colorful flashbacks of his life before the war.  Pasqualino starts as a runty, want-to-be hood with a passel of sisters, a magnetic appeal to the ladies, and outsized sense of personal honor.  Before his journey — involving humiliation, murder, feigned insanity, imprisonment, and worse — comes to an end, the cocky runt will be forced to choose between his macho code and survival.
In terms of plot, that's all I'm going to tell you.  Seven Beauties is a constantly surprising film that should be experienced without prior knowledge and preconceptions.  It is a pitch black dark comedy that plums the absolute lowest depths of human cruelty and stupidity, without ever losing its sense of humor.  And while the film reveals dark, ugly truths about what Pasqualino calls "a rotten comedy, a lousy farce… called living," it is also a film capable of amazing beauty and deep compassion.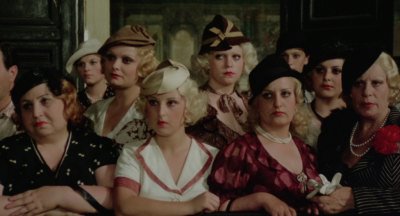 Wertmüller is at her most ambitious, both as a writer and director, on Seven Beauties; and her frequent collaborator, actor Giancarlo Giannini is at his most fearless.  Both are ably supported by the beautiful cinematography of Tonino Delli Colli and the lush score by Enzo Jannacci.
Seven Beauties is pure cinema at its best — a perfect blending of story, images, music, and performance.  It is nothing short of a masterpiece.
Italy/C-114m./Dir: Lina Wertmüller/Wr: Lina Wertmüller/Cast: Giancarlo Giannini, Fernando Rey, Shirley Stoler, Elena Fiore, Piero Di Iorio, Enzo Vitale, Roberto Herlitzka, Lucio Amelio, Ermelinda De Felice, Bianca D'Origlia, Francesca Marciano, Mario Conti
If You Like: Lina Wertmüller began her career in film as an assistant director on Federico Fellini's 8 1/2 (1962).  While Wertmüller's movies are more political and reality-based than Fellini's, I have a feeling that Fellini fans will also enjoy Wertmüller's work (especially Seven Beauties).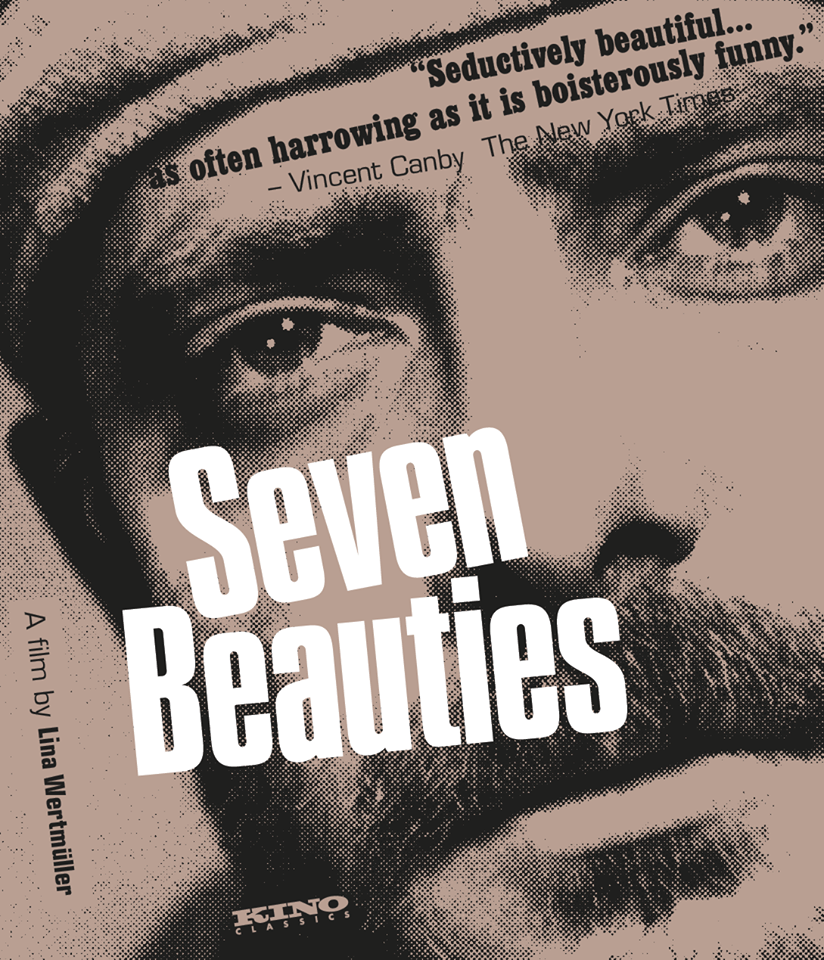 Video: Kino Lorber's Seven Beauties [Blu-ray]
presents a new 2K restoration of the film.  Since prior DVD releases of the title were non-anamorphic, any blu-ray release was bound to be a step up in picture quality; but Kino Lorber's release provides the best home video presentation imaginable.  If you can't see Lina Wertmüller's amazingly beautiful film on a big screen, this Blu-ray is the only way to go.  The color palette, which ranges from deep blacks to pale grays and whites to vibrant reds and greens, is supported perfectly throughout; and the image is sharp and accurately framed at 1.85:1.  The original Italian audio is clear and the music periodically sent pleasurable chills up my spine.  Finally, the Blu-ray disc includes a nice package of special features:
A 16 minute excerpt from documentary Behind the White Glasses, which specifically goes into the making, reception of, and lasting impact of Seven Beauties.  The excerpt includes comments from critic John Simon, director Martin Scorsese, and Wertmüller herself.
An 9 minute interview with director Amy Heckerling (Fast Times at Ridgemont High, Clueless, etc.), discussing the themes of the film, which she considers "the best movie ever made by a woman, and one of the best movies ever made, period."
Original trailers for several Wertmüller films
Booklet essays by director Allison Anders and film historian Clauda Consolati, Ph.D.
Streaming: Streaming copies of the film can be found on Amazon, YouTube, and elsewhere, but this gorgeous film should be seen either on the big screen or through Kino's definitive Blu-ray.
More to Explore: If you want to dig deeper into the director's filmography, Kino has also released the Lina Wertmuller Collection (Love & Anarchy, The Seduction of Mimi, All Screwed Up) (3-Disc Set) [Blu-ray]
, Swept Away [Blu-ray]
, Summer Night [Blu-ray]
, and Ferdinando and Carolina [Blu-ray]
.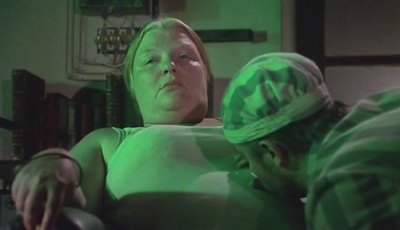 Trivia: Seven Beauties was nominated for four Academy Awards — Best Foreign Language Film, Best Original Screenplay, Best Actor, and Best Director.  This represented the first time a woman was nominated for the Best Director Oscar.
For More Info: Reference the documentary Behind the White Glasses
or the book Man in Disorder: The Cinema of Lina Wertmller in the 1970s (Troubador Italian Studies)
.