It's only October, but I can already name the best video release of the year.  That honor goes to Shout! Factory's Ernie Kovacs: Take A Good Look: The Definitive Collection
, which contains every surviving episode of a short-lived game show hosted by avant-garde television comedian Ernie Kovacs.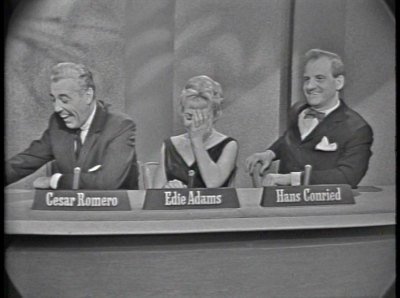 Kovacs has often been called "television's original genius," and the title is not hyperbole.  During Ernie's brief career — he died in a car accident at age 42 — he produced an amazing body of work, which was far ahead of its time; and much of it is still ahead of ours.  While his output consisted mostly of comedy variety shows, talk shows (he hosted The Tonight Show for a brief period), and television specials, the sketches and blackout gags that made up those shows would be considered "video art" today.  Kovacs was the first to realize that television was more than just radio with pictures; and he found that he could utilize the television camera, chroma key and other video tools, music, weird sound effects, forced perspective, sleight of hand, and an endless imagination to create bizarre, experimental images and illusions that have not been matched since.
The innovative nature of Kovacs' work would be enough to cement his place in television history.  However, just as importantly, Ernie was darned funny.  Graced with a dark, dry sense of humor and a laid-back refusal to take anything seriously, Kovacs was a charming, natural TV host.  Some of the most enjoyable moments in his surviving work are Ernie's self-deprecating ad-libs that follow a prop failure or gag that didn't go just right during a live broadcast.  Ernie also wasn't above leaving flubs, breakups, or moments of genuine affection with his wife and small-screen partner Edie Adams in the shows that he prerecorded.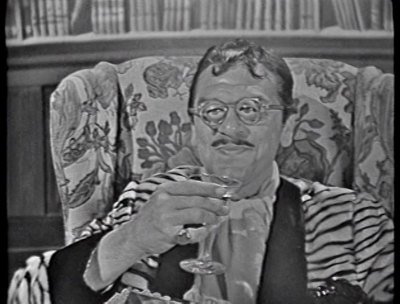 The idea of hosting a game show didn't particularly appeal to Ernie Kovacs, but the idea of a steady paycheck did.  Of course, once the program was in Ernie's hands, Take a Good Look ended up being anything but a standard television quiz show.  The rules are more or less as follows.  Ernie introduces a mystery guest to a panel of celebrities, most often Cesar Romero, Edie Adams, and Hans Conried.  The panel must guess the identity of the guest or the reason why that person had recently been in the papers, based on a series of three visual or audio clues.  If the panel figures out the identity of the guest after the first clue, the guest gets $50.  $100 is awarded if the identity is guessed after the second clue or $150 after the third.  If the panel is stumped, Ernie doubles the winnings and awards the guest a whopping $300 (pretty chintzy even in 1959 dollars).
After a couple of initial shows with fairly pedestrian clues, such as a photograph, sound effect, or stock footage, Ernie came to the realization that he could insert surreal, comedy mini-sketches throughout the show as the so-called "clues."  These comedy bits usually starred Ernie himself, along with his stock company (Bob Lauher, Peggy Connelly, and Jolene Brand), who would also appear in his subsequent television specials.  The "clues" were rarely helpful to the panelists, but Ernie didn't care, as long as the bits got laughs and he could reuse the gags or actual footage in "more important" future projects.  However, the celebrity panelists often protested the confounding clues with mock outrage during the filming of the shows.  "Ernie, ice cubes, Ernie?!  ERNIE, ICE CUBES?!!!" Hans Conried laments, after a particularly unhelpful clue.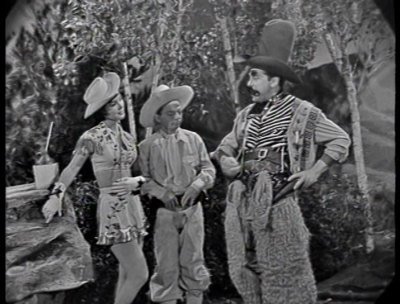 While most Kovacs fans would say that Ernie's television specials, such as Kovacs on Music and Silent Show are his most essential work, Take A Good Look is a perfect showcase for the comedian.  Throughout the forty-nine surviving episodes, we are treated to inventive sight gags and laugh-out-loud sketches, which include appearances by some of Ernie's most popular characters, such as silent Eugene, poet laureate Percy Dovetonsils, Hungarian chef Miklos Molnar, magician Matzoh Heppelwhite, and musical apes the Nairobi Trio.  We are also treated to Ernie at his most effortlessly charming.  Kovacs kibitzes with the panelists, flirts with his wife, makes up fake rules when explaining the game, ridicules the cheapness of the production, has the cameraman focus on the back of the Edie's head when she's talking, and basically breaks every standard of the game show format.
You wouldn't expect a quiz show with a premise centered around "why was this mystery guest in the papers recently" to have much of a shelf life, but with a brilliant, innovative comedian at the helm, Take a Good Look is still surprisingly fresh.  The show and this Shout! Factory box set present Ernie Kovacs at his loosest, and nothing could be more delightful.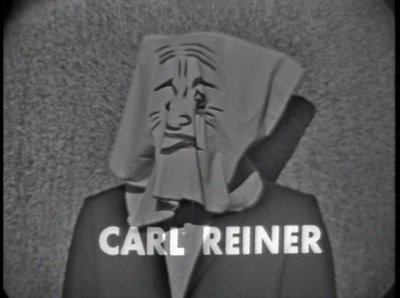 USA/B&W-24hrs/Dir: Barry Shear & Joseph Behar/Wr: Ernie Kovacs, /Cast: Ernie Kovacs, Bob Lauher, Peggy Connelly, Jolene Brand, Edie Adams, Hans Conried, Cesar Romero, Ben Alexander, Carl Reiner, Jim Backus, Zsa Zsa Gabor, Janet Leigh, Pat Harrington Jr.
If You Like: Fans of Match Game and other panel quiz shows may enjoy this bizarro, surrealist twist on the format.
Video: Shout! Factory's 7-DVD box set Ernie Kovacs: Take A Good Look: The Definitive Collection
contains all 49 surviving episodes of the 53-episode run.  It is amazing that the bulk of Take a Good Look survives in any form, as the network regularly reused video tapes and the show was not a ratings success.  (The show only stayed on the air as long as it did due to the fact that Kovacs fans actually purchased a lot of cigars from the sponsor, Dutch Masters.)  Take a Good Look was also produced on the cheap during the early years of broadcast television, so one shouldn't expect pristine video and audio quality.  All of the episodes are watchable, and most are in very good shape.  However, some do contain occasional video interference and tracking issues, as well as periodic distorted or warped audio.  I appreciate that Shout! Factory decided to include all of the existing episodes in the box set, in whatever imperfect form they might exist, rather than only including the episodes that remain in the best quality.  Every surviving moment of this show is priceless.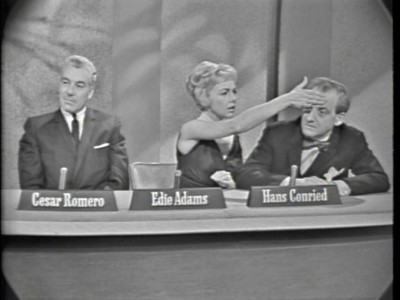 A written appreciation of the show by film and TV historian Ben Model is included inside the clamshell case, but otherwise there are no extra features.  However, being that the shows themselves comprise 24 hours of content and are of high entertainment value and historic significance, you are unlikely to feel that you aren't getting your money's worth.
While I have included the Amazon order link below, I would suggest purchasing this particular DVD collection directly from the manufacturer.  As an incentive for ordering direct, Shout! Factory is including an additional bonus disc with the first 1000 orders.  The DVD contains the Ernie Kovacs TV special, Private Eye, Private Eye, which has not been seen since it originally aired as an episode of the U.S. Steel Hour in 1961.  Supporting Ernie in this detective-themed comedy special are Edie Adams, Hans Conried, Pat Carroll, and the Nairobi Trio.
Streaming: You may be able to find a few clips or a stray episode of Take a Good Look on YouTube, but the vast majority of the series is not available online or through any streaming service.
More to Explore: The previous two Shout! Factory box sets, The Ernie Kovacs Collection
and The Ernie Kovacs Collection, Vol. 2
are absolutely essential purchases for Ernie Kovacs fans.  They contain an overview of the comedian's career, from local Philadelphia-based morning shows to the celebrated ABC specials of the early Sixties.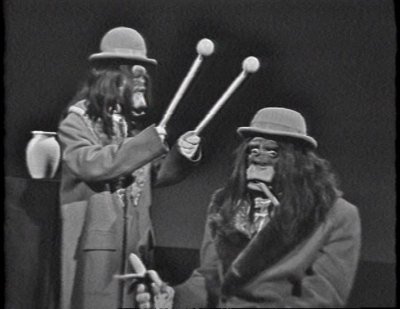 Trivia: In some of the early episodes of Take a Good Look, Ernie comments that the show is too cheap to be crooked.  He is referencing the 1958 quiz show scandal, in which it was revealed that the producers of the game shows Twenty One and The $64,000 Question were providing popular contestants with answers to questions to build false drama and increase ratings.  The rigging scandal was depicted in Robert Redford's 1994 film Quiz Show
.
For More Info: Consult Kovacs' definitive biography Kovacsland
by Diana Rico.