Kino Lorber Studio Classics recently released five classic Bob Hope comedies on Blu-ray — My Favorite Brunette
, Road to Rio
, The Lemon Drop Kid
, Road to Bali
, and Son of Paleface. While I consider The Lemon Drop Kid the least of these films, it seems appropriate to review that title now, due to its ties to the holiday season.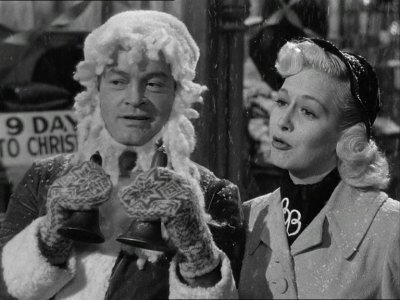 After a breakout role in 1939's comedy/mystery/horror, The Cat and the Canary, Bob Hope had a ten year string of critical and box office hits.  Whether teaming with Bing Crosby for a "Road" picture or with a popular female star for one of the "My Favorite…" films, the blueprint was more or less the same.  Hope played a coward, who through an association with a pretty girl or a variation on the Hitchcock "wrong man" plot, found himself in hot water with gangsters, spies, gunslingers, pirates, or other baddies, with nothing but a smart mouth to get him out of trouble.  While the films were formulaic, they were fast and undeniably funny.  However, as the 1940s drew to a close, Hope was facing middle-age and the "wise-cracking brave coward" character was starting to grow stale.
In an effort to keep his star aglow, Hope tried a few departures from formula, including starring in Sorrowful Jones (1949) and The Lemon Drop Kid (1951), a couple of loose adaptations of short stories by the popular New York scribe Damon Runyon (of Guys and Dolls fame).  Runyon's world of small-time hoods, bookies, and con men wasn't a natural fit for the comedian, and the results were decidedly mixed.  However, over the years, The Lemon Drop Kid has become something of an alternative Christmas classic, due to the fact that the movie introduced the world to the popular holiday standard "Silver Bells."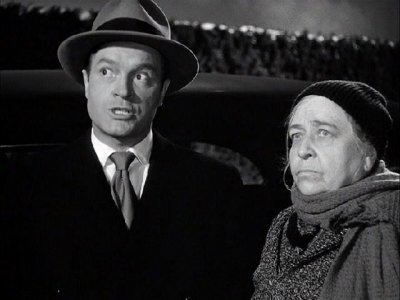 Hope stars as Sidney Melbourne, a racetrack tout, better known as "The Lemon Drop Kid," due to his fondness for the titular sweet.  The Kid's primary means of support is a race track scam in which he offers amateur gamblers tips on horses for a cut of their winnings.  What the suckers don't know is that the Kid promotes every horse in the race, so no matter who wins, he's in the money.  Unfortunately, the Kid targets the wrong pigeon when he convinces a pretty "doll" to bet her $2000 on a losing nag rather than her original choice (which, of course, wins the race).  The woman turns out to be the girlfriend of gangster Moose Moran (Fred Clark), who is understandably irate.  Moose gives the Kid until Christmas Eve to cough up $10,000 (the amount he would have won), with spending New Year's Eve in a body bag as the Kid's alternative.
Desperate, the Kid returns to his hometown of New York City, to put the touch on old friends and his girlfriend/occasional fiancée Brainey Baxter (Marilyn Maxwell).  When he fails to scrounge up any dough, the Kid comes up with a Santa Claus scam, using his lowlife pals (including character actors William Frawley, Jay C. Flippen, and Sid Melton) to collect donations for an old lady's retirement home to support their mutual friend, Nellie Thursday (Jane Darwell), an aging, homeless lady whose safe-cracking husband is about to be released from the penitentiary.  Of course, the Kid plans to skim off the top to payoff his debt.  Will the Kid be able to pull off a Christmas miracle, getting himself out of his jam while helping a bunch of old ladies find a new home?  What do you think?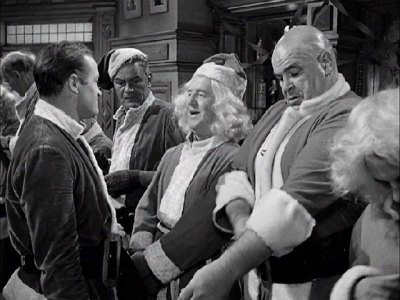 The Lemon Drop Kid is a breezy entertainment, but it is on the low end of the Bob Hope films when it comes to laughs.  The huckster character simply doesn't suit Hope very well.  Phil Silvers would have been a better fit.  Also, despite the winter setting, the film feels sweaty, like it is over-exerting for laughs.  Even the film-makers appear to have recognized that the movie was lacking in humor, as they go so far as to artificially speed up the film to try to punch up a few visual jokes.
That isn't to say that the film is completely without charms.  Several jokes do hit their target, and the musical numbers, "It Doesn't Cost a Dime To Dream" and "Silver Bells," both by song-writing duo Jay Livingston and Ray Evans, are catchy and well staged.  An uncredited Frank Tashlin (director of The Girl Can't Help it, Will Success Spoil Rock Hunter, and several Jerry Lewis pictures) is responsible for the classic staging of "Silver Bells."  Bob Hope personally asked that Tashlin be brought in when he was underwhelmed by director Sidney Langfield's original treatment of the song.
Fans of "Z-Grade" horror films will also enjoy seeing Ed Wood-regular Tor Johnson as one of the Kid's helper Santas.  Long before Johnson started appearing in low-budget horror flicks, he played a stooge to many film comedians, including W.C. Fields, Jack Benny, Abbott and Costello, Olsen and Johnson, and Hope.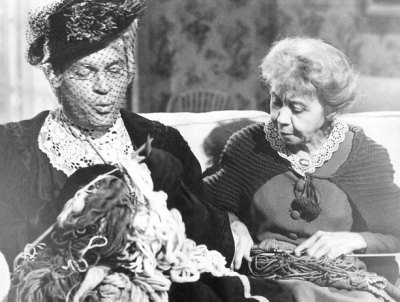 The Lemon Drop Kid may not be a "Grade-A" Bob Hope vehicle, but fans of the classic comedian will still find much to enjoy.  Plus, the picture's holiday charms make up somewhat for what it is lacking in hilarity.
USA/B&W-91m./Dir: Sidney Lanfield and Frank Tashlin (uncredited)/Wr: Edmund Beloin, Irving Elinson, Edmund L. Hartmann, Robert O'Brien, and Frank Tashlin (based loosely on the story by Damon Runyon/Cast: Bob Hope, Marilyn Maxwell, Lloyd Nolan, Jane Darwell, Andrea King, Fred Clark, Jay C. Flippen, William Frawley, Harry Bellaver, Sid Melton, Ben Welden, Ida Moore, Tor Johnson
If You Like: If you are looking for an alternative to It's a Wonderful Life (1946), Miracle on 34th Street (1947), and A Christmas Carol (1951) during this yuletide, you might want to give The Lemon Drop Kid a try.  Nothing says Christmas like Tor Johnson dressed in a Santa suit.
Video: Kino Lorber's release of The Lemon Drop Kid
 on Blu-ray provides what is likely to be the best presentation of the film on home video.  The movie looks and sounds better than it has since its original release; and the image is so sharp that I was occasionally distracted by the small scar above Hope's lip on the left side of his face.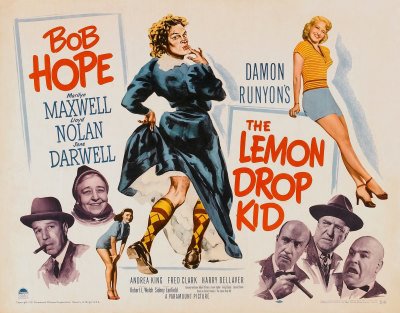 Streaming: The Lemon Drop Kid can be rented or purchased
in digital form on Amazon.
More to Explore: A handful of superior Hope titles have made the transition to Blu-ray including My Favorite Brunette
, Road to Rio
, Road to Bali
, and Son of Paleface
. Most of the rest of the best of Hope's screen comedy has been released in the 21-movie DVD box set Bob Hope: The Ultimate Movie Collection
.
Trivia: Singer Marilyn Maxwell, who co-starred with Hope in two other films in addition to The Lemon Drop Kid, was known as "Mrs. Bob Hope" around the Paramount lot, because her four-year extramarital affair with the comedian was common knowledge.
For More Info: There have been many film references and biographies written on "Old Ski Nose," but the definitive tome on the comedian is Hope: Entertainer of the Century
by Richard Zoglin.  It is incredibly well researched and even-handed in its discussion of the comic's talents and character flaws.