Take one part Wes Andersonian whimsy, a couple of parts British absurdism, add a dash of Withnailesque melancholy, shake vigorously, and the resulting cocktail might end up something like The Living Wake. This bizarre indie comedy stars Mike O'Connell as K. Roth Binew, a self-proclaimed artist and dedicated drunkard, who is dying of a yet-to-be-named vague, grave disease that is extremely punctual. With the help of his best friend, manservant, and biographer, Mills Joaquin (Jesse Eisenberg), Binew uses his final day to visit friends, enemies, lovers, family, and the village liquorsmith, in hopes of finding the meaning of life that has thus far eluded him. During each visit, the individuals who have played a part in the short existence of the dying dipsomaniac also receive an invitation to attend Binew's final bow–a wake to be held during the last minutes of his life.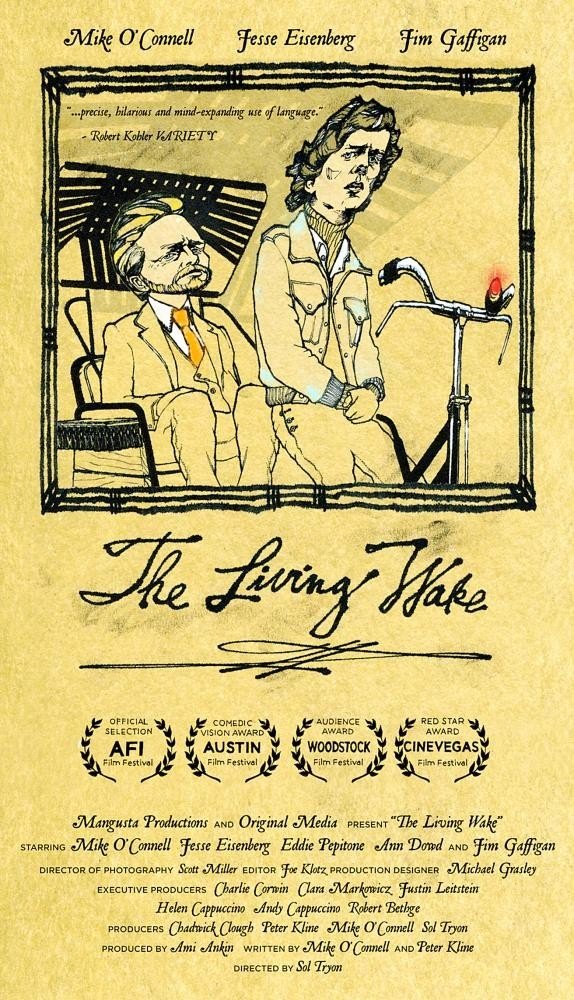 It is difficult to maintain a comic premise over a ninety-plus minute running time, and absurdist comedy is even more difficult to sustain. So, as one would expect, there are problems with The Living Wake. The writing is uneven, some of the characters seem miscast, and the acting styles of some of the secondary actors clash with the material. Worst of all, what should be the high points of the film–two instances in which the main character bursts into song–are instead the movie's nadir, because the lyrics of the songs are uninspired, lacking the polish and verbal wit that is present throughout the rest of the script. However, these are trifling quibbles, because The Living Wake is an original vision and an extremely entertaining work.
What makes the movie work so wonderfully well, despite its deficiencies, is the brilliant lead performance by Mike O'Connell. There are comedians that say funny things and others that say things funny. While the script, co-written by O'Connell and Peter Kline, is often quite clever, O'Connell falls more in the latter category. With his original, cheerily bombastic delivery, he manages to sell the best and weakest punch lines with equal aplomb. Consequently, when O'Connell is on screen, which is nearly the entirety of the running time, the movie never lags.
It should also be noted that K. Roth Binew is one of the most original and engaging comic creations to grace the screen since Paul Reubens created Pee Wee Herman. Binew is a bourbon-guzzling drunkard, an egotist, a failed artist, a bit of a con man, an old lady fetishist, and a dandy. However, despite his cartoonishness and moral shortcomings, the character is also relatable in his search for meaning, his remorse over his artistic failures, and his attempts to connect with friends and family. It is rare that an absurdist character can engender pathos, but Binew is an exception. One can only hope that Mike O'Connell finds a way to resurrect this captivating persona for future projects.
Of course, as good as O'Connell and his comic creation are, there are supporting players that also deserve praise. First among these is Jesse Eisenberg, in the less showy role of Binew's companion, Mills Joaquin. His timid, understated delivery is a perfect compliment to O'Connell's bombast; and without his support the darker, sadder moments in the film would not work nearly as well. In addition, the cinematography by Scott Miller provides a beautiful, golden, autumnal setting for the story; and the score by Carter Little and O'Connell provides the perfect background. Finally, first time director, Sol Tryon, does a fantastic job of balancing numerous disparate elements and helps O'Connell and Eisenberg sell the jokes.
The Living Wake is likely to split audiences into "love it" or "hate it" categories. However, if you have a tolerance for whimsy and a taste for the absurd, I highly recommend sampling this potent, intoxicating concoction.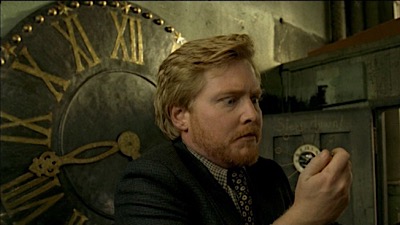 USA/C-92m./Dir: Sol Tryon/Wr: Mike O'Connell & Peter Kline/Cast: Mike O'Connell, Jesse Eisenberg, Jim Gaffigan, Ann Dowd, Eddie Pepitone, Jill Larson, Rebecca Comerford, Matthew Cowles
If You Like: Fans of dark comedies, such as Withnail and I or the works of Wes Anderson may find the film to their liking.
Video: A The Living Wake DVD
was released briefly by Breaking Glass Pictures, but it is now out of print.
Streaming: The entire film can be streamed on YouTube (embedded above).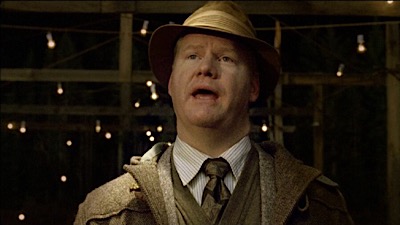 More to Explore: Another reason to seek out the discontinued DVD is that it includes some funny K. Roth Binew promotional films, with footage not in the film, as well as the 19 minute short subject The Reeducation of Mills Joquin (spelled differently in the short), which portrays the beginning of the friendship between K. Roth Binew and Mills (here portrayed by Bryan Brown).