For the release week of 8/8/17: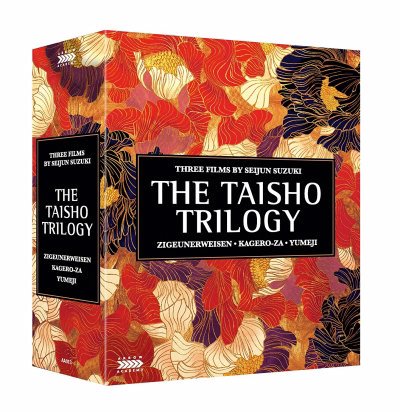 Garv's Pick of the Week: Seijun Suzuki's The Taisho Trilogy (Zigeunerweisen, Kagero-za and Yumeji) (6-Disc Limtied Edition) [Blu-ray + DVD / Arrow Video]
: U.S. cult movie fans have long been familiar with Seijun Suzuki's abstract Yakuza flicks, such as Youth of the Beast (1963), Tokyo Drifter (1966), and Branded to Kill (1967).  However, in his native Japan, Suzuki is most celebrated for this trio of supernatural art films.  Never before released in the U.S., these films will either be a major revelation or major disappointment.
Additional Titles of Interest — 
Freebie and the Bean [Blu-ray / Warner Archive]
: This 70's action comedy from Richard Rush (The Stunt Man) is racist, homophobic, and trans-phobic, but it is ridiculously entertaining (if you take it as a product of its time).
Re-Animator (2-Disc Limited Edition) [Blu-ray] / Arrow Video]
: Stuart Gordon's blood-splattered H.P. Lovecraft adaptation gets the Arrow Video limited-edition box set treatment. Time for an upgrade.
The Breaking Point [Blu-ray / Criterion]
: Michael Curtiz remakes To Have and Have Not (1944) with John Garfield and Patricia Neal; and some say this version is better.
Cinematic Titanic: The Complete Collection [DVD / Shout! Factory]
: After the original Mystery Science Theater 3000 and before RiffTrax, five of the original MST3K cast, Joel Hodgson, Trace Beaulieu, Frank Conniff, Mary Jo Pehl, and J. Elvis Weinstein, took the show on the road as Cinematic Titanic.  All 12 of their released live shows and direct-to-video riffs are collected in this one convenient collection.