The late Sixties was a time when cinema pushed the boundaries of what was considered acceptable film fare.  Movies such as Bonnie and Clyde (1967) and The Wild Bunch (1969) went further than ever before in depicting screen violence.  Titles such as The Pawnbroker (1964), Blow-up (1966), and Midnight Cowboy (1969) broke taboos in terms of nudity and sexuality.  And perhaps most shocking of all, family-friendly comedian Don Knotts starred in a film rated "M" (PG-13 by today's rating standards), in which the use of the word "virgin" was a major plot point.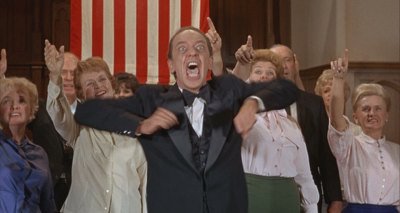 In The Love God?, Knotts stars as Abner Audubon Peacock IV, a small-town editor of a struggling bird-watching magazine, The Peacock.  Things appear to be looking up when a New York money man, Osborn Tremaine (Edmond O'Brien), steps in to save the magazine.  However, it turns out that Osborn is a smut peddler who only purchased the periodical to use Abner as a front for his own girlie mag operation.  When the feds arrest Abner as a pornographer, his trial turns into a highly publicized civil liberties case.  To cash in on the the publicity, Osborn, a mobster (B.S. Pully), and a high class editor (Anne Francis) hatch a scheme to turn The Peacock into a upscale lifestyle magazine with Abner as its Hugh Hefneresque mascot.
The Love God? is an odd concoction.  It is more subversive than Don Knotts' earlier starring vehicles, and it features sexual themes.  However, the sitcom-style direction, camera work, and Vic Mizzy score securely anchor the movie in the same universe as Knotts' previous kiddie films The Reluctant Astronaut (1967) and The Shakiest Gun in the West (1968).  However, the strange brew of swinging Sixties "free love" mixed with Knotts' mild low-comedy is undeniably entertaining.  Where else will you see Knotts strutting and cutting a rug with scantily clad ladies, while Darlene Love sings the oddly catchy tune, "Mr. Peacock?"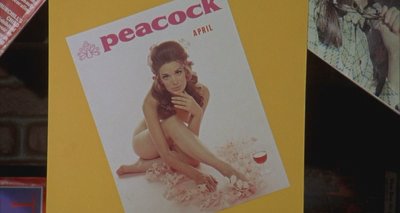 The main thing the movie has going for it is a funnier screenplay than Knotts usually had to work with, courtesy of Nat Hiken, the creator of the classic sitcoms The Phil Silvers Show and Car 54, Where Are You?  While far from Hiken's best work, the film has all the hallmarks of a Nat Hiken production.  The central premise is a bizarre, but somehow believable, con game; and just about all of the characters, with the exception of Abner and his ever-faithful fiancée Rose Ellen (Maggie Mancuso), are Sgt. Bilko-like con artists.  Limited character actor B.S. Pully garners laughs from poor line readings, just as Joe E. Ross had done in Car 54, Where Are You?   Finally, while the film is more likely to generate smiles than guffaws, Hiken was incapable of writing a screenplay without a few laugh-out-loud lines.
It turns out that while audiences were willing to accept increased sex and violence on the big screen, a sex comedy starring Don Knotts was a bridge too far.  It was the biggest bomb of the comedian's career (as well as Hiken's).  Still, the movie is an intriguing curio that is all the more interesting for being out-of-place even in its own time.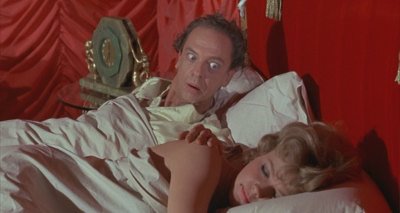 USA/C-101m./Dir: Nat Hiken/Wr: Nat Hiken/Cast: Don Knotts, Anne Francis, Edmond O'Brien, B.S. Pully, Maureen Arthur, Maggie Mancuso, James Gregory, Jesslyn Fax, Jacques Aubuchon, Marjorie Bennett, James Westerfield, Willis Bouchet
If You Like: Fans of Knotts work in The Andy Griffith Show
and in The Ghost and Mr. Chicken
 will find plenty to like here.
Video: The Love God?
is available as a standalone DVD or as a part of the four film Don Knotts Reluctant Hero Pack
.  Alas, no Blu-ray though.
Streaming: Not currently available.
More to Explore: The Love God? would make a great double-feature with The People vs. Larry Flynt
.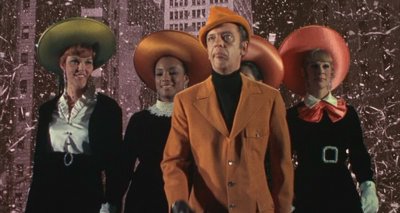 Trivia: Phil Silvers was cast in the part of smut peddler Osborn Tremaine, but the producers nixed the deal when he asked for co-lead billing.  It is a shame that Silvers didn't play the character, because the part was written to his rhythms, and he had previously proved to be a perfect foil for Knotts in one of the funniest scenes in It's a Mad, Mad, Mad, Mad World
.
For More Info: Consult the biography King of the Half Hour: Nat Hiken and the Golden Age of TV Comedy
.