Greetings, fellow cinephiles,
Welcome to It Came From The Bottom Shelf!, a movie recommendation site, focusing on forgotten classics, lesser-known gems, and oddball discoveries.  You won't find discussion here of acknowledged classics, such as Citizen Kane, Lawrence of Arabia, and The Wizard of Oz.  Nor are you likely to see reviews of popular favorites like Star Wars, Jaws, or The Guardians of the Galaxy.  It's not that I dislike any of those films.  In fact, I'm rather fond of them.  It's just that those films have been detailed and debated millions of times over by writers far more gifted and knowledgeable than me.
In the Bottom Shelf, I will instead try to shine a spotlight on deserving titles that haven't received that level of attention.  In that endeavor, I will post capsule movie reviews, "Pick of the Week" video releases, upcoming DVD announcements, sales alerts, and other cinematic news.  My hope is that this site will eventually become a reference for video collectors and binge-watchers who think they've seen everything — sort of an electronic equivalent of Danny Peary's Guide for the Film Fanatic or Michael Weldon's The Psychotronic Encyclopedia of Film (although likely nowhere near as good).
So what qualifies as a "bottom shelf movie?"  Pretty much any title I feel like discussing.  I'll try to stay on the road less traveled, and introduce readers to movies they either haven't heard of or haven't taken the time to see.  However, I may throw in a more well-known title from time to time.  After all, most audiences consider any film over twenty years-old to be an ancient relic; and even cinema classics like Fitzcarraldo, The Bank Dick, and Fellini's 8 1/2 have only been viewed by a small percentage of the public.  The only thing I will promise is if I focus on a film on It Came From the Bottom Shelf! it will be a title that I feel merits viewing.  Not every film discussed here will be a certified masterpiece, but at the very least, each movie will contain a few interesting elements.  I see no reason to post purely negative reviews, as this site is meant to be a destination for viewing suggestions (and an oasis away from the negativity the pervades through much of the Internet).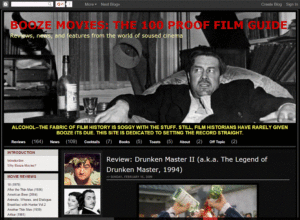 This site is a solo operation; and as the one-man band, I should introduce myself.  My name is William T. Garver (a.k.a. garv).  You may have run across my writing previously through Booze Movies: The 100 Proof Film Guide, the soused cinema blog that I began in December 2006, exploring the role that alcohol played in motion pictures from the silent era to the present day.  I more or less abandoned that project in mid-2014 to take some time off, teach myself the ukulele, and generally enjoy life.  Lately, however, I have started to feel that old, familiar itch — a need to write about the films I love.  Still, I wanted to step outside the limitations of soused cinema and recommend good movies, whether they have high, low, or no alcohol content.  This site is the result.  I hope you like it.
Cheers,
garv