Ahoy, John Wayne fans!
The Warner Archive will release an action-packed pair of seafaring adventures starring the Duke this summer.  Both Blood Alley (1955) and The Sea Chase (also 1955) will debut on blu-ray in the next month or so (release date T.B.A.).  Here are the details direct from the Warner Archive Collection Facebook Page:
BLOOD ALLEY (1955) (BD)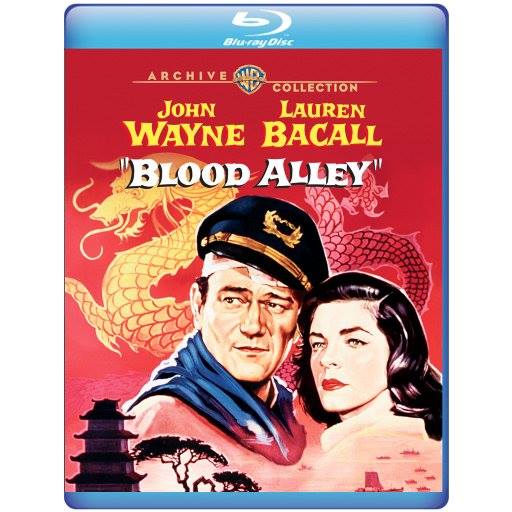 NEW 2017 1080p HD REMASTER
Run Time 115:00
Subtitles English SDH
DTS HD-Master Audio 2.0 Stereo – English
16 X 9 LETTERBOX, ORIGINAL ASPECT RATIO – 2.55:1
COLOR
BD 50
Special Features
Theatrical Trailer (HD); Two "Behind the Camera" Featurettes from the Warner Bros. Presents Tv Series; Newsreels
"Powder your nose, baby," the craggy-voiced skipper bellows. "We're coming into Hong Kong." Getting there wasn't easy for wily Merchant Marine Capt. Tom Wilder. But it's exciting – and all an action fan might expect from a movie teaming legends John Wayne, Lauren Bacall and director William A. Wellman. Wilder braves dangerous waters and pursuing Red Chinese forces while steering a boatload of Chinese refugees and a doctor's daughter (Bacall) along a 300-mile waterway to freedom's shores. Wellman and his crew cram the CinemaScope frame with riches both scenic (Northern California locales authentically stand in for the Formosa Straits) and action-packed. This ship is under full steam. Destination: Blood Alley!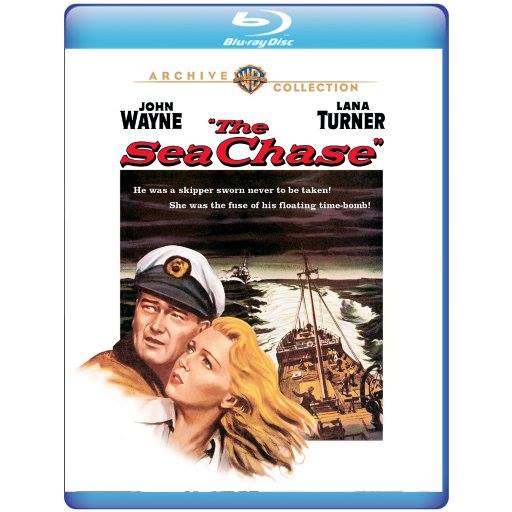 THE SEA CHASE (1955) (BD)
NEW 2017 1080p HD REMASTER
Run Time 117:00
Subtitles English SDH
DTS HD-Master Audio 2.0 Stereo – English
ORIGINAL ASPECT RATIO – 2.55:1, 16 X 9 LETTERBOX
COLOR
BD 50
Theatrical Trailer (HD)
German naval officer Karl Ehrlich loves his country but hates Hitler. Busted to the command of a lowly freighter docked in Australia as World War II erupts, Ehrlich must choose: be interned by the British or sail to Germany so his men can determine their own fates. On a foggy night, Ehrlich decides – and casts off!
John Wayne as Ehrlich and Lana Turner as a woman forced into Nazi espionage are a formidable romantic team in this harrowing adventure directed by John Farrow (Wake Island, Hondo). Through a relentless high-seas pursuit, Ehrlich drives his exhausted men (James Arness, Tab Hunter and others). The pursuing British have the navy that rules the waves. The freighter Ergenstrasse has the Duke. Any action fan knows that's an even – and exciting – match!