Well, after the holidays, being sick, and my computer finally giving up the ghost, I am back with another review. This time I take on the Arrow Films remake of Whisky Galore!, the 1949 Ealing comedy
by the same name, based upon the novel by Compton MacKenzie.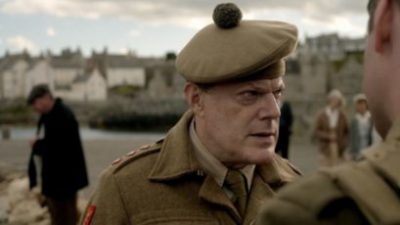 Ealing comedies were made at Ealing Studios between the years of 1947 to 1957 and included such films as Kind Hearts and Coronets (1949) and The Ladykillers (1955).  The 1949 release of Whisky Galore! was renamed Tight Little Island, and became the first Ealing Studios film to receive box office success, so much so that a sequel was produced named Rockets Galore!
Whiskey Galore! takes place at the height of World War II on the fictional island of Todday, when the law of the land was rationing foodstuffs, water, and most importantly, whiskey.  One day, the unthinkable happens… the island runs out of whiskey!  The islanders deal with this in varying degrees.  Some cry.  Others handle the loss with stoicism, and in one very extreme case, an older inhabitant on the island dies rather than deal with a life without the golden brown elixir.  To make matters even worse, when a supply ship arrives the next day, the captain tells the islanders that there is no whiskey because their quotas have been cancelled.  This hits the island's widowed Postmaster, Joseph Macroon (Gregor Fisher), particularly hard, as he is about to give away both of his daughters in marriage, and he is worried that he will be alone.  His daughter Catriona (Ellie Kendrick) is engaged to the local school master, George (Kevin Guthrie), whose mother is a holy roller that has strictly controlled his life to the extent that she regularly locks him in his room with only a Bible and some food.  His other daughter, Peggy (Naomi Battrick), is also about to tie the knot with her beau, Sargent Odd (Sean Biggerstaff), who is recently home on leave, from the war in Africa.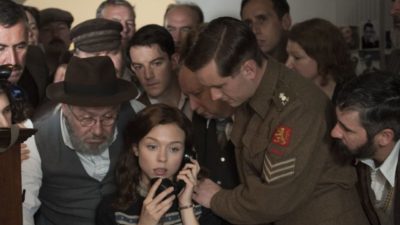 Two, long, painful, whiskey-free weeks pass, and then deliverance arrives when the S.S. Cabinet Minister runs aground on some rocks off of the coast of the island, carrying 50,000 cases of whiskey!  Things are looking up, but first the islanders must get the whiskey off the ship and onto the island, while avoiding a few hurdles, primarily Captain Waggett (the always excellent Eddie Izzard) who commands the local Home Guard and views any theft from the S.S. Cabinet Minister to be an act of piracy, as well as Farquharson (Kevin Mains), a Customs and Excise Officer that would find any pilfering of the cargo to be the same.   Well, laws be damned!  The islanders need… no, deserve, their whiskey, and they will go to any lengths to get it.  As midnight rings its last, a flotilla of islanders travel out to the grounded vessel and liberate some of their favorite beverage.  While they are looting the whiskey, Mr. Macroon finds a packet of documentation from the War Office that contain the Duke of Windsor's love letters that also implicate him as a Nazi sympathizer, though this subplot, along with the marriage subplot, take a distant back seat to the "Quest for Whiskey."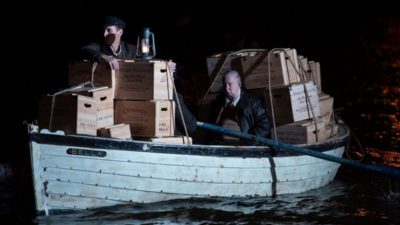 Suffice to say, Whisky Galore! is just fun, with charming characters, beautiful vistas, Scottish accents, and lots and lots of whiskey.  If you are looking for a enjoyable, happy, dare I say "family film," Whisky Galore! is a fun way to spend an evening.  So sit down, grab a glass of your favorite malt beverage, and enjoy Whisky Galore!  Slainte!
UK/ C108 min/Dir: Gilles MacKinnon/Wr: Peter McDougall/Cast: James Cosmo, Eddie Izzard, Sean Biggerstaff, Ellie Kendrick, Tim Pigott-Smith, Kevin Guthrie, Naomi Battrick, Fenella Woolgar, Brian Pettifer, Gregor Fisher, Michael Nardone, Ken Drury, Iain Robertson, Kevin Mains, Ciaron Kelly
If You Like: Fans of feel-good British comedies like Pirate Radio (2009) and Their Finest (2016) should enjoy Whiskey Galore!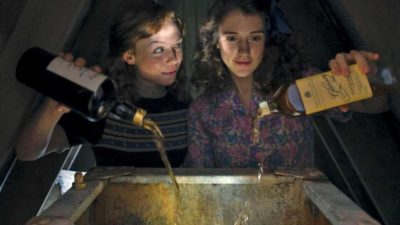 Video: Arrow Films has released Whisky Galore!
on Blu-ray with a nice HD transfer and a handful of cast interviews for good measure.
Streaming: At the time this review was written Whiskey Galore! was not available to stream.
More to Explore: Ealing Studios, as mentioned earlier, made many comedies over a ten year period, and some standouts include Kind Hearts and Coronets, The Lavender Hill Mob, The Man in the White Suit, and The Ladykillers.
Fun Fact: The book and film were based upon a real life incident that happened in 1941.  Scottish islanders raided a shipwreck of 24,000 cases of whiskey.  That being said, the boat also held nearly 290,000 ten shilling notes onboard, not all of which was recovered.
For More Info: If you enjoyed the film, either the 1949 or the 2016 version, check out the novel
that inspired both movies.