For the release week of February 6th: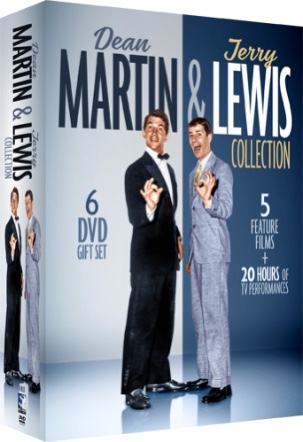 Garv's Pick of the Week: Dean Martin & Jerry Lewis Collection [DVD + Digital / Mill Creek]
: It may seem a tad odd for me to select a budget DVD collection from Mill Creek Entertainment as my "Pick of the Week," but I have an enormous love for the comedy team of Martin & Lewis.  That is especially true of their live television work; and this set includes all 28 episodes of The Colgate Comedy Hour that the comedians hosted from 1950-1955, in both DVD and Digital Copy formats.
First and foremost, Dean and Jerry were a nightclub act, and they thrived in front of a live audience, where they could be spontaneous.  Their movies together never captured the magic of the act, as they were forced to stick to a script, and they couldn't break character or ad-lib.  Worse yet, the producers of the movies misunderstood Dean's role in the act.  They thought Dean was the straight man, but there was no straight man in the duo.  Martin & Lewis was a comedy team made up of two lowbrow comedians — one laidback and cool and the other hyperactive and needy.  Their live television shows came much closer than their films to capturing the manic energy of their nightclub appearances, and Dean was allowed to be just as funny and physical as his more obviously goofy partner (as evidenced in the video above).
One caveat — It is unlikely that the shows included on these discs will be uncut.  Prior releases of these shows have often excised some of Dean's songs and other musical numbers due to music licensing issues.  However, even in less than complete form, 20+ hours of Martin & Lewis is a good thing.
Additional Titles of Interest —
Elevator to the Gallows [Blu-ray / Criterion]
: Louis Malle's noirish French thriller features a score by jazz legend Miles Davis, which will sound better than ever on Blu-ray.
Benji [BD + DVD + Digital / Mill Creek]
: Joe Camp's family film about a scruffy little mutt gets a new HD restoration.
The Way West [Blu-ray / Kino Lorber]
: Andrew V. McLaglen's Western stars Kirk Douglas, Robert Mitchum, and Richard Widmark, which is enough to recommend it.
Don Knotts 5-Movie Collection [DVD / Universal]
: Unfortunately, this isn't a Blu-ray set, but it is a bargain — The Ghost and Mr. Chicken, The Reluctant Astronaut, The Shakiest Gun in the West, The Love God, and How to Frame a Figg in one compact collection.
Henri-Georges Clouzot's Inferno [Blu-ray / Arrow Academy]
: A documentary on an ambitious, unfinished film by the director of Les Diaboliques and Wages of Fear.