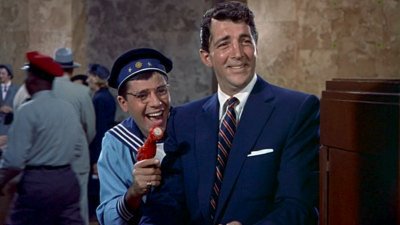 Motion pictures provided a poor showcase for the comedy team of Martin & Lewis.  As nightclub comedians, they thrived on the spontaneity of live performance, where they could jump in and out of character, ad-lib, interact with the audience, and try to crack each other up.  Movies were too restrictive.  Worse yet, the studio powers completely misunderstood their act.  They always tried to straitjacket handsome singer Dean Martin with the role of straight man, when in reality, the team had no straight man.  Dean and Jerry were both lowbrow comedians, albeit with greatly different styles.  Jerry was the manic, anything-for-a-laugh half of the act (basically a more needy Harry Ritz), while Dean approached punch lines with a sly, laid back indifference (like a more confident Jack Benny).  Since little record of their nightclub and stage act still exists, the best way to get a feel for the true Martin & Lewis partnership is through surviving episodes of The Colgate Comedy Hour and other live television appearances.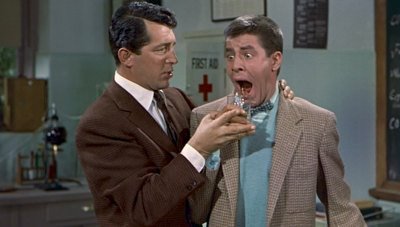 While the Martin & Lewis films present a watered down version of the act, there is still lots of enjoyment to be found in the best of their movies.  Most critics site Artists and Models (1955) as the team's finest, due to the cartoon stylings of director Frank Tashlin and an early performance by a spunky Shirley MacLaine; but for my money, the duo's best are a couple of screwball comedy remakes helmed by Norman Taurog, Living It Up (1954) and You're Never Too Young (1955).  The latter does a better job than most of their movies at capturing some of the magic of their live act.
You're Never Too Young is ostensively a remake of Billy Wilder's screwball farce The Major and the Minor (1942).  However, about the only plot point You're Never Too Young borrows from the original is the idea of a character (Ginger Rogers in the 1942 film) disguising themselves as a child in order to pay half fare for a train ticket.  In the remake, Jerry disguises himself to skip town when he finds himself the target of a murderer (Raymond Burr) who has stashed a stolen diamond in Jerry's pocket.  Somehow, a teacher (Diana Lynn) from an "all girls" school falls for Jerry's disguise and takes in the "little boy."  Her boyfriend (Dean Martin) who also teaches at the academy, is dubious of the ruse.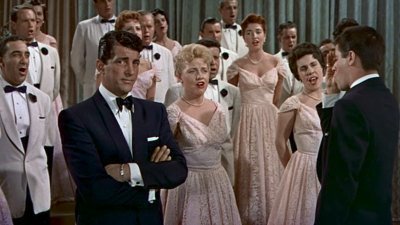 While Dean is still relegated somewhat to the sidelines, You're Never Too Young does allow him to participate in some physical shtick, including multiple pratfalls.  Better yet, the film contains an "a cappella" music number where Dino tries to sing, while Jerry acts as a very disruptive conductor of the choir (video embedded above).  That type of musical interruption was a staple of their nightclub act.  
Jerry also gets to do a bit more in the movie than just play the goon.  By having Lewis disguised as a kid, it gives him an excuse to break in and out of character as he often would on the stage.  We also get to see him pantomime at a switchboard, which is a variation on the "record act" which started his career.  Best of all, Lewis is given ample opportunity to dance, which is always a delight.  There is a special ungainly grace that Jerry displays when dancing that is quite unlike any other human partaking in terpsichorean revelry.
You're Never Too Young may not present the very best of the Martin & Lewis partnership, but it's pretty enjoyable for what it is.  As Jerry would say, "I like it!  I like it!"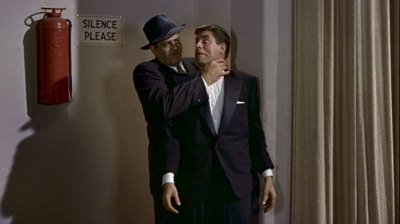 USA/C-102m./Dir: Norman Taurog/Wr: Sidney Sheldon/Cast: Dean Martin, Jerry Lewis, Diana Lynn, Raymond Burr, Nina Foch, Mitzi McCall, Whitey Haupt, Milton Frome, Hans Conried
If You Like: If you've only seen Artists and Models (1955) or Jerry's solo comedies, give this one a try.
Video: You're Never Too Young is one of five movies included in the Dean Martin & Jerry Lewis Collection, Vol. 2
 DVD set from the Warner Archive.  Sadly, most of the Martin & Lewis films have not found their way to Blu-ray.
Streaming: A lower resolution version of the film can be found on YouTube.
More to Explore: Dean and Jerry's live television appearances can be obtained through many budget DVD sets or through a YouTube search.  Here is the first part of a live MDA telethon that they co-hosted in 1953 (the second ever MDA telethon):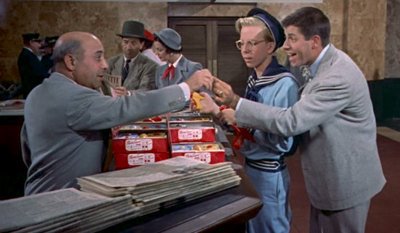 Bobby Barber Sighting: Lou Costello's personal stooge, Bobby Barber, shows up briefly as a newsstand clerk in Union Station.
For More Info: Consult Dean and Me: (A Love Story)
by Jerry Lewis and The Jerry Lewis Films
by James L. Neibaur and Ted Okuda.