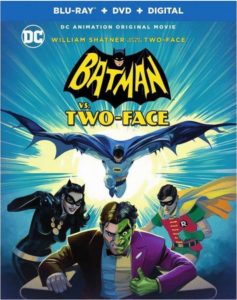 Take this post with a granule or two of salt, as there has not been official confirmation from Warner Home Video.  However, Barnes and Noble jumped the gun and listed a Blu-ray/DVD Combo release of the animated film Batman vs. Two-Face for pre-order, displaying an October 17th release date.
Batman vs. Two-Face, is a sequel to the 2016 animated Batman '66 reunion movie, Batman: Return of the Caped Crusaders, which featured original cast members Adam West (Batman), Burt Ward (Robin), and Julie Newmar (Catwoman), along with modern voice actors filling in for deceased members of the original series cast.  That direct-to-video release did a nice job of capturing the campy feel of the Sixties series, and a sequel was announced soon after, which would pit the Caped Crusader against the villainous Two-Face (voiced by William Shatner).
After Adam West passed away on June 9th of this year, it had been announced that the actor had finished recording his scenes and that the film would be completed as planned.  Julie Newmar also posted a picture of a single script page to verify that she would also be joining West and Burt Ward in the sequel.
Hopefully, the October 17th release date will hold; and if Warner Brothers stays true to their animated DC release strategy, we will likely see a one-night Fathom Events theatrical screening a few days before the Blu-ray hits store shelves.  I, for one, look forward to hearing West and Shatner, the two masters of "dramatic pauses for no apparent reason," bounce lines off each other.
Duna-Duna-Duna-Duna-Duna-Duna-Duna-Duna-
BATMAN!