A Fish Called Wanda is a more popular, better-known title than I usually review in the Bottom Shelf, but for much of the general public, films more than 20 years old are not even on their radar.  Consequently, I felt that Arrow Video's 4K restoration and Blu-ray release would be a good time to revisit the film.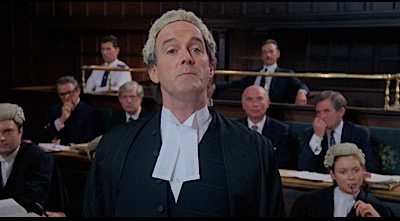 John Cleese writes and stars in the comedy about a henpecked barrister, Archie Leach, who gets involved with a trio of jewel thieves, when he is assigned to defend their ringleader, Georges Thomason (an in-joke, as the character is played by Tom Georgeson), after a major jewel robbery.  It turns out that Georges was set up by fellow accomplices Wanda (Jamie Lee Curtis) and Otto (Kevin Kline), lovers posing as brother and sister, who want the jewels for themselves.  However, unbeknownst to the backstabbing burglars, Georges took the precaution of moving the loot.  Consequently, Wanda tries to snuggle up to Archie to gain info, while the final member of the team, steadfast and stuttering Ken (Michael Palin) tries to dispose of an old woman who witnessed Georges at the scene of the crime.
A Fish Called Wanda plays a bit slower and the comedy is a bit milder than I remember.  However, that is not necessarily a criticism.  The film is light and funny throughout, and it is effective as both a comedy and a caper film.  The leads are all perfectly cast and effective; but upon this rewatch, I was surprised to find Maria Aitken, in the part of Archie's shrewish wife, to be the biggest standout for me.  Her line readings and physical reactions were sublime.  Overall, the film holds up quite well and would be timeless if not for a saxophone-heavy soundtrack that grounds the film squarely in the 1980s.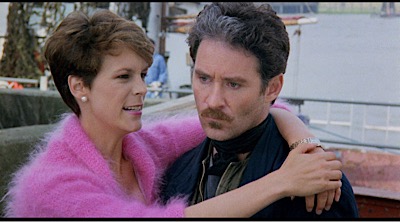 Since the film was co-written and directed by Charles Crichton, the veteran director of British crime comedies Hue and Cry (1947) and The Lavender Hill Mob (1951), A Fish Called Wanda is often compared to those early films directed for Ealing Studios.  It is true that Wanda captures much of the breezy, yet mildly dark, feel of the Ealing films.  However, it was another influence that really struck me upon this viewing.  In interviews, John Cleese has often mentioned his indebtedness to W.C. Fields for much of his comic sensibility.  That influence is on prominent display during all of the interactions between Archie Leach and his wife and daughter.  Those scenes mirror the exchanges that Fields' henpecked everyman character has with his wife and extended family in It's a Gift (1934), The Man on the Flying Trapeze (1935) and The Bank Dick (1940).  Fields' character is looked upon as either ineffectual or slighty daft by his family until eventually "the worm turns;" and Archie goes through very much the same journey in Wanda.
This fine comedy is most certainly worth the revisit, and Arrow Video's Blu-ray is the best way, apart from a theatrical screening, to re-experience the film.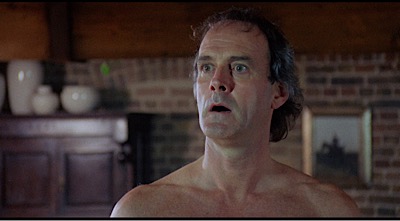 UK/C-108m./Dir: Charles Crichton/Wr: John Cleese and Charles Crichton/Cast: John Cleese, Jamie Lee Curtis, Kevin Kline, Michael Palin, Maria Aitken, Tom Georgeson, Patricia Hayes, Geoffrey Palmer, Cynthia Cleese
If You Like: Fans of Monty Python's Flying Circus
and Fawlty Towers
already know that they are on Mr. Cleese's wavelength.
Video: A Fish Called Wanda has been released multiple times on video, including a previous Blu-ray from MGM; so fans of the film are probably wondering whether Arrow Video's A Fish Called Wanda (Special Edition) [Blu-ray]
represents an improvement over prior releases.  The answer is "Yes and to a rather surprising extent."  Arrow produced a new 4K restoration from the original negative, exclusively for this release; and the image quality is a huge jump over the MGM Blu-ray.  The MGM disc was overly dark to the point of obscuring some of the visuals during the night scenes, and the scan was from a scratched a speckled print that had seen better days.  Arrow's image is brighter, sharper, and free of debris.  The original lossless mono audio is also strong and accurate.  Finally, Arrow's Blu-ray includes all of the extras from the previous release, while adding quite a few new features.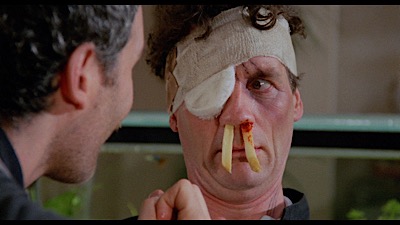 The stacked disc includes:
A commentary by writer and star John Cleese
A brand new appreciation by Vic Pratt of the BFI National Archive
A brand new interviews with composer John Du Prez, production designer Roger Murray-Leach, executive producer Steve Abbott and makeup supervisor Paul Engelen
John Cleese's Final Farewell Performance, a 1988 documentary on the making of A Fish Called Wanda featuring interviews with actors Cleese, Jamie Lee Curtis, Michael Palin, Kevin Kline and director Charles Crichton
Something Fishy, a 15th anniversary retrospective documentary featuring interviews with Cleese, Curtis, Kline and Palin, executive producer Steve Abbott and director of photography Alan Hume
Fish You Were Here, a documentary on the film's locations hosted by Robert Powell
24 deleted/alternative scenes with introductions by Cleese
A Message from John Cleese, a tongue-in-cheek introduction recorded for the film's original release
Gallery
Trivia track
Theatrical trailer
Optional English subtitles for the deaf and hard-of-hearing
First pressing only: A booklet featuring writing on the film by Sophie Monks Kaufman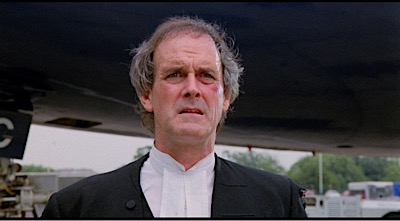 Streaming: At the time of this review, A Fish Called Wanda was not available to stream as part of a subscription service, but it can be purchased or rented in streaming form.
More to Explore: To see the seeds of A Fish Called Wanda, check out Crichton's The Lavender Hill Mob
(1951) and W.C. Fields' The Man on the Flying Trapeze
(1935).
Trivia: John Cleese's character name, Archie Leach, was Cary Grant's real name.  Even Grant occasionally used the name as a punch line.  In His Girl Friday (1940), Grant ad-libbed, "Listen; the last man that said that to me was Archie Leach just a week before he cut his throat."
For More Info: Consult the second volume in Michael Palin's diaries, Halfway to Hollywood: Diaries 1980--1988
, in which he discusses his various projects in the Eighties, from Time Bandits to A Fish Called Wanda.