The 1980s were banner years for the horror genre. Jason Vorhees was slaying counselors at Camp Crystal Lake, a.k.a. Camp BLOOD, in the Friday the 13th series. Freddy Krueger helped many teenagers to their permanent rest in the Nightmare on Elm Street franchise. Michael Myers, though he started in the late 70's, paved the way for the first two and firmly embedded the terror of the Boogeyman in people's hearts in Halloween and its 80s sequels. And a little doll named Chucky terrorized a nation, even though many of us thought "It's a doll; I could take him," in the Child's Play series. Most of these series are still going today; and some have had or will have reboots so a whole new generation of people can be scared while going to the movies.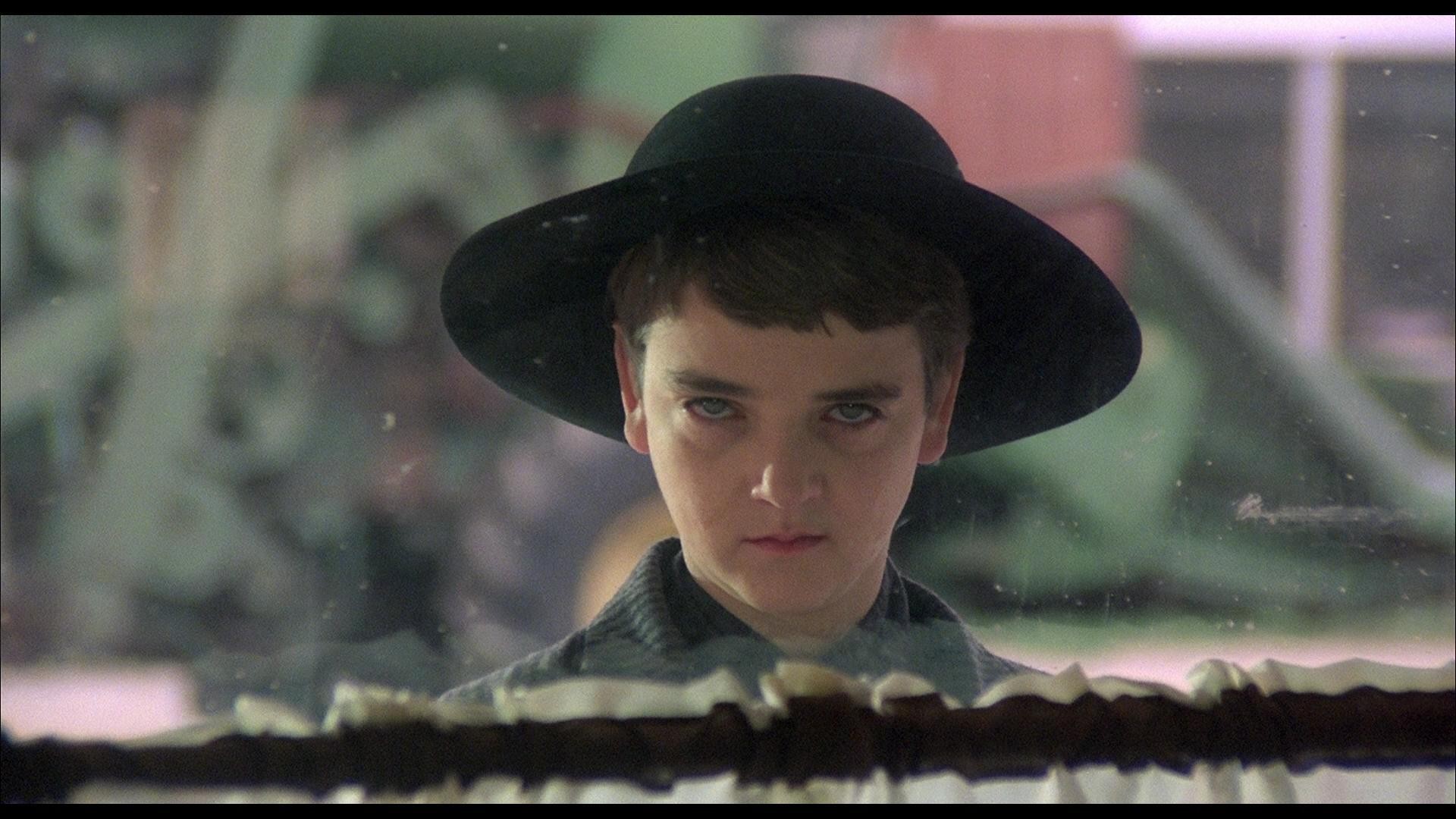 The terror was not limited to the silver screen. Oh no. The medium of print was also moving full steam ahead with author Stephen King and his seemingly limitless imagination to bring us killer cars, demonic dogs, haunted hotels, and worldwide super-flu pandemics. Today, I have the pleasure of writing a review for one of the more faithful adaptations of a Stephen King property, Children of the Corn. "Children of the Corn" was originally published in Penthouse in March of 1977 and became one of the short stories included in Stephen King's best-selling anthology, Night Shift, which also included "Sometimes They Come Back" and "The Lawnmower Man," both of which were eventually adapted into movies.
Children of the Corn tells the story of young marrieds Burt (Peter Horton) and Vicky (Linda Hamilton) as they travel across the country to a new job waiting for Burt in Seattle. Their marriage is strained, and quite frankly, Burt is a pretty unpleasant character for most of the film, while Linda Hamilton is just… there. Their travels take them to Nebraska and through the small town of Gatlin, which is anything by quaint and friendly. You see, three years ago, the majority of the children in town went on a homicidal rampage at the urgings of Isaac (John Franklin) and his lieutenant, Malachi (Courtney Gains), viciously murdering all but one of the adults in the town.  The sole surviving adult, Diehl (R.G. Armstrong), is an old mechanic who lives on the outskirts of town, which the children use as a deterrent for travelers that may come across Gatlin. What follows is a surreal nightmarescape where the innocence of children is twisted into something vile and evil; and the questions of blind faith and what it can bring resonate throughout the film.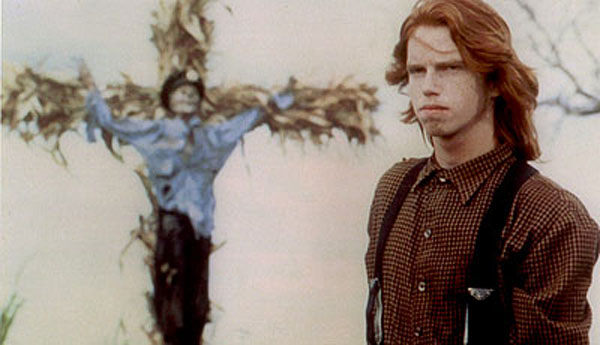 This movie was a favorite of mine when I was a child, and the Arrow Video release made the rewatch an absolute pleasure. A beautiful transfer, both in audio and video, really helped the movie to hold up. It's been a long while since I have watched this, and I have to say that I appreciate the direction by Fritz Keirsch, especially considering the short shooting schedule and limited budget he had to work with. The movie has a Hitchcockian feel, which is most evident in the way the violence is portrayed on screen. Keirsch also drew a lot out in the performances of his child actors, which is critical, as they drive the film more so than Peter Horton or Linda Hamilton, who are really just there to run in terror from one location to another until the finale in the corn fields. John Franklin, while not a child when he portrayed Isaac (he was 23 and suffered from a hormonal imbalance which never allowed his body to reach a full "adult" size), is chilling; and Gains' portrayal of Malachi is still just as powerful as when I originally saw the film in 1984. All that being said, the best and most powerful "character" in this film is the soundtrack by Jonathon Elias. After watching this again, I had the theme of Children of the Corn running through my head for days. The haunting children's choir and vocal music stings really ratchet up the tension and elevate the movie to a higher level in the echelons of the horror genre.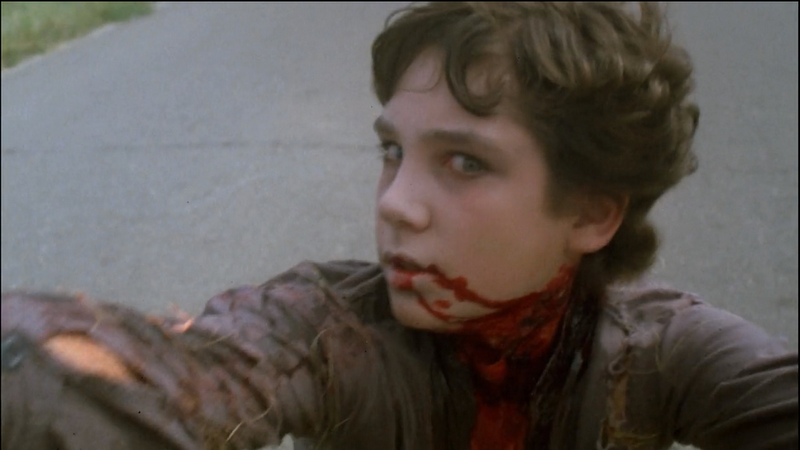 So, if you are looking for a trip down memory lane and love a moody, atmospheric horror yarn with an excellent soundtrack, Children of the Corn is a great way to spend your time. Grab a beverage, and pop up some popcorn… There's plenty out there in the fields. Just watch out for "He Who Walks Behind the Rows."
USA/C-92m/Dir: Fritz Keirsch/Wr: George Goldsmith/Cast: Peter Horton, Linda Hamilton, R.G. Armstrong, John Franklin, Courtney Gains
If You Like: If you are a fan of It (2017), which is currently setting the box office ablaze, give this earlier King adaptation a try.
Video: Arrow Video's Children Of The Corn (Special Edition) [Blu-ray]
is presented in a beautiful 2K restoration from the original camera negative. There is a scene toward the end of the movie that is really stunning, especially since it all came about because of a mistake by the Director of Photography, Raoul Lomas, using the incorrect lens aperture. The new 2K transfer really brings this happy accident to "light." The Arrow release has a veritable cornucopia of extras. Truly a collectors DREAM!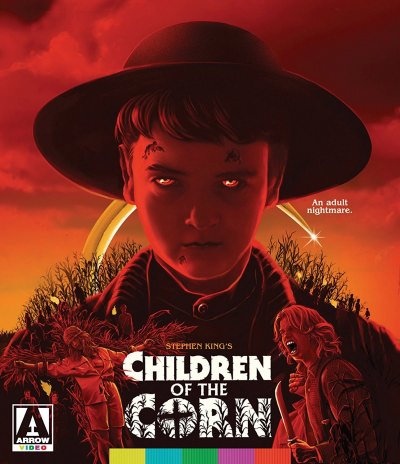 The special features include:
FIRST PRESSING ONLY: Fully illustrated collector's booklet featuring new writing on the film by John Sullivan and Lee Gambin
Original Theatrical Trailer
Reversible sleeve featuring original and newly commissioned artwork by Gary Pullin
Return to Gatlin – a look back at the iconic filming locations in Iowa with John Sullivan
Cut from the Cornfield – an interview with producer John P. Borchers
Welcome to Gatlin: The Sights & Sounds of Children of the Corn-interviews with production designer Craig Stearns and Jonathon Elias
…And a Child Shall Lead Them – a brand new interview with actors Julie Maddalena and John Philbin
Field of Nightmares – a brand new interview with writer George Goldsmith
Harvesting Horror – retrospective documentary featuring interviews with Fritz Keirsch, John Franklin, and Courtney Gains
It Was the Eighties! – and interview with actress Linda Hamilton
Audio Commentary with Director Fritz Keirsch, producer Terrence Kirby, and actors John Franklin, and Courtney Gains
Brand new audio commentary with horror journalist Justin Beham and Children of the Corn historian John Sullivan
Optional English Subtitles for the deaf and hard of hearing
Original stereo and 5.1 DTS-HD MA audio options
Brand new 2K restoration from the original camera negative
High Definition Blu-ray (1080p) presentation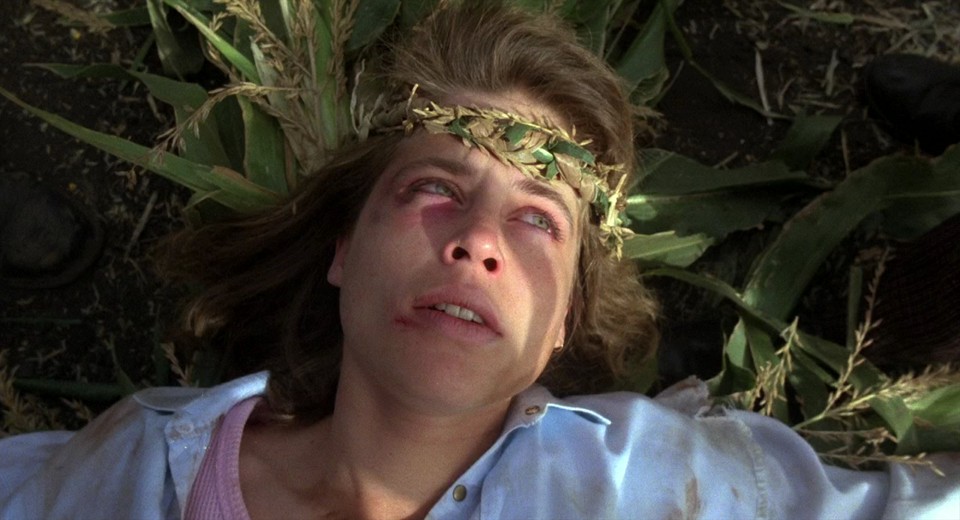 Streaming: At the time of this review, Children of the Corn is streaming on Netflix.
More to Explore: If you are a fan of Stephen King in cinema, you have plenty to choose from, but beware; some are not as good as others. Better adaptations include Brian De Palma's Carrie, Stanley Kubrick's The Shining, and John Carpenter's Christine.
Keep an eye out for: On the dashboard of Burt and Vicki's car is a copy of Night Shift, the Stephen King short story collection in which "Children of the Corn" originally appeared.
For More Info: And while your at it, why not see how the story compares to the film in Night Shift
by Stephen King.