Dracula — Ever since Bram Stoker wrote the novel in 1897, we have been fascinated with vampires, and none more so than Vlad Tepes, a.k.a Vlad The Impaler, a.k.a. Dracula. Twenty-two actors (and counting) have portrayed the undead "Prince of Darkness" on film, including:
Bela Lugosi — Dracula Prime
Christopher Lee — Hammer Horror Time! Dracula
Duncan Regehr — "I'm in the damn club. Aren't I?" Dracula
Gary Oldman — Split Top, Loaf-Hair Dracula
George Hamilton — Campy Dracula
In 1973, Dan Curtis produced and directed a TV movie adaptation of Bram Stoker's Dracula starring the always entertaining Jack Palance as the titular Count. Curtis had just completed a very successful run on the cult TV soap, Dark Shadows, which ran from 1966 to 1971 and told the story of the Collins family and the macabre situations they dealt with each day. The show really hit its stride when it introduced bloodsucker Barnabas Collins (Jonathan Frid) ten months into the show's run.
Now, I had always heard about this version of Bram Stoker's tale, and I had watched bits and pieces over the years. My first introduction to the movie was in the Buffy the Vampire Slayer episode "Lie to Me." I was immediately intrigued, and I decided I needed to see the movie in its entirety. So, when I found the Blu-ray copy at a local retailer, I snapped it up; and I was not disappointed.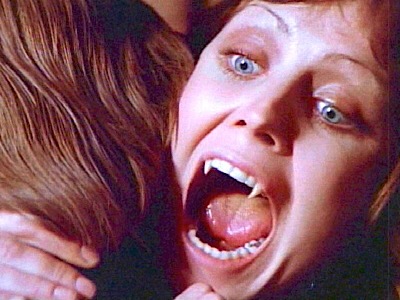 Knowing now that this was a TV movie adaptation, it explains the "watered down" feel. I am used to movies with huge multi-million dollar budgets telling the story of everyone's favorite bloodsucker. Where this version cannot deliver in huge action set-pieces or extravagant art direction, it makes up for with some amazing performances, no more evident than the performance given by Jack Palance. His Dracula oozes menace and power; and when he speaks in that singular voice that only Jack Palance has, you know that you are listening to a man that has experienced more loss and grief than anyone else… and he will make the world feel the same suffering.
No adaptation of Bram Stoker's original work has been a literal translation of the text. This mainly due to the fact that the original story is told in an epistolary format, unfolding through a series of letters, newspaper articles, diary entries, and ships' log book entries. That makes writing a traditional narrative challenging. Dan Curtis' version is the first to make Dracula a more sympathetic character that is looking to resurrect his long lost love — a huge addition to the Dracula mythos by screenwriter Richard Matheson — which has most certainly helped in the romanticizing of vampires as a whole.
Overall Dan Curtis' Bram Stoker's Dracula is a worthy addition to anyone's collection and is especially worth a watch.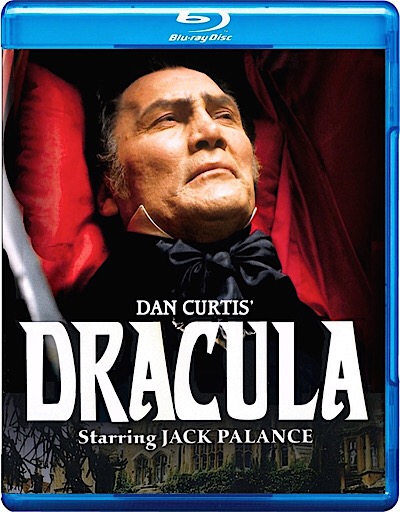 UK/C-98m/Dir. Dan Curtis/Wr: Richard Matheson/Cast: Jack Palance, Nigel Davenport, Pamela Brown, Fiona Lewis, Penelope Horner, Murray Brown
If You Like: Fans of Dan Curtis' other productions, such as Dark Shadows
and The Night Stalker
should enjoy his take on the Count.
Video: The Dan Curtis' Dracula [Blu-ray]
 release from MPI Video has a lot to offer, most importantly, a nice anamorphic widescreen transfer in a 1.78:1 aspect ratio, taken from a 2K scan of the original 35mm camera negative . There is also a nice collection of extras:
An interview with Actor Jack Palance, discussing his memories twenty years after making the film.
An interview with producer/director Dan Curtis, produced around the same period, provides some great insights.
Outtakes and alternative takes of various scenes
TV Cuts — The Blu-ray represents a version of the film shown in theaters, which is slightly more graphic than the original TV version.  This extra reveals the differences between the two versions.
The theatrical trailer
Streaming: Not currently available for streaming at the time this review was written.
More to Explore: Well, Dracula, and you can never go wrong with the original 1931 Universal Studios' release starring Bela Lugosi, or on the flip-side, the 2000 release of Dracula 2000 starring Gerard Butler. Both films could not be more different, and both films have added so much to the Dracula legend.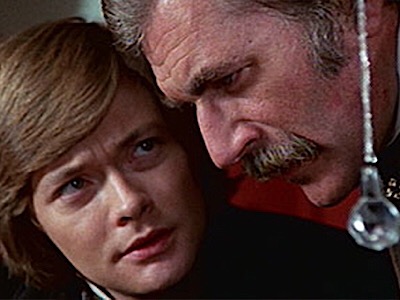 Trivia: The initial broadcast on October 1973 was preempted for an address by Richard Nixon on the resignation of Spiro Agnew. Instead, it was broadcast in February 1974.  Additionally, Marvel Comics'  Tomb of Dracula artist Gene Colan stated that he based Dracula's appearance on none other than Jack Palance.
For More Info: Consult The Television Horrors of Dan Curtis: Dark Shadows, The Night Stalker and Other Productions, 1966-2006
by Jeff Thompson.