Severin Films is set to release Robert Fuest's satanic phantasmagoria The Devil's Rain on Blu-ray October 31st!  Fans of the film have multiple ordering options (see the order links below), including the "Prince of the Abyss" bundle, which includes the Blu-ray, plus a limited, numbered edition slip case (only 1500 are being made), and a pendant necklace based on the stained glass window from the church featured in the film!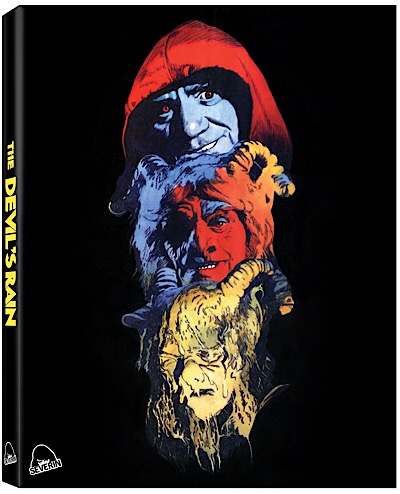 I've never seen the film myself, but I've always been interested, being that it was directed by Robert Fuest, who helmed my favorite horror film of all-time, The Abominable Dr. Phibes!  Here's the full info from the Severin website:
One Of The Most Notorious
Drive-In Shockers Of The '70s
Now Restored In HD For The First Time Ever!
Severin Films invites you to spend your Halloween chanting "Hail Satan!" as they bring THE DEVIL'S RAIN pouring down onto home theater screens across North America, soaking horror fans in the wet, heavy bile excreted by the Devil himself! Each copy of the movie comes with reversible cover art and limited, numbered edition slipcase (only 1500 units) with alternate artwork are be available exclusively from the Severin webstore.
Take an all-star cast – including William Shatner, Ernest Borgnine, Eddie Albert, Keenan Wynn, Tom Skerritt, Ida Lupino and even John Travolta in his movie debut – at their most hellishly over-the- top. Add one of the most visually inventive filmmakers of the era – director Robert Fuest, of THE ABOMINABLE DR. PHIBES fame – and thrust them into an insane tale of rural occult carnage, featuring Church of Satan founder Anton LaVey as Technical Advisor. Watch in infernal awe as it all hurtles towards the most eye-popping, flesh-melting finale in grindhouse history. Now experience this devilishly infamous classic as you've never seen or heard it before, restored in HD for the first time ever and oozing with all-new Extras approved by Lucifer himself!
In addition to this devilish release of the film, Severin has also collaborated with the Church of Satan and it's merchandising operation iSatanist to produce a stylish pendant necklace recreating the stained glass window from the church seen in the film, available at the Severin Films store or as part of the Prince Of The Abyss bundle.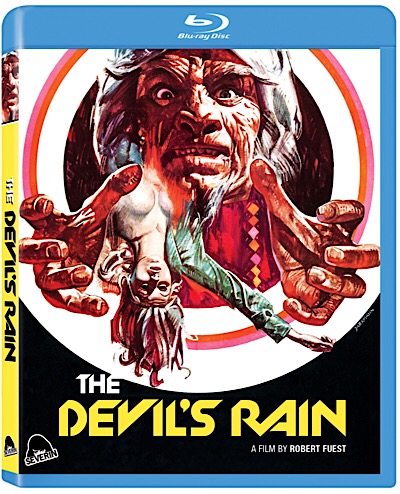 Special Features:
Audio Commentary With Director Robert Fuest

Confessions Of Tom

– Interview With Actor Tom Skerritt

The Devil's Makeup

– Interview With Special FX Artist Tom Burman
1975 Archive Interview With Actor William Shatner

First Stop Durango

– Interview With Script Supervisor Ana Maria Quintana

Consulting with the Devil

– A Conversation with the High Priest & High Priestess of the Church of Satan

Hail Satan!

– Interview With Anton LaVey Biographer Blanche Barton
Filmmaker / Horror Collector Daniel Roebuck On The Devil's Rain
On Set Polaroid Gallery Of Script Supervisor Ana Maria Quintana Accompanied By Radio Spots
Theatrical Trailer
TV Spots
Poster/Still Gallery