Interesting things are afoot at Olive Films.  They released a press release today regarding the future of their Olive Signature line, and I think their plans for preserving their prestige sub-label make tremendous sense.  Their prior special editions — High Noon, Johnny Guitar, The Quiet Man, etc. — have been very high quality, so I can't wait to see what else they have in store.  Father Goose and (especially) Operation Petticoat are a great place to start.
Here's the complete press release:

THE EVOLUTION OF OLIVE SIGNATURE
Last year, with the launch of Olive Signature, we brought you a product of exceptional quality. Featuring superior restorations, entertaining and informative bonus content, and beautiful packaging, our intent was to bring you a product that achieves nothing short of what you should expect from us—the best.
Since the premiere of our initial Olive Signature titles—High Noon, Johnny Guitar, The Quiet Man, The Night of the Grizzly, Macbeth, and Hannie Caulder—Olive Signature has undergone an evolution. Our focus has not only been how to continue to bring to you the highest quality versions of your favorite Olive Films titles, but also how to ensure the sustainability of Olive Signature.
After careful consideration, we have concluded that the only way for Olive Signature to remain viable is to release these titles in Blu-ray-only limited pressings of 3,500 units. Fans can rest easy knowing that these Blu-rays will still be available to them through our website and the same sellers as before, though as always, the only store that we can guarantee timely fulfillment through is our own, olivefilms.com. To reaffirm our commitment to you as our top priority, we are taking added precautions to combat the scalping of these exclusive Blu-rays by capping the units sold through our website at five per household. Effective immediately, you will see these changes with our highly anticipated November debuts of Olive Signature Operation Petticoat and Father Goose.
This also means that our past Olive Signature DVDs and Blu-rays will be going out of print, so act now to purchase your own.
Thank you for allowing us to explain our perspective. We know you will endorse our decision because, as fellow film fans, you recognize the importance of our shared mission to create amazing new editions of some of your favorite movies. Olive Films looks forward to continuing the work we started last year with Olive Signature, and your steadfast commitment remains essential to that effort. With your help, Olive Signature is not going anywhere — it's only getting better.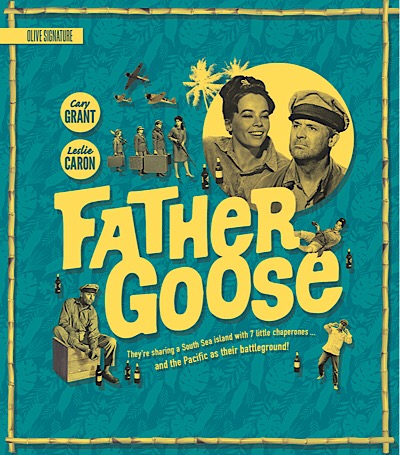 FATHER GOOSE (1964)
OLIVE SIGNATURE FEATURES 
New Restoration from 4K Scan of Original Camera Negative
Audio commentary by film historian David Del Valle
"Unfinished Business: Cary Grant's Search for Fatherhood and His Oscar" – with Marc Eliot, author of Cary Grant: A Biography
"My Father" – internet pioneer Ted Nelson discusses director Ralph Nelson
Universal Newsreel footage featuring Leslie Caron
Essay by Village Voice critic Bilge Ebiri
In what would be his second-to-last film appearance, screen legend Cary Grant (Operation Petticoat) is paired with the enchanting Leslie Caron (Gigi) in Father Goose, and the battle of the sexes has never been as funny or as romantic.
When boozy beachcomber Walter Eckland (Grant) is blackmailed into service as a lookout by the Allied Forces during World War II, little does he realize that his idyllic island getaway will soon become a haven for seven schoolgirls and their prim and proper teacher. Rescued by Eckland from a nearby island following an enemy attack, Catherine Freneau (Caron) and her seven mischievous charges will turn the life of the grumpy, whiskey-soaked Eckland on its ear. Adding to the fun is Trevor Howard (The Third Man) as Commander Frank Houghton, the proverbial thorn in Eckland's side.
Father Goose, directed by Ralph Nelson (Lilies of the Field) from an Academy Award® winning screenplay by Peter Stone, Frank Tarloff and S.H. Barnett, was photographed by Academy Award winner Charles Lang Jr. (A Farewell to Arms) and features a score by Cy Coleman (Sweet Charity), which includes the Father Goose theme song, "Pass Me By."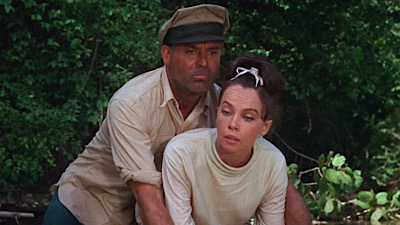 CARY GRANT (That Touch of Mink, The Grass is Greener, Operation Petticoat)
LESLIE CARON (Gigi, An American in Paris, Daddy Long Legs)
TREVOR HOWARD (Brief Encounter, The Third Man, Mutiny on the Bounty)
Directed by RALPH NELSON (Lilies of the Field, Charly, Requiem for a Heavyweight)
YEAR: 1964
GENRE: COMEDY
LANGUAGE: ENGLISH (with optional English subtitles)
TOTAL RUNNING TIME: 117 mins
RATING: N/R
VIDEO: 1.85:1 Aspect Ratio; COLOR
AUDIO: MONO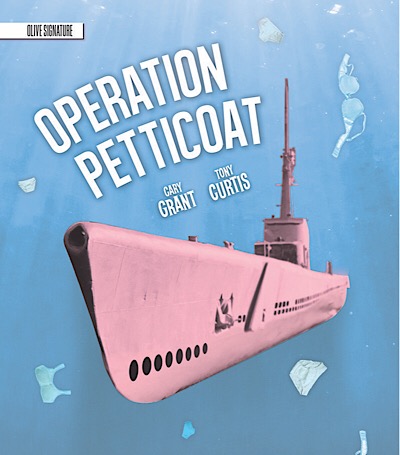 OPERATION PETTICOAT (1959)
OLIVE SIGNATURE FEATURES 
New High-Definition digital restoration
Audio commentary by critic Adrian Martin
"That's What Everybody Says About Me" – with Jennifer Edwards and actress Lesley Ann Warren
"The Brave Crew of the Petticoat" – with actors Gavin MacLeod and Marion Ross
"The Captain and His Double: Cary Grant's Struggle of the Self" – with Marc Eliot, author of Cary Grant: A Biography
Universal Newsreel footage of Cary Grant and the opening of Operation Petticoat at the Radio City Music Hall
Archival footage of the submarine USS Balao, which doubled as the USS Sea Tigerin Operation Petticoat
Essay by critic Chris Fujiwara
Cary Grant (Father Goose) and Tony Curtis (Some Like It Hot), two of cinema's most celebrated stars, provide the comedic pivot point in director Blake Edwards' (The Pink Panther) Operation Petticoat. It's hijinks on the high seas when revered Lt. Cmdr. Matt T. Sherman (Grant) and the somewhat unethical Lt. JG Nicholas Holden (Curtis) team to upright the USS Sea Tiger, a flagging submarine that's seen better days. With some dubious maneuvering (and scavenged parts), things begin to look up for the old war horse until the ship and its crew are forced out to sea by a surprise attack. Limping along and barely held together with its borrowed parts, the Sea Tiger gets some unexpected company when five stranded Army nurses are brought aboard. The game gals will prove that necessity is indeed the mother of invention, initiating a series of renovations to make life aboard the Sea Tiger livable — with the exception of the sub's accidental pink paint job. Not only is the ship now an eyesore, but a target for both the Japanese and American forces. Adding to the fun, both fore and aft, are a talented cast of supporting players that include Joan O'Brien (The Alamo), Dina Merrill (The Sundowners), Gene Evans (Shock Corridor), Dick Sargent (TV's Bewitched), Arthur O'Connell (April Love), Gavin MacLeod (TV's The Love Boat), Madlyn Rhue (A Majority of One) and Marion Ross (TV's Happy Days). Operation Petticoat's Academy Award® nominated screenplay was written for the screen by Stanley Shapiro and Maurice Richlin (suggested by a story by Paul King and Joseph Stone) and photographed by the great Russell Harlan (Red River, Rio Bravo).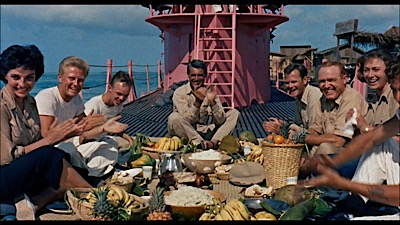 CARY GRANT (Father Goose, The Grass is Greener, That Touch of Mink)
TONY CURTIS (Houdini, The Great Race, Some Like It Hot)
DINA MERRILL (The Sundowners, The Player, BUtterfield 8)
JOAN O'BRIEN (It Happened at the World's Fair, The Alamo, The Comancheros)
GENE EVANS (Shock Corridor, Pat Garrett and Billy the Kid, The Steel Helmet)
Directed by BLAKE EDWARDS (The Pink Panther, Victor Victoria, 10)
YEAR: 1959
GENRE: COMEDY
LANGUAGE: ENGLISH (with optional English subtitles)
TOTAL RUNNING TIME: 120 mins
RATING: N/R
VIDEO: 1.85:1 Aspect Ratio; COLOR
AUDIO: MONO