With the success of the James Bond films Dr. No (1962) and From Russia with Love (1963), movie studios around the world were on the lookout for an action hero with series potential.  As their answer to James Bond, France's Gaumont Studios turned not to a popular literary hero, but instead to the fictional supervillain Fantômas, a character that first premiered in a series of 33 pulp novels from 1912 to 1913.  A successful trilogy of films resulted, ranging from 1964 to 1967.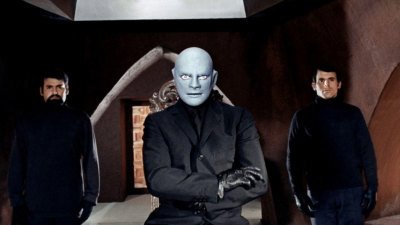 In Fantômas (1964), the first film in the series, a criminal mastermind has been carrying out a rash of jewel robberies around Paris, while taunting the over-matched police Commissaire Juve (Louis de Funès) by leaving a calling card with the signature "Fantômas."  Journalist Jérôme Fandor (Jean Marais), doubts that a single criminal could have pulled off the robberies, so he publishes a phony interview with the supposedly imaginary mastermind, including faked photographs taken by his girlfriend Hélène (the lovely Mylène Demongeot).  Unfortunately for Fandor, Fantômas (also played by Marias) is all too real and is understandably outraged at being falsely represented in the newspaper article.  The supervillain, who wears a mask at all times to avoid detection, kidnaps the journalist and discredits him by very publicly staging another robbery while wearing a mask made of "imitation skin" to disguise himself as Fandor.  Can Fandor escape and unmask the slippery Fantômas?  Will Commissaire Juve get his man?  And will Hélène get her man?  They will certainly try, while enduring a number of chases and death-defying stunts that might even make 007 consider getting into another line of work.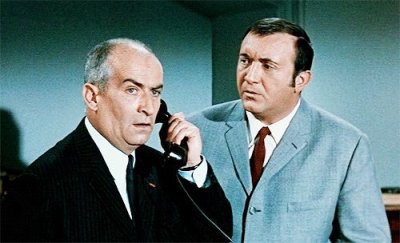 While a series of silent film adaptations of Fantômas by Les Vampires director Louis Feuillade had been played completely straight, the Sixties series by director André Hunebelle injected comedy into the mix, mainly through the casting of Louis de Funès as Commissaire Juve.  In truth, the comedian was given little funny to say or do.  However, de Funès' training as a reactive comedian in stage farces was so strong, that he made the most of every expression and bit of physical business.  It is largely due to the fact that de Funès was so fun to watch that the Fantômas series of the Sixties succeeded.  I have to wonder if the decision to make the Commissaire more comedic had something to do with the popularity of The Pink Panther, which was released the previous year.  While the character of Juve is portrayed as more competent than Clouseau, I could easily imagine the producers determining that they might double the chances of success if they appropriated elements of two popular films rather than one.
In addition to hiring de Funès when the more established comedian Bourvil was unavailable, the producers doubled down on the comedic elements of the film by camping up the criminal mastermind Fantômas.  The villain in Hunebelle's films was given a blue, rubber mask (which made him look like a demented eraser) and a secret lair outfitted with nonsensical, scientific gadgets.  While the character in the Sixties films is still capable of torture and murder, it is impossible to take him seriously when his every entrance is scored with wailing organ music.  Fans of the original pulp novels and silent adaptations will likely be disgusted with the lightness with which the character is presented.  However, I found it all to be in good fun, with much the same atmosphere of the Patrick Macnee-led Avengers series.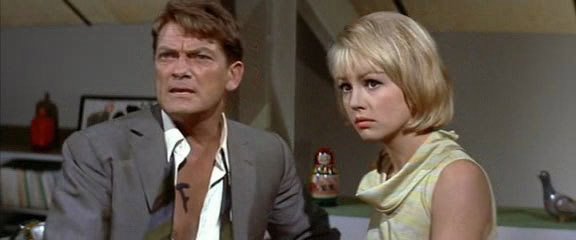 Marais, best remembered as the Prince/Beast in Jean Cocteau's Beauty and the Beast (La belle et la bête, 1946), acquits himself well in the dual role of Fantômas and Fandor.  However, at the age of fifty (and looking it), he is a bit long in the tooth to play the inexperienced journalist/romantic lead.  His hatchet-faced features are also too distinctive to make Fantômas' non-Fandor disguises very believable.  Apart from the parts of the film where Louis de Funès portrays Fantômas in the disguise of Commissaire Juve, Fantômas' disguises just look like Jean Marais with a putty nose and a false mustache.  It probably would have been better if Marais had only played Fantômas behind the blue mask and let other actors portray the disguised character, but now I'm probably taking the whole thing way too seriously myself.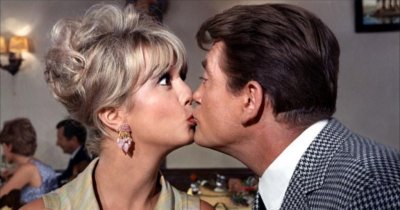 Mylène Demongeot rounds out the main trio as Fandor's faithful girlfriend Hélène.  She is lovely and engaging whenever she is on screen, but, unfortunately, she is underused in the first film.  I hope that her role is expanded a bit in the sequels.  At least, in a refreshing change of pace from most action films of the time, the female lead is allowed to come to the rescue of the male lead just as often as she is rescued herself.
While fans of the literary character of Fantômas may bemoan the comedic direction that Gaumont took with this series, the first film in the trilogy is a fast-paced, lively romp.  If I had any complaint, it was that the film simply came to an end, rather than having a true ending.  However, since two sequels immediately followed this initial outing, there is plenty of running time left to bring the story to a suitable conclusion.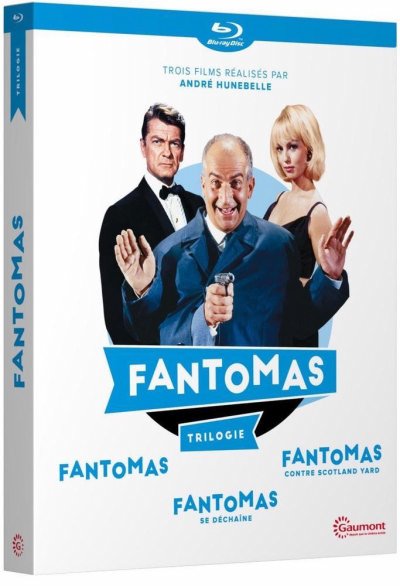 France/C-104m./Dir: André Hunebelle/Wr: Jean Halain, Pierre Foucaud, Pierre Souvestre, Marcel Allain/Cast: Jean Marais, Louis de Funès, Mylène Demongeot, Jacques Dynam, Robert Dalban, Marie-Hélène Arnaud
If You Like: Fans of semi-comic actioners of the Sixties, such as Our Man Flint (1966), Modesty Blaise (1966), and Danger: Diabolik (1968) will likely enjoy director André Hunebelle's Fantômas series.
Video: The Fantômas films have been released on Blu-ray in Europe multiple times, but most of those discs do not include English subtitles, so do your research before purchasing.  The latest Fantomas [Blu-ray]
from Gaumont (released June 22, 2016) does include English subtitles.  You can purchase this new transfer of the film as a standalone Blu-ray or as part of the 3-Disc Blu-ray box set, Fantomas – la trilogie, which also includes the sequels Fantomas Unleashed (1965)
and Fantomas vs. Scotland Yard (1967)
.  Not only do all three films include English subtitles, the Blu-rays  are region-free, so they will play in North American Blu-ray players.  Unfortunately, the special features on all three discs are in non-subtitled French, but having an English option for the films themselves is enough to recommend the set.
If you are interested in purchasing the Fantômas films, I'd highly recommend contacting Foreign Exchange Blu-ray Imports (4xblu.com). While they did not have the title available within their online shop, I contacted Darrell, the owner, at info@4xblu.com, and he tracked down the Fantomas – la trilogie box set for me. It cost less for me to purchase the 3-Disc Blu-ray set from Darrell than it would have cost to buy the first film alone on Amazon.com. (In other words, this is one case I'd suggest that you ignore my Amazon links).  Foreign Exchange Blu-ray Imports (4xblu.com) is a great resource whenever you are looking for Blu-ray titles produced outside of the U.S.
Streaming: Amazon Prime has offered a streaming version of Fantômas (1964) in the past, but it is not available at the time this review was written.
More to Explore: The same director and cast reunited for the sequels Fantomas Unleashed (1965)
and Fantomas vs. Scotland Yard (1967)
, so they are the most natural films to view next. Of course, you may also be curious about the five Fantomas films that were produced during the silent era.  They have been collected in a Blu-ray box set from Kino Lorber
.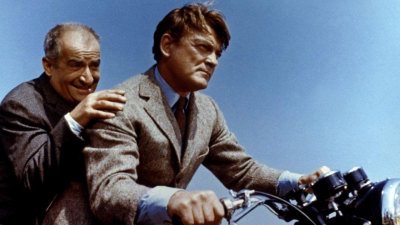 Trivia: While the leading actors and director returned for two sequels, it couldn't have been the happiest of working conditions.  In her memoirs, Mylène Demongeot revealed that Jean Marais was jealous of Louis de Funès new-found fame (after starring in the popular comedy Le gendarme de Saint-Tropez) and that the aging lead was standoffish on the set.  There is evidence that the series would have continued with a fourth film if Jean Marais wasn't fed up playing second fiddle to a comedian.
For more info: Consult the excellent reference website filmsdefrance.com.