For the release week of 7/18/17: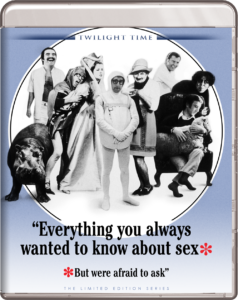 Garv's Pick of the Week: Everything You Always Wanted To Know About Sex* (But Were Afraid to Ask) [Blu-ray / Twilight Time]: Woody Allen adapted the popular self-help book into an uneven anthology film comedy.  It doesn't all work, but the stuff that does is gold.  From Allen's "early funny ones" period.
Additional Titles of interest —
Blood Alley [Blu-ray / Warner Archive]
: John Wayne takes a slow boat to China, with Betty Bacall in tow.
The Crimson Kimono [Blu-ray / Twilight Time]: A love triangle get's in the way of the investigation of a stripper's murder in L.A.'s "Little Tokyo," in this noir by maverick director Sam Fuller.
Kong: Skull Island [Blu-ray / Warner Brothers]
: The best Kong since the original.
Free Fire [Blu-ray / Lionsgate]
: The reviews weren't great, but I've liked Ben Wheatley's other work, so I'm still interested.