For the release week of February 13th: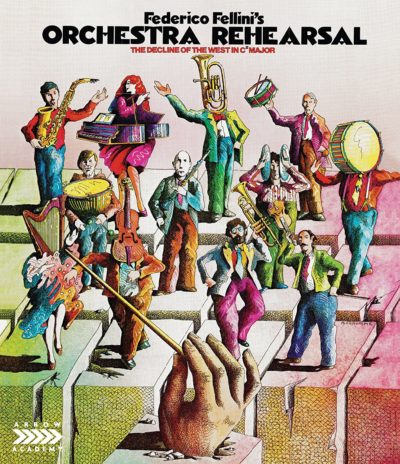 Garv's Pick of the Week: Orchestra Rehearsal [Blu-ray / Arrow Academy]
: Fellini's most overtly political and satirical film makes it's Blu-ray debut thanks to Arrow Academy, the "art film" sub-label of Arrow Films.  Society is depicted in metaphorical microcosm, as musicians assemble for an orchestra rehearsal, which breaks down in hilarious ways.  The film is also significant as it is Fellini's last collaboration with the great composer Nino Rota.  I haven't seen the film in many years, but I remember it being great fun.  I can't wait to view the Blu-ray.
Additional Titles of Interest —
Night of the Living Dead [Blu-ray / Criterion]
: The new 4K restoration of George A. Romero's landmark zombie horror gets the Criterion treatment.  The Blu-ray is packed with extra features, including a never-before-presented work-print edit of the film.
The Silence of the Lambs [Blu-ray / Criterion]
: Criterion also gives Jonathan Demme's incredibly popular adaptation of Thomas Harris' second Hannibal Lecter novel a Blu-ray upgrade.
The Blood Spattered Bride [Blu-ray / Mondo Macabro]
: This cult, Spanish, erotic, vampire film has been fully restored, re-inserting scenes that have never before been available on home video.
Drag Me To Hell [Collector's Edition] [Blu-ray / Scream Factory]
: Sam Raimi's very gooey "evil curse" horror gets a Scream Factory Collector's Edition.
Seijun Suzuki: The Early Years. Vol. 1: Seijun Rising The Youth Movies [Blu-ray + DVD / Arrow Video]
: Five early films by the director of Tokyo Drifter and Branded to Kill are collected together in this set from Arrow Video.  Volume 2 is scheduled for April!