For the release week of January 30th: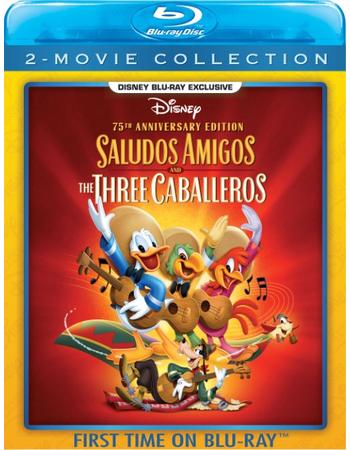 Garv's Pick of the Week: Saludos Amigos / The Three Caballeros [Blu-ray / Disney]: The two Latin American-themed musical package films, starring Donald Duck, José Carioca, and Panchito Pistoles, that Disney produced as part of the "Good Neighbor Policy" at the outbreak of World War II get a double-feature Blu-ray release.  Unfortunately, it is a Disney Movie Club exclusive, so you have to join their mail order Blu-ray club to purchase it (as well as other exclusives, such as Treasure Island, The Love Bug, Swiss Family Robinson, and The Apple Dumpling Gang).
Additional Titles of Interest —
The Pink Panther Cartoon Collection Vol. 1 [Blu-ray / Kino Lorber]
: The first 20 Depatie-Freleng Pink Panther cartoons are being released in their original theatrical exhibition form (sans the television laugh track).  You can find my full review of this release here.
Gothic [Blu-ray / Lionsgate Vestron Video Collector's Series]
: Crazy man director Ken Russell made this film about the fateful night that Lord Byron (Gabriel Byrne), Percy Shelley (Julian Sands), and Mary Shelley (Natasha Richardson) hung out, which led to the creation of Frankenstein.
Re-Animator [Blu-ray / Arrow Video]
: If you missed out on Arrow Video's 3-disc limited edition release of Re-Animator, you can now pick up the single disc standard release.