Reviewing Attack of the Killer Tomatoes posed a minor conundrum in terms of categorization.  The 1978 film is amateurishly directed, has poor production values, and is inconsistently acted by a cast of mostly non-professional actors, which makes it a prime candidate for "The Junk Drawer."  Still, despite these negatives, I don't think it is a bad movie.  Actually, it is an incredibly enjoyable, if irredeemably silly, entertainment that exceeds the expectations of its limited budget.  Consequently, I feel a bit conflicted about stamping the film with "The Junk Drawer" status; but I decided that the filmmakers would likely be disappointed if I didn't, as they seem to relish their "bad movie" reputation.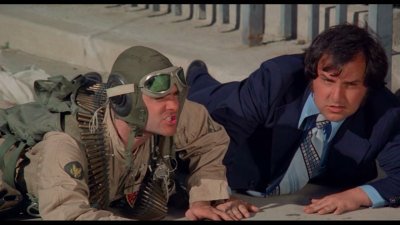 Nestled between the releases of The Big Bus (1976) and Airplane! (1980), Attack of the Killer Tomatoes (1980) is a Mad Magazine-style parody of Japanese Kaiju movies, except the giant menace is the vegetable (well technically the fruit) of the title.  After a rash of unexplained attacks by both normal sized and giant tomatoes, the government calls in Mason Dixon (David Miller) and a crack team of operatives with special skills (a master of disguise, an Olympic swimmer, an underwater expert, and a paratrooper that never disengages his chute) to get to the bottom of the tomato blitzkrieg.  At the same time, Louis Fairchild (Sharon Taylor), a novice reporter, is doing some snooping of her own, and the U.S. President (Ernie Meyers) dispatches his Press Secretary (George Wilson) to put a positive spin on the vegetable problem.  Can anything stop this "red menace?"
When reviewing a comedy, the number one question one must ask is "Is it funny?"  Happily, Attack of the Killer Tomatoes is frequently very funny.   Writers Costa Dillon, John De Bello, and J. Stephen Peace don't let the limitations of a low budget and (with a few exceptions) novice actors stop them from over-achieving when it comes to the comic dialogue and situations.  From the joke-filled opening credits, to several pretty good musically numbers, the writing team subvert expectations throughout the film and achieve far more than one would expect from a silly, cheap, sci-fi parody that grew out of a title that they thought sounded funny.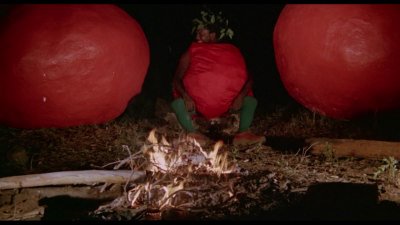 Since the film was lensed on 35mm negative stock (unusual for a low-budget quickie), the film also looks much better than one would expect.  The only thing that really gives away the limited budget are the interior shots, which are obviously filmed in local businesses, small government offices, homes of family friends, or anywhere else they could steal a shot.  It strains credulity than the Oval Office of the White House would have cheap wood paneling.  Still, who cares?  The film is funny, and that's what really matters.
USA/C-87m./Dir: John De Bello/Wr: Costa Dillon, John De Bello, J. Stephen Peace/Cast: David Miller, George Wilson, Sharon Taylor, J. Stephen Peace, Jack Riley, Eric Christmas, Ernie Meyers, Jerrold Anderson, Al Sklar, Ron Shapiro, Every Screwball in San Diego County
If You Like: Fans of Mad Magazine-style parody films, such as Airplane! (1980) and Top Secret! (1984), should enjoy this low-budget entry in the genre.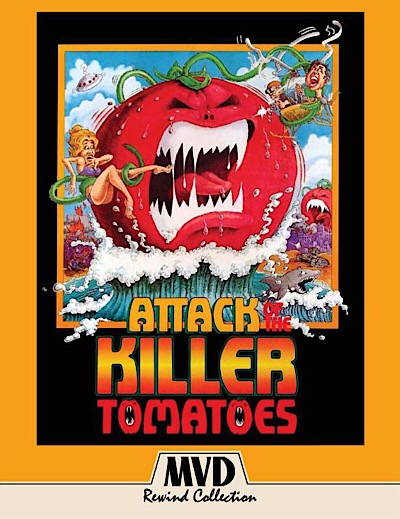 Video:  MVD launched their new boutique video label, the MVD Rewind Collection, celebrating "cult classics and more from the video store" with D.O.A.: A Right of Passage (1980). Attack of the Killer Tomatoes [Blu-ray + DVD]
is spine label "2" in the collection.  Once again, MVD has chosen a perfect title to hark back to the VHS glory days of the video store.
The film is presented on both a high definition Blu-ray (1080p) and a Standard Definition DVD in its original 1.85:1 aspect ratio.  The film has been newly remastered in a 4K digital transfer with its original uncompressed 2.0 mono audio.  In short, this low budget film looks and sounds terrific — colorful and film-like — and it probably is a better presentation than one would have seen in cinemas and drive-ins in 1978.
As is promised with the MVD Rewind Collection titles, this release is packed with extras:
Audio commentary from writer/director John DeBello, writer/co-star Steve Peace, and 'creator' Costa Dillon
3 Deleted Scenes
'Legacy of a Legend' (SD,14:13) is a collection of interviews, featuring John DeBello, Costa Dillon, film critic Kevin Thomas, John Astin, Steve Peace, Jack Riley, and D.J. Sullivan and more!
'Crash and Burn' (3:40, SD) is a discussion about the famous helicopter crash that could have killed everyone because the pilot was late on his cue
'Famous Foul' (2:21, SD) is about the San Diego Chicken and his role in the climatic tomato stomping ending
"Killer Tomatomania' (4:33, SD) is a smattering of interviews with random people on the streets of Hollywood about the movie
'Where Are They Now?' (2:51, SD) fills viewers in on what the cast and crew have been up to over the past couple of decades,
'We Told You So!' (3:07, SD) takes a hard-hitting look at the conspiracy of silence surrounding the real-life horror of killer tomatoes
"Slated for Success" (1:57, SD) featuring Killer Tomato Slate Girl
"Attack of the Killer Tomatoes" (the original 8mm short film) (with optional audio commentary) (17:35, SD)
'Gone with the Babusuland' (the original 8mm short that inspired Attack of the Killer Tomatoes) (with optional audio commentary) (32:28, SD)
Original theatrical trailer (SD)
Production design photo gallery
Radio spots
Easter Eggs
Collectible Poster
Limited Edition Retro 'Video Store Style' Slipcover / O-Card (First Pressing Only)
Streaming: At the time of this review, Attack of the Killer Tomatoes was available as an Amazon Prime streaming title.
More to Explore: Attack of the Killer Tomatoes became enough of a cult hit, that it spawned three sequels and an animated television series.  The first sequel, Return of the Killer Tomatoes (1988)
, was released on Blu-ray from Arrow Video. The other sequels, Killer Tomatoes Strike Back (1991)
and Killer Tomatoes Eat France (1992)
are only available on DVD.  There has been no release of the TV series.
Trivia: The helicopter crash near the start of the film was unplanned, due to pilot error.  The tail rotor blades hit the ground, and the helicopter spun out of control.  While no one was seriously hurt, the cost of the $60,000 rented helicopter ate up a large portion of the budget.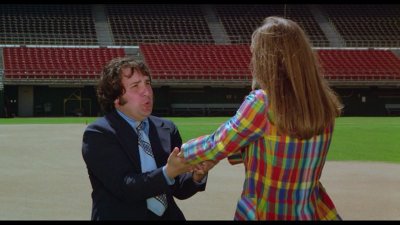 For More Info: There has yet to be a definitive book written about the Killer Tomatoes phenomenon, but I imagine it is only a matter of time.