For the release week of 7/25/17: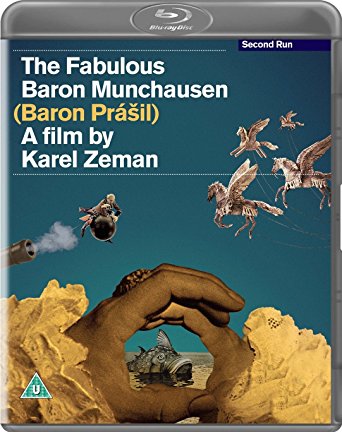 Garv's Pick of the Week: A lot of heavy hitters were released this week, and any one of the films mentioned in today's column could have qualified for the top spot.  However, the new release with which I am most intrigued is the celebrated Czech fantasy The Fabulous Baron Munchausen [Blu-ray / Second Run]
, inspired by the same stories that were later adapted by Terry Gilliam.  Take a look at the video above, to see the breadth of imagination at play. The U.K. Blu-ray from Second Run is region free, so purchase with confidence.

Additional Titles of Interest —
Lost in America [Blu-ray / Criterion]
: It kills me not to award Albert Brooks' yuppie satire top honors this week, as it is my favorite comedy of the 1980's. It is absolutely hilarious, and it deserves a place on every film lover's shelf.
The Stendhal Syndrome [Blu-ray 3-Disc Limited Edition / Blue Underground]
: Time to double-dip on one of the best of Dario Argento's later period.
Batman: Mask of the Phantasm [Blu-ray / Warner Archive]
: The best Batman movie until The Dark Knight, with a scarily good performance from Mark Hamill as the Joker.
When Knighthood Was In Flower (Blu-ray + DVD Combo Pack / Undercrank Productions)
: This opulent, silent romance made Marion Davies a star.