While William Randolph Hearst always wanted to promote his mistress/live-in companion, Marion Davies, as an virtuous, innocent beauty, Marion bristled against playing the delicate flower.  Davies had a flair for comedy, and preferred meatier roles, where she could play a multi-dimensional modern woman (preferably one with a sense of humor).  Ironically, it was in a 16th Century period piece that Marion got to break away from the old-fashioned ingénue roles in which she was usually shoehorned.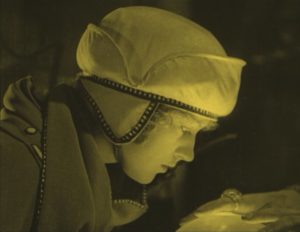 In the role of Mary Tudor, sister to Henry the Eighth, in the silent epic When Knighthood Was in Flower, Marion was again playing the heroine, but this character was no royal shrinking violet.  Instead, the noblewoman she portrayed was more along the model of a modern, proactive "Disney Princess."  Sure, Marion was still required to faint or cry on cue, but she was also allowed to haughtily defy the King, take her destiny in her own hands, disguise herself as a boy, take part in action scenes, prove herself handy at swordplay, and even participate in a little clowning.  Hearst may not have been delighted with Marion portraying herself as anything but an angel in human form, but audiences ate it up.  It was the role that made her a star.
The film itself is opulent in a way rarely seen outside of the silent era, featuring a large cast, humongous sets, and ornate set dressing. William Randolph Hearst insisted on period authenticity, so all of the props, armor, and decor in the film consisted of real antiques or exact reproductions. Still, despite the lavishness of the production, the story itself is fairly simple — Henry wishes to marry off his sister to gain favor with the King of France, while Mary is in love with a brave knight who is little more than a commoner.  There's a lot of eye-candy filling the frame, but the success of the film falls squarely on the shoulders of Marion's spunky, amusing performance.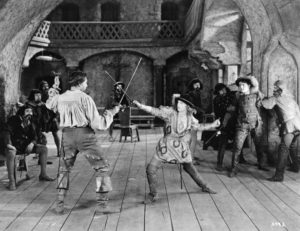 While the majority of the films produced in the silent era are lost to the dustbin of time, we are lucky that an excellent print of Marion Davies' breakout film still survives in an excellent 35mm print, which has been lovely restored for a new Blu-ray/DVD Combo release from Undercrank Productions (more details below).  I recommend that you take this opportunity to be transported back to a time When Knighthood Was in Flower.
USA/B&W-115m./Dir: Robert G. Vignola/Wr: William LeBaron, Charles Major, and Luther Reed/Cast: Marion Davies, Forrest Stanley, Lyn Harding, Theresa Maxwell Conover, Pedro de Cordoba, Ruth Shepley, Ernest Glendinning, Arthur Forrest, William Powell
If You Like: Fans of newer Disney princess films, like Tangled (2010) and Frozen (2013) may enjoy seeing one of the earliest examples of a strong on-screen female protagonist.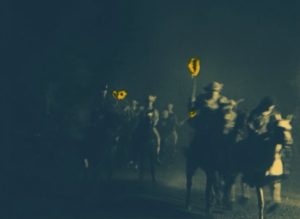 Video: Undercrank Productions has released a beautiful Blu-ray + DVD Combo Pack
scanned from an original 35mm nitrate print of the film's full 12-reel "road show" edition from the collection of the Library of Congress.  This release restores the original tinted and hand-colored sequences (note the torches in one of the screen shots), with a new score composed and recorded by Ben Model.
Streaming: Not currently available
More to Explore: Two films Marion Davies made just prior to When Knighthood Was in Flower ,  Beauty's Worth (1922)
and The Bride's Play (1922)
, have also been released on DVD by Undercrank Productions.
Trivia: Classic film lovers will enjoy seeing William Powell in one of his earliest roles, even if in this case, he is playing a cad.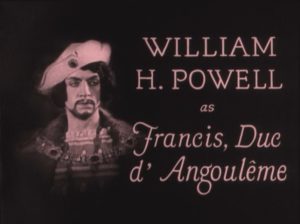 For More Info: Hugh Hefner and Turner Classic Movies produced a documentary on Marion, Captured on Film - The True Story of Marion Davies
, which is also available on DVD.