For the release week of January 9th: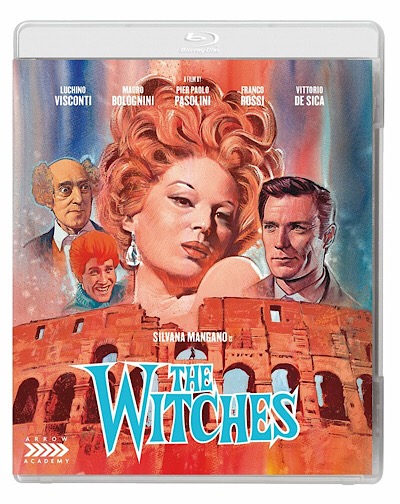 Garv's Pick of the Week: The Witches [Blu-ray / Arrow Academy]
: To be completely honest, I've never seen this Italian anthology film, but the premise is strong enough that it will likely prompt a "blind buy."  Silvana Mangano (of Bitter Rice fame) stars as different witches in five unrelated segments directed by Lucino Visconti, Mauro Bolognini, Pier Paolo Pasolini, Franco Rossi, and Vittorio De Sica.  Co-stars include Italian comedian Toto and Clint Eastwood.
Additional Titles of Interest — 
The Young in Heart [Blu-ray / Kino Lorber]
: This forgotten romantic comedy from super producer David O. Selznick gets a surprising but welcome Blu-ray upgrade.  Roland Young, Billie Burke, Janet Gaynor, and Douglas Fairbanks Jr. star as a family of con artists who try to bilk a rich, old lady by pretending to be decent, hard-working people.  However, in pretending to be upstanding citizens, decency starts to rub off.  Horrors!  I'll post a full review later in the week.
Young Mr. Lincoln [Blu-ray / Criterion]
: John Ford and Henry Fonda team up for this fictionalized biopic about Honest Abe's early days as a lawyer.  Criterion has given the film a new 4K restoration and bevy of extras, including an audio commentary by Ford (and Welles) scholar Joseph McBride and an old time radio adaptation.
Murder on the Orient Express [DVD / Paramount]
: Sidney Lumet's incredibly entertaining 1974 all-star adaptation of Agatha Christie's mystery novel has been released on Blu-ray throughout the world, but it is still only available on DVD in the U.S.  If you don't have a region-free Blu-ray player, the movie has been rereleased on DVD this week.