Fantastic news!  Kino Lorber Studio Classics announced today that they will release the phenomenonally popular and immensely entertaining TV movies, The Night Stalker (1972) and The Night Strangler ( 1973) in new, 4K restorations later in the year.  These TV movies, written by horror/sci-fi legend Richard Matheson, introduced the world to newspaper reporter turned monster hunter Carl Kolchak, played by the irreplaceable Darren McGavin.
I'm a huge fan of these feature length teleplays, as well as the short-lived TV series, Kolchak: The Night Stalker, which they spawned.  There is no question that these will be a "day one" purchases for me.
Here's the brief announcement from Kino Lorber Studio Classic's Facebook page: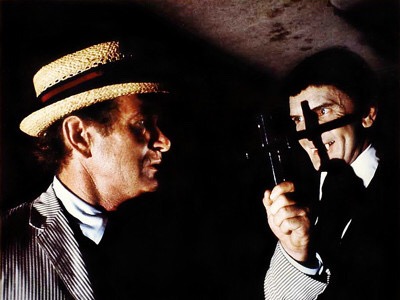 Coming Soon on DVD and Blu-ray!
Brand New 4K Restorations!
To be sold separately!
The Night Stalker (1972)
Starring Darren McGavin, Carol Lynley, Simon Oakland, Ralph Meeker, Claude Akins, Charles McGraw, Kent Smith, Elisha Cook Jr., Stanley Adams & Larry Linville
Directed by John Llewellyn Moxey (The House That Would Not Die)
The Night Strangler (1973)
Starring Darren McGavin, Jo Ann Pflug, Simon Oakland, Scott Brady, Wally Cox, Margaret Hamilton, John Carradine, Al Lewis & Richard Anderson
Directed by Dan Curtis (Trilogy of Terror)