Indicator, a boutique British video label from Powerhouse Films, has announced four upcoming Blu-ray releases for February 2018 — Stanley Kramer's Ship of Fools  (1965) and most excitingly, a four-disc box set Hammer Volume Two: Criminal Intent, which will include The Snorkel (1958), Never Take Sweets From a Stranger (1960), The Full Treatment (1960), and Cash on Demand (1961).
Although these are being released in the U.K., all of the titles are listed as Region Free, so they will play in Blu-ray players worldwide. Usually, Indicator's titles are eventually available through Amazon, DiabolikDVD and other U.S. retailers.
Below are the details directly from the Indicator website: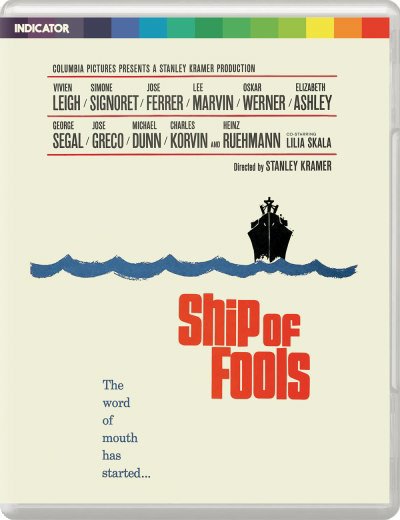 SHIP OF FOOLS – LE
£15.99
(Stanley Kramer, 1965)
Release date: 19 February 2018
Limited Blu-ray Edition (UK Blu-ray premiere)
Stanley Kramer's star-studded, Oscar®-winning adaptation of Katherine Anne Porter's novel about passengers aboard an ocean liner bound to Germany from Mexico in 1933 forms a potent allegory of a world drifting inexorably towards war. With its incredible cast – including Vivien Leigh (in her last screen role), Simone Signoret, Lee Marvin, George Segal, Oskar Werner and Jose Ferrer – Ship of Fools is a powerful drama and a compelling viewing experience. It remains one of the finest ensemble pieces of the period.
INDICATOR LIMITED EDITION SPECIAL FEATURES:
• High Definition remaster
• Original mono audio
• Audio commentary with Nick Redman, Lem Dobbs and Julie Kirgo
• Karen Kramer Introduction (2007, 2 mins)
• On Board the Ship of Fools (2007, 28 mins)
• Voyage on a Soundstage (2007, 11 mins)
• Original theatrical trailer
• Image gallery: on-set and promotional photography
• New and improved English subtitles for the deaf and hard-of-hearing
• Limited edition exclusive booklet with a new essay by Neil Sinyard, an overview of contemporary critical responses, and historic articles on the film
• UK premiere on Blu-ray
• Limited Edition of 3,000 copies
#PHILTD018
BBFC cert: 12
REGION FREE
EAN: 5037899071021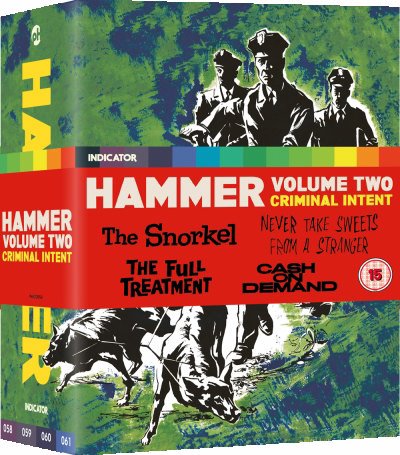 HAMMER VOLUME TWO: CRIMINAL INTENT – LE
£42.99
THE SNORKEL (Guy Green, 1958)
NEVER TAKE SWEETS FROM A STRANGER (Cyril Frankel, 1960)
THE FULL TREATMENT (Val Guest, 1960)
CASH ON DEMAND (Quentin Lawrence, 1961)
Release date: 19 February 2018
Limited Blu-ray Edition (World premieres on Blu-ray)
Four classic thrillers from the vaults of Hammer Films released on Blu-ray for the very first time, including premiere presentations of the complete, uncensored UK theatrical release versions of Val Guest's The Full Treatment and Cyril Frankel's Never Take Sweets from a Stranger and a host of new and exclusive extra features. This stunning Limited Blu-ray Edition Box Set from Indicator is strictly limited to 6,000 numbered units.
INDICATOR LIMITED BLU-RAY EDITION SPECIAL FEATURES:
• HD restorations of all four films
• Original Mono audio
• New title-specific documentaries exploring aspects of each film
• Two presentations of Never Take Sweets from a Stranger : the original UK theatrical cut, containing original titles and dialogue; and the alternative US version with amended Never Take Candy from a Stranger titles and censored dialogue
• Never Take Sweets from a Stranger introduction by actor and filmmaker Matthew Holness
• Archival audio interview with Never Take Sweets from a Stranger director Cyril Frankel
• Two presentations of The Full Treatment: the uncensored UK theatrical cut; and the censored US version with alternative Stop Me Before I Kill! titles
• Audio commentary with film historian Michael Brooke and author Johnny Mains on The Snorkel
• Audio commentary with film historians Jonathan Rigby and David Miller on Cash on Demand
• New and exclusive interviews with cast and crew members, including actors Janina Faye (Never Take Sweets from a Stranger) and Lois Daine (Cash on Demand), props master Peter Allchorne (The Snorkel) and second assistant director Hugh Harlow (The Snorkel)
• Appreciations of composers Elizabeth Lutyens (Never Take Sweets from a Stranger) and Francis Chagrin (The Snorkel) by David Huckvale, author ofHammer Film Scores and the Musical Avant-Garde
• Hammer's Women: Betta St John (2018): Diabolique magazine's editor-in-chief Kat Ellinger offers an appreciation of the American actress, singer and dancer
• Hammer's Women: Gwen Watford (2018): British cinema expert Dr Laura Mayne explores the life and career of the prolific English film, stage and television actress
• Hammer's Women: Diane Cilento (2018): Dr Melanie Williams, author of Female Stars of British Cinema, explores the life and career of the Australian theatre and film actress and author
• Hammer's Women: Lois Daine (2018): critic and author Becky Booth on the popular English film and television actress
• Archival documentaries, interviews and featurettes
• Original trailers
• Image galleries: extensive promotional and on-set photography, poster art and marketing materials
• Exclusive booklets for each film, with new essays by Kat Ellinger, Julian Upton and Kim Newman, archival interview materials, contemporary reviews, and full film credits
• New and improved English subtitles for the deaf and hard-of-hearing
• World Blu-ray premieres of all four films
• Limited Edition Box Set of 6,000 numbered copies
#PHILTD058
BBFC cert: 15
REGION FREE
EAN: 5037899071281