Between 1931 and 1972, Georges Simenon wrote 75 mystery novels and 28 short stories centered around a gruff, introspective, pipe-smoking, Parisian police inspector that he dubbed Jules Maigret.  Not only were the books tremendously popular; Simenon soon saw the potential to extend the character into other media.  Merely one year after the first novel was published, Maigret made his movie debut with Night at the Crossroads (La Nuit du carrefour, 1932), directed by the great Jean Renoir, starring his brother, Pierre, as the detective.  Many more Maigret movie adaptations followed, as well as television series, radio dramas, and comic books.  Apart from Sherlock Holmes, Inspector Maigret has probably been portrayed by more actors than any other fictional detective. Film and television Maigrets include Bruno Cremer, Michael Gambon, Charles Laughton, Richard Harris, Harry Baur, Albert Préjean, Rupert Davies, Gino Cervi, Jean Richard, and most recently (and most surprisingly) Rowan Atkinson.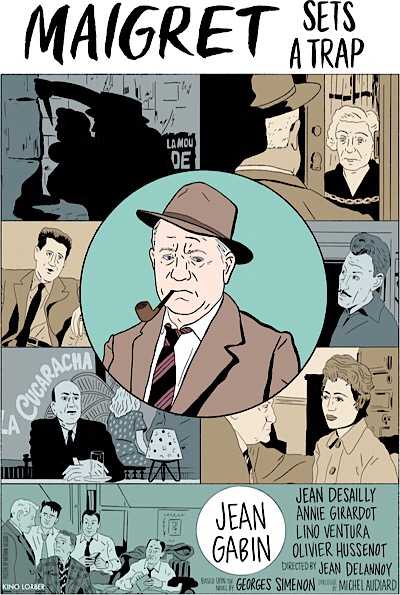 One of the most beloved film portrayals of Inspector Maigret was that of French superstar Jean Gabin, who starred as the character in three films from 1958 to 1963. New restorations of the first two films in this series are being released on Blu-ray by Kino Lorber, giving audiences an opportunity to reevaluate Gabin's interpretation of the character (or in my case, to experience it for the first time).  The first of these films, Maigret Sets a Trap (1958), is an excellent introduction to the detective for those uninitiated with Maigret's world and a special treat for fans of fictional detective.
A "Jack the Ripper" style serial killer is stalking the cobblestoned streets and back alleys of the Montmartre district of Paris, killing dark-haired women of medium height.  Inspector Maigret (Gabin) is in charge of the investigation, but he has little to go on, apart for scant circumstantial evidence that points to a local butcher (Alfred Adam).  Maigret feels instinctively that the butcher is innocent, but he has nothing to back it up.  Then, the slasher phones the detective directly to announce he has killed again.  Realizing that the murderer is a braggart who takes pride in his work, the Inspector decides to set a trap by publicizing the capture of a decoy killer.  Will portraying the decoy as a weak-minded psychopath flush out the true murderer?
I read the first Inspector Maigret novel, Pietr the Latvian (1931), prior to viewing the film, because I wanted to get a sense of how Jean Gabin measured up to the literary character.  I'm happy to state that Gabin's portrayal is just about perfect; and I imagine that it will be his face that I envision when reading future books in the series.  Georges Simenon's character in the novels is probably a head taller than Gabin.  The literary Maigret is a broad-shouldered bull of a man; whereas Gabin is shaped more like a bulldog.  However, Gabin is one of the few actors that actually became a more magnetic screen presence as he aged from romantic leading man to middle-aged, dumpy character actor; so what Gabin lacks in height, he makes up in attitude and power of personality.  Apart from the missing bulk, all the other trademarks of Maigret are in place — the floppy fedora; an array of pipes; a quiet, watchful aspect that can briefly erupt in an understandable burst of temper; a sense of justice and fairness; and devotion and deference to Madame Maigret (Jeanne Boitel).  I can think of no actor who could better embody the character.
While Jean Gabin's performance would be enough to recommend the film, I would be remiss if I failed to single out Jean Delannoy's contribution to the picture.  Delannoy's atmospheric direction of an excellent script (which he co-wrote) is top-notch.  At its heart, the movie is a police procedural, but the way the shadowy, labyrinthine alleyways are lensed give the movie a mid-Century film noir feel.  More than once, I was reminded of Carol Reed's The Third Man (1949), which is the absolute pinnacle of Euro-noir.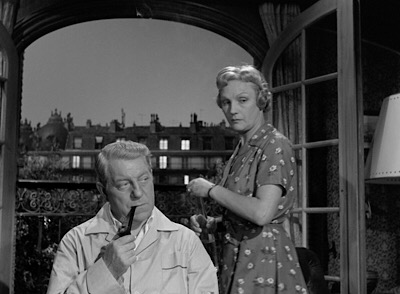 Whether you are a fan of Simenon's novels, are familiar with the character from Masterpiece Mystery adaptations on PBS, or just simply enjoy a good whodunnit, you won't be disappointed with Maigret Sets a Trap.  If you're like me, the film will make you want to immediately dive into its sequel, Maigret and the St. Fiacre Case (Maigret et l'affaire Saint-Fiacre, 1959), also directed by Delannoy and also to be released in December from Kino Lorber.
France/B&W-119m./Dir: Jean Delannoy/Wr: Jean Delannoy, R.M. Arlaud, and Michel Audiard (based on the novel by Georges Simenon)/Cast: Jean Gabin, Annie Girardot, Olivier Hussenot, Jean Desailly, Jeanne Boitel, Lucienne Bogaert, Jean Debucourt, Guy Decomble, Paulette Dubost, Jacques Hilling, Hubert de Lapparent, Jean-Louis Le Goff, Lino Ventura, Alfred Adam
If You Like: Fans of film noir, movie mysteries, or serial killer flicks will likely enjoy Maigret Sets a Trap, as the film includes elements of all three.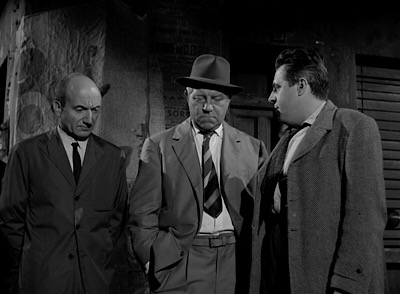 Video: The Maigret Sets a Trap [Blu-ray]
from Kino Lorber features a new restoration of the film, sporting a sharp, beautiful, black & white image that is free of scratches, dirt, or blemishes of any kind.  The original French mono audio is also crisp and clear, and the optional English subtitles are literate and easy to read.  The disc is rounded out by the theatrical trailer for both this film and its immediate sequel.
Streaming: Maigret Sets a Trap was not available on any of the major streaming services at the time this review was written.
More to Explore: Jean Gabin returned to the role of Maigret the following year in Maigret and the St. Fiacre Case
, which is also available on Blu-ray from Kino Lorber.
Trivia: While many devotees of the Maigret novels consider Jean Gabin's portrayal the best of the best, Georges Simenon was more lukewarm about the actor's embodiment of the character.  He felt that Gabin was a bit too rumpled in comparison to his more aristocratic view of the Inspector.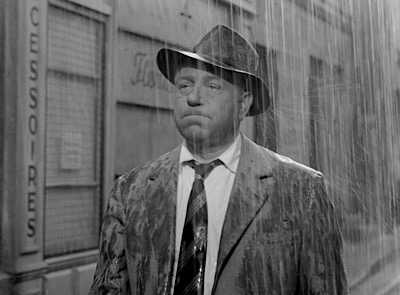 For more info: Why not read the original novel, Maigret Sets a Trap
, by Georges Simenon?  Or if you are a completist like me, you can read the entire series, beginning with the first Inspector Maigret novel, Pietr the Latvian
.