Rather than bury the headline — This book is amazing, and to celebrate its 10th anniversary, Tim Lucas, the writer and publisher, is allowing cinephiles a limited-time opportunity to read the digital edition FREE online through the end of the month.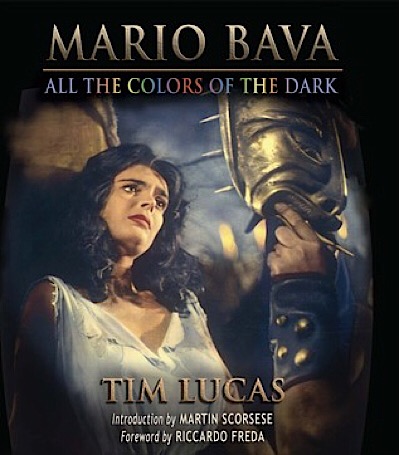 Read it for free here (expires 8/31/17): Free View HTML-5 Version
After sampling the book, I'm sure you'll want to purchase the digital version to own forever.  Personally, I dip into this reference regularly.  It is available for purchase HERE.
And now for a bit of an overview…
Mario Bava: All the Colors of the Dark
by Tim Lucas
©2007 Video Watchdog Digital Library
1128 pages
Few books have been as much of a labor of love as Tim Lucas' Mario Bava: All the Colors of the Dark. Meticulously researched, profusely illustrated, spanning 1128 pages, and weighing a hefty 13 pounds, the tome is the definitive work on the artist as a director, cinematographer, special effects artist, and uncredited collaborator.  Based on the subject matter of many of Bava's best films, it is also appropriate that the hefty volume could potentially be used as a murder weapon.
The original print run sold out years ago, and the highly sought after hardback demands greatly inflated prices on the secondary market.  At the time of this writing, the lowest price for a new or used copy on Amazon is $889.00 (plus $3.99 shipping).
Happily, you don't have to take out a loan to read this fantastic work of cinema journalism.  A digital version is available for just $29.99.  Not only does the digital edition contain the full book, formatted exactly like the print version, including all of the dazzling color illustrations; it also includes audio, video, and other digital extras, which are updated as new materials become available.  Best of all, you wont get a hernea trying to lift the darn thing.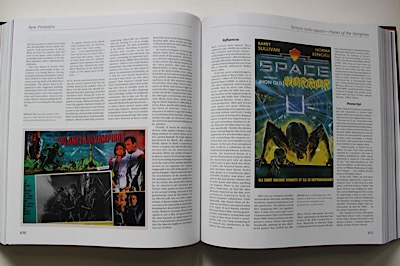 Don't take my recommendation alone.  So far, this book has won…
2008 Saturn Award for Special Achievement

Independent Publishers Book Award

Rondo Hatton Classic Horror Award

International Horror Guild Award
Here's the official synopsis of the book:
Introduction by Martin Scorsese. Foreword by Italian Horror Pioneer Riccardo Freda. This is the Complete Story of Mario Bava's life and careers as director, cameraman and special effects artist. Interviews with more than 100 actors, co-workers, friends and family members. The Definitive Study of each of his films: production histories, cast biographies, critical analysis, and video information. Never-before Published Photos including the only color shots taken on the set of BLACK SUNDAY. Original Mario Bava Storyboards – including the boards for the unfilmed project BABY KONG. Original Mario Bava Artwork – Some in Full Color! Bava's Secret Filmography: His uncredited works as director, cameraman and special effects artist. Complete Videography and Discography. Eugenio Bava (Mario's father) Filmography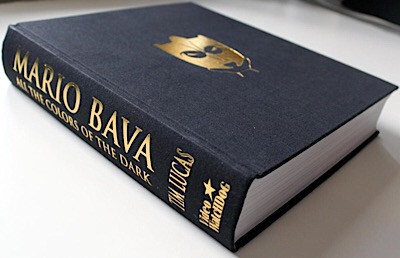 Digital extras added just this week to celebate the 10th anniversary are:
Tim's original interviews with Vincent Price (1975 – the first interview conducted for the book) and Cameron Mitchell (1989) – Audio, both released complete for the first time!
A webcam promotional interview with Tim & Donna Lucas, conducted by research associate Lorenzo Codelli, with a guest panel consisting of Lamberto Bava, Joe Dante, Kim Newman and Alan Jones, recorded in Trieste on November 16, 2007.
The Bava Book Behind-the-Scenes, including the First Peek at a preview copy, the arduous and precarious Delivery (uncut – because, as Donna says, "Why shouldn't they share our anguish?"), and the packing and shipping process out of our home!
Tim & Donna at the Saturn Awards in Los Angeles, 2008 – introduced by actor John Saxon and including the acceptance of the Award for Special Achievement!
Select examples of stills and posters BEFORE and AFTER the meticulous restoration work!
All this, PLUS an IMPROVED Table of Contents spread, with films and multimedia now listed ALPHABETICALLY for your greater convenience!
You won't find a more thorough book on an individual director.  It earns our highest recommendation!