The most anticipated Blu-ray release of the year is up for preorder.  Synapse has been meticulously restoring and remastering Dario Argento's beautiful masterpiece of horror.  It will likely be one of the best looking Blu-rays you end up owning.
The full release specs are below.  I'd suggest ordering this ASAP, as it will likely sell out!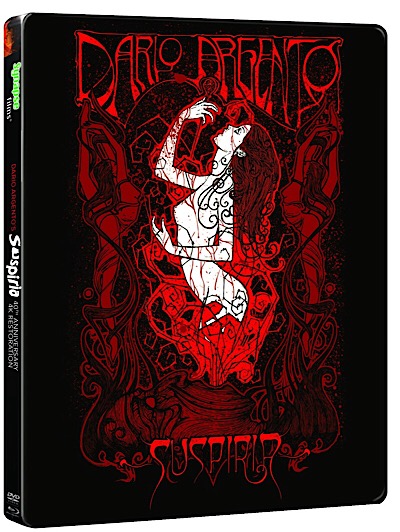 Suspiria – 40th Anniversary Synapse Exclusive 4K Remaster [Limited Edition Two-Disc Blu-ray + CD Steelbook] (Only 6000 Produced)
Director: Dario Argento
Starring: Jessica Harper, Joan Bennett, Alida Valli, Barbara Magnolfi, Udo Kier
Runtime: 98 minutes
Release Date: December 31, 2017
Language: English, Italian
Aspect Ratio: High-Definition 1080p [2.35:1] Presentation
Format: Blu-ray
Region: Region 1
Price: $49.95
Synopsis:
Dario Argento's masterpiece of horror comes to home video from Synapse Films in an exclusive new 4K restoration from the original uncut, uncensored 35mm Italian camera negative and with the original 4.0 English surround sound, for the first time EVER! Painstakingly restored over the past three years, Synapse Films has created the ultimate special edition of SUSPIRIA with the supervision and approval of the film's Director of Photography, Luciano Tovoli, and loaded with a separate Blu-ray disc of amazing extras! SUSPIRIA is presented in its original glory for its 40th Anniversary!
The set will include two Blu-rays + 1 CD. The film will be on its own Blu-ray disc, to maximize the quality for both picture and sound, with most extra features being on a separate Blu-ray. The set will be Region A locked.
Synapse Films is only accepting orders for shipping within North America. Those of you looking to purchase this item outside of North America can contact www.diabolikdvd.com.
This is an advance pre-order for the Exclusive Synapse Films Limited Steelbook of our new restoration of SUSPIRIA. This special edition is limited to a print run of only 6000 units. The info below is very early, and final extras have not been finalized. We believe this item may sell quite a bit faster than our previous Steelbook releases, so we wanted those who were interested to be able to "lock-in" their pre-order now. We DO NOT yet have a final street date, but we fully expect the Limited Steelbook to be released before the end of the year for the 40th Anniversary. Our goal is to start shipping in mid-late November, but this is subject to change. As the extras and final specs come in, we will update this website listing accordingly.
PLEASE NOTE, SO IT IS UNDERSTOOD: The price of this product is $43.95 plus a $6.00 packing/handling fee ($49.95 total). Synapse Films personally and securely wraps/packs/insures and ships each and every Steelbook® individually with additional packing necessary to keep it safe on its way to your shipping location. We even hand deliver them ourselves to the post office. Those of you who would like to save the $6.00 and pick it up direct from our office can certainly do so. Please call our office at 734-494-3502 to place your order for pick up and we'll reserve yours (PHONE ORDERS are usually taken between 11am-4pm Eastern time, most weekdays), so you can come by the office and get your copy when it's released! Again, the street date is not yet final, but we hope to have it released by mid-late November. As with all our previous Steelbook releases, pre-orders are charged at the time the order is placed.
WANT TO SEE OUR NEW 4K REMASTER IN A CINEMA? HERE IS A LINK TO THE SCREENING SCHEDULE OF OUR RESTORED VERSION IN A TRUE 4K DCP PRESENTATION WITH 4.0 SURROUND SOUND: 4K DCP SCREENING SCHEDULE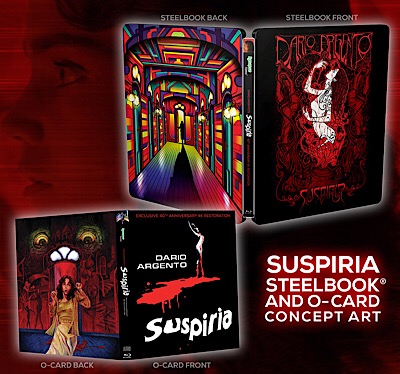 Features:
Limited edition of only 6000 units produced
Exclusive Steelbook packaging and collector's o-card sleeve, featuring artwork from Malleus, Van Orton Design, Juan José Saldarriaga & Chris MacGibbon
Three disc [Two Blu-rays + One CD] limited collector's edition (only 6000 units) containing a new 4K restoration of the original uncut, uncensored Italian 35mm camera negative exclusively done by Synapse Films, with color correction supervised and approved by SUSPIRIA Director of Photography, Luciano Tovoli
Original 4.0 1977 English language LCRS sound mix not heard since the theatrical release in 1977, presented in high-resolution DTS-HD MA 96 Khz/24-bit audio
Italian 5.1 surround sound mix
Two audio commentaries by authors and Argento scholars, Derek Botelho, David Del Valle & Troy Howarth
Do You Know Anything About Witches? – 30 minute SUSPIRIA visual essay written, edited and narrated by Michael Mackenzie
Suzy in Nazi Germany – Featurette on the German locations from SUSPIRIA
A Sigh from the Depths: 40 Years of SUSPIRIA – All-new anniversary retrospective on the making of the film and its influence on cinema
Olga's Story – Interview with star Barbara Magnolfi
Original theatrical trailers, TV spots and radio spots
Special Collector Edition Booklet containing an American Cinematographer interview with Luciano Tovoli, liner notes by Derek Botelho and restoration notes by Vincent Pereira & Don May, Jr. Cover artwork by Matthew Therrien Illustration
"International Classics" English "Breathing Letters" opening credit sequence from U.S. release version
Alternate All-English opening and closing credits sequences, playable via seamless branching
Newly translated, removable English SDH subtitles for the English language version
Newly translated, removable English subtitles for the Italian language version
Exclusive CD remaster of Goblin's SUSPIRIA motion picture soundtrack, containing additional tracks not included on the original 1977 soundtrack release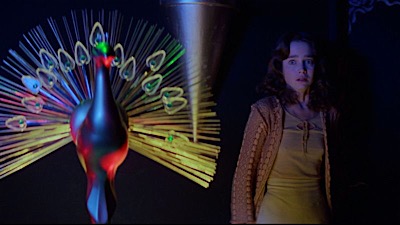 Reviews:
"Thunderstorms and extraordinarily grotesque murders pile up as Argento happily abandons plot mechanics to provide a bravura display of his technical skill. With his sharp eye for the bizarre and for vulgar over-decoration, it's always fascinating to watch; the thrills and spills are so classy and fast that the movie becomes in effect what horror movies seemed like when you were too young to get in to see them. Don't think, just panic." – Scott Meek, Time Out London
"SUSPIRIA is not just AN Italian horror movie – it is THE Italian horror movie… It is the greatest triumph of a very specific branch of filmmaking, and deserving of a reputation even more grandiose than the one it enjoys. This isn't just a good, unnatural horror movie, it is one of the great works of cinema." – Tim Brayton, Alternate Ending
"Dario Argento's SUSPIRIA is easily one of the greatest horror movies ever made. It's one of the very few horror movies I can call perfect, and I rarely ever do that… Dario Argento sneaks in such a simplistic premise under such a wonderful and masterful production that combines direction and a brilliant score for one hell of a nightmarish punch… SUSPIRIA is a masterpiece that should be viewed by movie buffs, and film students alike. It's an absolute standard of the genre." – Felix Vasquez, Cinema Crazed