Fans of silent film in general and Georges Méliès in particular should be thrilled with today's announcement from Flicker Alley.  If you are interested in the disc, don't hesitate, because you will receive a $10 discount if you order it today.
Here's the official announcement: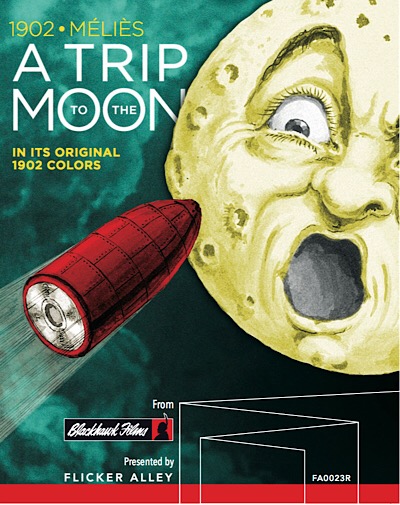 Announcing the re-release of the restored 1902 hand-colored version of Georges Méliès' masterpiece, A Trip to the Moon, now featuring new scores by composer Jeff Mills, musical group Dorian Pimpernel, and an improvised piano track by Serge Bromberg.
RELEASE DATE: MARCH 6, 2018
Pre-order your deluxe Blu-ray/DVD dual-format edition today to receive free shipping at a special pre-release sale price of $29.95!
No original hand-colored copies of A Trip to the Moon (Le Voyage dans la Lune – 1902) by Georges Méliès had been known to survive until one was miraculously found in Spain in the mid-1990s, but in a fragmentary condition thought too fragile to handle for either viewing or restoration. In 2010, three experts in worldwide film restoration – Lobster films, Groupama Gan Foundation, and Technicolor Foundation for Cinema Heritage – launched one of the most complex and ambitious film restoration projects ever to bring an original, colored version of Méliès' masterpiece back to life 110 years after its first release. Using the most advanced digital technologies available, the team reassembled and restored the fragments of the film's 13,375 frames. Flicker Alley is pleased to present this incredible restoration which features two brand new scores by Jeff Mills and Dorian Pimpernel, as well as an improvised piano score by Serge Bromberg.
The Extraordinary Voyage, also featured in this edition, is a fascinating documentary, directed by Serge Bromberg and Eric Lange. The Extraordinary Voyage chronicles the journey of A Trip to the Moon from the fantastical Méliès production in 1902, to the astonishing rediscovery of a nitrate print in color in 1993, to the premiere of the new restoration on the opening night of the Cannes Film Festival in 2011. The documentary includes interviews with contemporary filmmakers, including Costa Gavras, Michel Gondry, Michel Hazanavicius, and Jean-Pierre Jeunet on Méliès' enduring significance to cinema.
A Trip to the Moon: In Its Original 1902 Colors / The Extraordinary Voyage
Deluxe Blu-ray/DVD Dual-Format Edition
List Price: $39.95
Special Sale Price: $29.95
(You Save: 25%)
Pre-Order Within 24 Hours for Free Shipping!*
Official Release Date: March 6, 2018
Pre-orders will ship on or before March 6, 2018.
*Offer Details: Free shipping expires at 10:00 a.m. Pacific Time on January 14, 2018. U.S. orders will be shipped via Media Mail where applicable; otherwise via First-Class Mail. International orders will be shipped by First Class International. Offer does not apply to Priority Mail. Shipping costs WILL apply to any OTHER titles you add to your order.
About This Blu-ray/DVD Dual-Format Edition
Flicker Alley, Lobster Films, and Blackhawk Films® are thrilled to present this re-released publication, featuring the restored 1902 hand-colored edition of A Trip to the Moon (with brand new scores by world-renowned composer Jeff Mills, musical group Dorian Pimpernel, and Serge Bromberg), and the essential companion documentary, The Extraordinary Voyage (2011).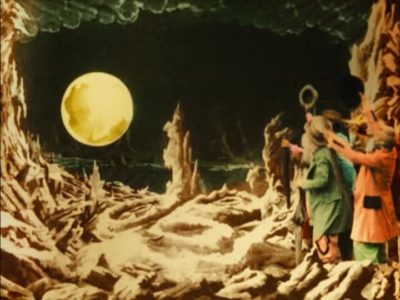 Bonus Materials Include:
A Trip to the Moon (B/W): A beautifully restored black-and-white edition from original 35mm elements with two separate audio tracks of music: An orchestral score by composer Robert Israel with the original English narration written by Georges Méliès; and a second track produced by Russell Merritt consisting of a troupe of actors voicing the various characters as performed in the U.S. in 1903, with piano accompaniment by Frederick Hodges.
Two lunar-related shorts by Méliès: The Eclipse (1904) and The Astronomer's Dream (1898).
Souvenir Booklet: Featuring an essay by Gilles Duval and Séverine Wemaeere, along with rare images, photographs, and production materials courtesy of the Cinémathèque française.