Rich industrialist Bertrand Barnier (Louis de Funès) is about to have a bad day.  First, he is awakened at an early hour by an employee, Christian Martin (Claude Rich), who both requests a 100% raise and admits to having embezzled 60 million francs from the company.  Still, Bertrand can't arrest the young upstart, because Christian knows too much about Barnier's creative accounting practices.  Then, to top it off, Christian asks for the hand of Bertrand's daughter.  After all, Christian explains, he stole the money to allow the industralist's daughter to continue to live in the style in which she is accustomed.  Only, as it turns out, the woman Christian loves (Dominique Page) isn't Bertrand's daughter at all, but rather a working class girl who lied about her parentage.  Following so far?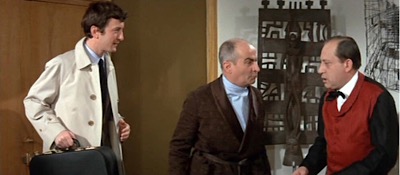 When Barnier questions his real daughter, Colette (Agathe Natanson), about Christian, she naturally knows nothing about him.  However, Colette confesses that she is in love with the family chauffeur, Oscar; and when Bertrand objects, Colette pretends to be pregnant to force the issue.  Bertrand sees the necessity of marrying off his supposedly expectant daughter, but he previously fired Oscar and the sacked chauffeur has left the country.  A replacement must be found.  Perhaps Christian or Bertrand's dim-witted masseur (Mario David) would suffice?  And all that's before three identical suitcases show up — one containing jewels, one containing millions in cash, and another containing a lady's underthings.  It's enough to cause a man to have a nervous breakdown in the most amusing ways.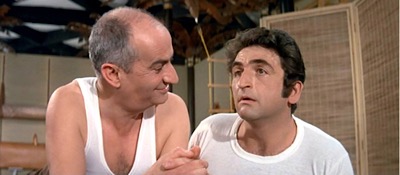 I saw an advertisement for a television airing of Oscar thirty years ago when I was traveling in France, and I was immediately intrigued.  It seemed to be a highly regarded comedy, but I had never heard of the film or its star, Louis de Funès.  After a little research, I discovered that the diminutive actor was the most popular comedian in France in the late Sixties to early Eighties, but only one of his starring films, The Mad Adventures of Rabbi Jacob (1973) ever received a U.S. release.  The comic was virtually unknown outside of Europe, and his work was almost impossible to acquire (except in the original un-subtitled French); so I waited.
As it turns out, it was worth the wait.  Oscar is a delightfully funny film, with Louis de Funès as the magnetic bundle of hyperactive energy at its center.  The film was based on a stage play by Claude Magnier, which only became popular once Louis de Funès assumed the lead role in 1959.   The comic actor had toiled for years playing supporting parts in over one-hundred films and theatrical comedies, but the stage production of Oscar made the comedian a household name.  The performance led to top-billed roles in movies built around his signature persona of a neurotic, conniving authority figure subject to violent fits of temper.  And, of course, in 1967, he reprised his star-making performance as Bertrand Barnier on film.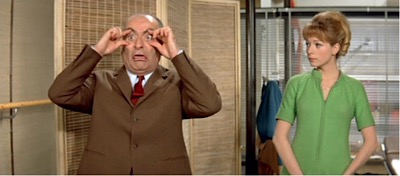 Oscar is a classic French farce featuring multiple misunderstandings, mistaken identities, exaggerated outbursts, slamming doors, and a lot of running about.  While the film is generally true to its single-set stage roots, the director opened up the action by enlarging that set to be the interior of an enormous mansion house decorated in a brightly colored, pop-modern style, which provided de Funès and the rest of the cast with lots of room to run amuck.  While, de Funès' manic comic energy is enough of a show on its own, the rest of the cast also equip themselves well.  Claude Rich is fantastic as the scheming Christian, and his scenes with de Funès have an extra sharp energy, likely due to the fact the de Funès disliked Rich in real life.  Mario David brings just the right wide-eyed simplicity to the role of the dim-bulb masseur, while Claude Gensac (de Funès' most frequent female co-star) brings a lovely bemusement to the part of Barnier's wife.  Paul Préboist also makes the most of his few scenes as the butler, who is always a step behind the rest of the crowd.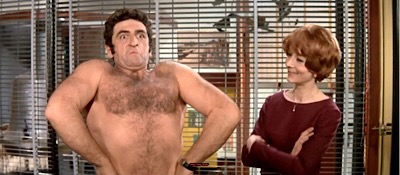 The film wastes no time getting to the action, and with a brisk 85 minute running time, it barely stops to take a breath.  And while many of the comic complications are predictable (the inevitable switching of identical bags, for example), the situations are no less funny.  That's not to say that the film holds no surprises.  The final revelation caught me completely off guard, and de Funès' quietly dazed reaction had me laughing out loud.  It is no wonder the comedian was so beloved.  I can't wait to see more of his work.
France/C-85m./Dir: Édouard Molinaro/Wr: Jean Halain, Édouard Molinaro, & Louis de Funès (based on the play by Claude Magnier)/Cast: Louis de Funès, Claude Rich, Mario David, Claude Gensac, Agathe Natanson, Dominique Page, Paul Préboist, Germaine Delbat, Sylvia Saurel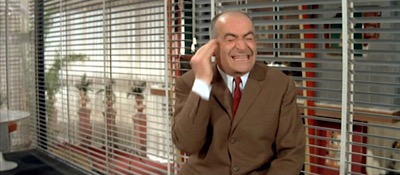 If You Like: Fans of farces, such La Cage aux Folles (1978) — also directed by Édouard Molinaro — or its American remake, The Birdcage (1996) should also enjoy Oscar.
Video: The French Blu-ray, Oscar (1967) [Blu-Ray, Reg.A/B/C]
, from Gaumont is region-free, so it will play in Blu-ray players worldwide.  English subtitles are provided for the film itself, but unfortunately there are none for the French language special features.
Streaming: Not currently available.
More to Explore: Louis de Funès appeared in more than 130 films, of which the last 30 or so are starring vehicles.  Those include two multi-film series (Le Gendarme de St. Tropez
and Fantomas
) and well-loved titles such as La grande vadrouille (1966)
, Le grand restaurant (1966)
, Hibernatus (1969)
, and Delusions of Grandeur (1971)
.  Keep in mind that not all of the video releases are region-free, and even fewer have English subtitles, so do your research before purchasing.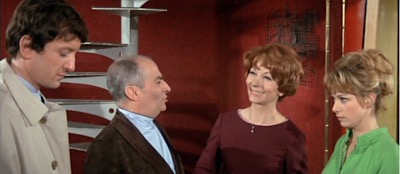 Trivia: Louis de Funès starred in four productions Oscar on stage (in 1959, 1961, 1971 and 1972).  In total, the comedian played the part of Bernard Barnier over 600 times.  Mario David also appeared in each of those stagings as the hulking masseur, Philippe.
For more info: Consult the excellent reference website filmsdefrance.com.