While Our Hospitality was Buster Keaton's third feature-length film, it can be argued that it was the first true Keaton feature.  In 1920, Buster had starred in The Saphead, but that was a work-for-hire as an actor, and he was otherwise uninvolved.  Earlier in 1923, Keaton produced and directed The Three Ages, a 63 minute satire of D.W. Griffith's Intolerance (1916).  However, The Three Ages was devised so that the three separate storylines in the film could be separated into three short subjects if the experiment in length didn't pan out.  Keaton further hedged his bets by filling The Three Ages with the type of impossible, cartoonish gags that populated his shorts.
Our Hospitality was created with a completely new mindset.  Buster realized that in order for audiences to care about his characters at a feature length, he would have to use more realistic stakes and situations.  Going forward, he would avoid cartoon slapstick (except in the case of dream sequences), and would instead build laughs organically out of character traits, comic situations, misunderstandings, misdirection, and other natural means.  It was a tremendous leap in sophistication, and Our Hospitality, if not Keaton's first feature, was his first masterpiece.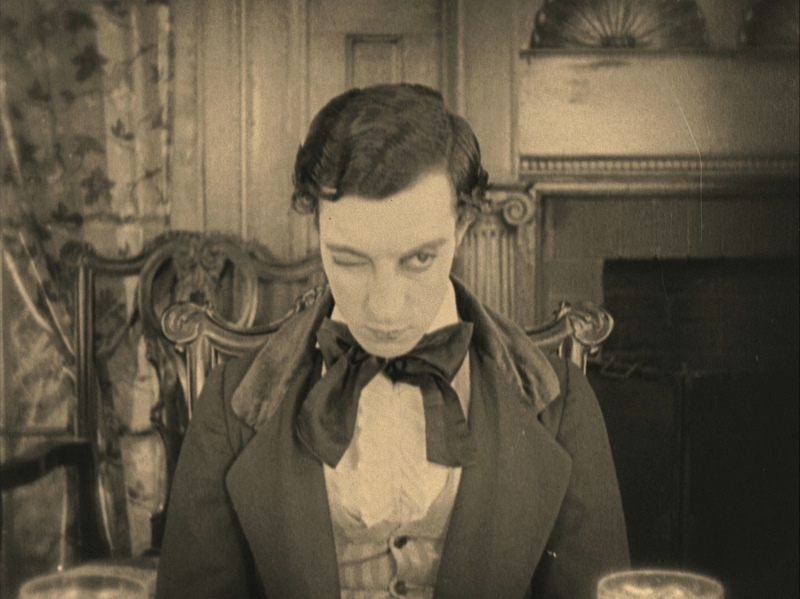 After an audacious opening prologue played completely seriously (and as effectively as other straight dramas of the time), we are introduced to Willie McKay (Keaton), a young man who must travel to his family "estate" to take possession of his inheritance.  Along the way, on the most ramshackle train in film history, he makes the acquaintance of a beautiful woman and love begins to bloom.  Unfortunately, the lovely lady turns out to be the daughter of Joseph Canfield, the patriarch of a family that has been in a blood feud with the McKays for generations.  When the smitten Miss Canfield invites Willie to dinner, it is uncertain whether the rules of Southern hospitality can protect McKay from the wrath of the Canfields.
This smart, comedic take on the famous Hatfield/McCoy feud, was the beginning of Keaton's most creative period.  Fans of silent comedy should consider it essential viewing.
USA/B&W-75m./Dir: Jack Blystone and Buster Keaton/Wr: Jean Havez, Clyde Bruckman, and Joseph Mitchell/Cast: Buster Keaton, Natalie Talmadge, Joe Roberts, Francis X. Bushman Jr., Monte Collins, Craig Ward, Joe Keaton, Kitty Bradbury, Buster Keaton Jr.
If You Like: The General (1926) or any of the work of Buster Keaton.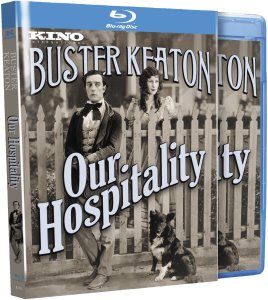 Video: Kino Lorber has released the film as the standalone Our Hospitality: ULTIMATE EDITION [Blu-ray]
or as part of the Buster Keaton Collection: 14-Disc Set [Blu-ray]
Streaming: Not currently available
More to Explore: If you crave a more faithful adaptation of family feudin', check out Kevin Reynold's TV mini-series Hatfields & McCoys
starring Kevin Costner and Bill Paxton.
Trivia: This film was a family affair for Buster.  His love interest was played by his wife at the time, Natalie Talmadge.  The high-kicking train engineer was his father, Joe Keaton.  And the baby in the prologue was Buster Keaton Jr.
For More Info: Consult Buster Keaton Remembered
by Buster's wife, Eleanor Keaton, and film historian, Jeffrey Vance.