Kino Lorber Studio Classics announced today that they will release Sergio Leone's Duck, You Sucker, a.k.a. A Fistful of Dynamite, on a Blu-ray packed with extras on March 6th.  Here's the full announcement from the Kino Lorber Studio Classics Facebook page: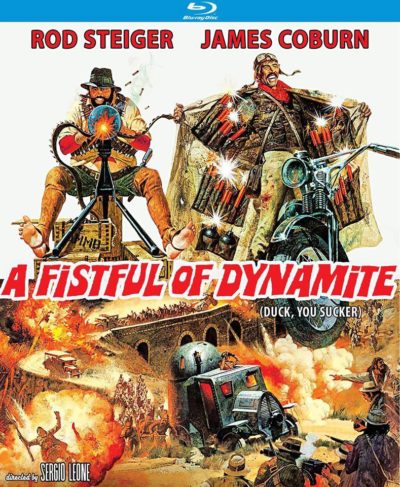 Coming March 6th on DVD and Blu-ray!
A Fistful of Dynamite (1971) aka Duck, You Sucker! – with optional English subtitles
From Sergio Leone, the acclaimed director of A Fistful of Dollars, For a Few Dollars More, The Good, the Bad and the Ugly and Once Upon a Time in the West comes his final western–a relentlessly entertaining film that teams an Irish explosives specialist with a Mexican peasant-turned-revolutionary leader with thunderously explosive results. Starring acting giants Rod Steiger (In the Heat of the Night) as Juan Miranda, a cigar-chomping, salt-of-the-earth peasant with a Robin Hood heart and James Coburn (Harry in Your Pocket) as John Mallory, a dynamite-tossing Irish revolutionary who has fled to Mexico to practice his skills. Together, they're a devilishly volatile mix of anti-establishment philosophies and violent tendencies as they attempt to liberate political prisoners, defend their compatriots against a well-equipped militia, and risk their lives on a train filled with explosives. Featuring a haunting and rousing score by iconic composer Ennio Morricone (Death Rides a Horse, Navajo Joe).
Special Features:
Audio Commentary by Filmmaker Alex Cox
Audio Commentary by Film Historian Sir Christopher Frayling
Featurette: The Myth of the Revolution
Featurette: Sergio Donati Remembers
Featurette: Once Upon a Time in Italy (The Autry Exhibition)
Featurette: Sorting Out the Versions
Featurette: Restoration Italian Style
Featurette: Location Comparisons
"Trailers From Hell" with Brian Trenchard-Smith
2 Animated Image Galleries
5 Radio Spots
Trailers for all 5 Sergio Leone Westerns
5.1 Surround & 2.0 Audio
Reversible DVD & Blu-ray Art