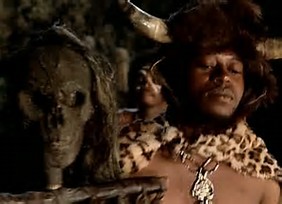 There are some movies, which are like the denizens on the "Island of Misfit Toys" — just a little bit off, a tad strange, a smidge odd, or altogether broken. Still, just because these misfits find themselves in the junk drawer of cinema history, doesn't mean that they don't deserve a little love. I am happy to give that love to these misfit movies in a new sub-section of the Bottom Shelf that we will call the "Junk Drawer."
As the inaugural entry, I will tackle the Spanish horror gem The Night of the Sorcerers, part of a Scream Factory Blu-ray Double Feature that also includes The Loreley's Grasp, both written and directed by Armando de Ossorio. Armando de Ossorio, much like George A. Romero, got his start in movies making short films and industrial documentaries. Best known for the atmospheric Blind Dead tetralogy, he is the writer/director of over 20 films, one of the more notorious of which is The Night of the Sorcerers (original title La Noches De Los Brujos). Made in 1974, which was a busy year for Ossorio, as he also released Ghost Galleon a.k.a. Blind Dead 3, and The Loreley's Grasp, The Night of the Sorcerers is a "vampire" tale with plenty of blood, boobs, and day-for-night shots — almost certainly inspired by West African Vodun (voodoo).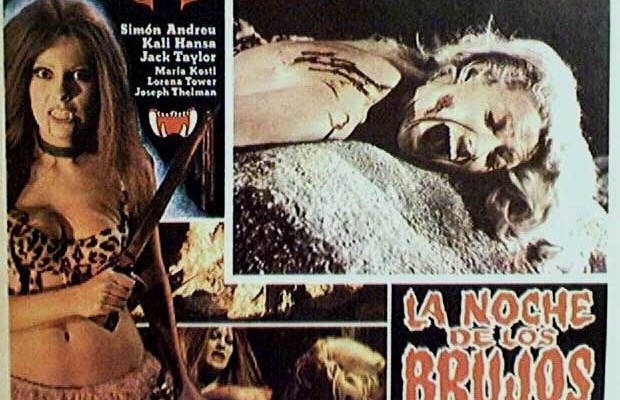 Our tale starts in 1910, where we open on a Voodoo rite already in process. As the voodoo cultists whip themselves into a frenzy, their victim is brought out tied up and tortured before they bring her to an altar and decapitate her. As this is happening a group of British soldiers arrives and proceeds to massacre the voodoo cultists. The scene ends with the decapitated head turning to the camera, now with fangs. The head screams. Cut to present day, presumably as there is no new title card, and a team of researchers led by Professor Jonathon Grant (Ossorio-regular Jack Taylor) arrive on the scene to study the local wildlife. The group meets with a local, Tomunga (Jose Thelman), who tells them that they won't find any animals in the area. Due to the voodoo tribe that lived there, all animals avoid the area like the plague. This doesn't deter the group, and Tomunga takes them to the Voodoo Cult site where he explains the ritual we saw at the beginning of the film. The Cultists choose their victim, torture, and decapitate them, which somehow turns them into a "Leopard Woman" when the moon is full. (Why no Leopard Men, I wonder?) Of course, the moon is due to be full that very night.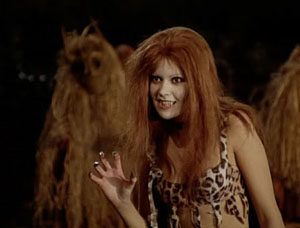 From there on, we encounter resurrected cultists, vampirism, Leopard lycanthropy, shrunken heads, sadism, voyeurism, and oodles of prurient sex and nudity; but I'll leave that for you to discover on your own. The film can't really be called good, but it is great fun throughout and never lags. Ossorio manages to infuse the silly narrative with some of the atmospheric magic that he brought to the Blind Dead series, including slow motion running, nay pouncing, by the Leopard-print bikini-wearing Leopard Women. Ossorio liked to use slow motion whenever his monsters were on screen, which was very evident in the Blind Dead series as well.
Ossorio always had grand ideas for his films but often complained that they never quite turned out like he envisioned them. This was most assuredly due to the fact that each film had a shoestring budget, and that shoestring was usually broken. Producers often tampered with his projects, and ultimately that is what made him stop making films in 1984 at the age of 66. His output might be a little cheap and a little off, but remember that even these weird films are worthy of love.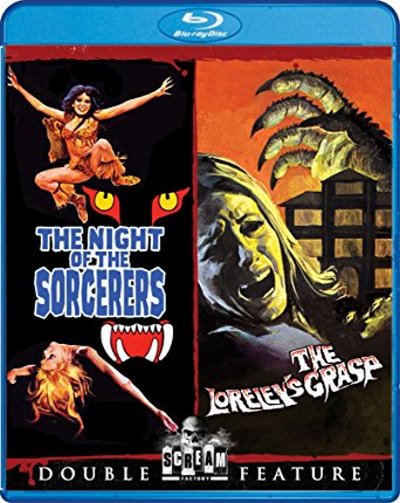 Spain/C-94m./Dir: Amando de Ossorio/Wr: Amando de Ossorio/Cast: Simón Andreu, Kali Hansa, María Kosty, Loreta Tovar, José Thelman, Bárbara Rey, Jack Taylor
If You Like: Fans of low-budget Euro-horrors, including director Ossorio's own Blind Dead tetralogy, may also like this one.
Video: The Scream Factory release The Night Of The Sorcerers / The Loreley's Grasp [Double Feature] [Blu-ray]
is a nice 1080p HD widescreen master in the original aspect ratio of 1.33:1. The original Castilian dialogue track with English subtitles and the English-Dub are both available with a DTS-HD Master Audio Mono track. I watched this with both language tracks, and the English Dub does have a slightly "crisper" sound, but I do love to watch movies in their original language track if at all possible. Special features include the theatrical trailer, both the original Spanish and English versions, as well as alternate "clothed" footage (but why watch that because… boobs).
Streaming: Not currently available
More to Explore: A review of the The Loreley's Grasp, the second film in this double feature will be coming soon.
Trivia: Toward the end of his career, writer-director Ossorio made a living painting pictures of the Knights Templar, which were his inspiration for the Blind Dead tetralogy.
For More Info: Consult Danny Shipka overview of Euro-horror, Perverse Titillation: The Exploitation Cinema of Italy, Spain and France, 1960-1980
.