Welcome back, gentle viewers, to another "Junk Drawer" review.  In our first two reviews we delved into the world of Spanish horror with the Scream Factory Double Feature which included The Night of the Sorcerers and The Loreley's Grasp. Today, we're going to tackle the 1984 sci-fi parody, The Ice Pirates, released in March of 1984 by MGM (Metro-Goldwyn-Mayer).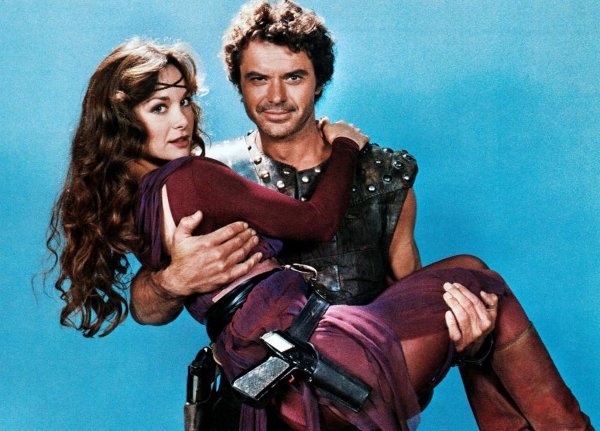 1984 was the Diamond Jubilee (60th Anniversary) year for MGM, and in addition to releasing The Ice Pirates, they also released movies such as Red Dawn, The Pope of Greenwich Village, Teachers, oh…and Breakin'.  In this Diamond Jubilee offering, galactic wars have devastated the known galaxy, and the most precious commodity is water. All water is controlled by the Templars who rule with an iron fist, an army of trained killer robots, and a very dapper fashion sense. Enter the "Ice Pirates," who raid Templar ships filled with large ice blocks, which they steal and sell to the highest bidder.  In this dystopian future, there is a myth (there's always a myth) about a 7th Planet that was lost at the center of the galaxy that has enough water for everyone.
The "Ice Pirates," a band of outlaws, led by Jason (Robert Urich) includes Roscoe (Michael D. Roberts), Maida (Angelica Houston, in one of her first roles), Killjoy (John Matuszak), and Zeno (the ever awesome Ron Perlman).  With the help of Princess Katrina (Mary Crosby, daughter of Screen Legend, Bing Crosby), they must stop the Supreme Commander of the Templars (John Carradine, in one of his final performances) before his forces find the 7th Planet and take possession of all the water in the galaxy and become all powerful!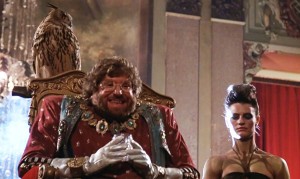 Sounds pretty cool; right?  It is, but this is NOT your Pappy's Space Opera, this is a SPACE FARCE complete with all the puerile, toilet humor you can shake a stick at.  You get robot pimps, gigantic afros, aliens on the crapper, and the dreaded SPACE HERPES!  Oh, and let's not forget Wendon, the disembodied head (played by Bruce Vilanch, who quite frankly steals the movie for me), who has an army of Amazons riding unicorns.  A healthy dose of swashbuckling rounds out this goofball film.
Directed and co-written by Stewart Raffill, The Ice Pirates, seems like a really big budget "Made for TV" movie — almost as if some episodes of Buck Rogers in the 25th Century and Mork & Mindy were mashed together.  I half expected to hear a laugh track while viewing; but for me, the low-budget cheesiness is what I love the most about this movie. The soundtrack by Bruce Broughton is especially kitschy and really gives it that good old TV feel.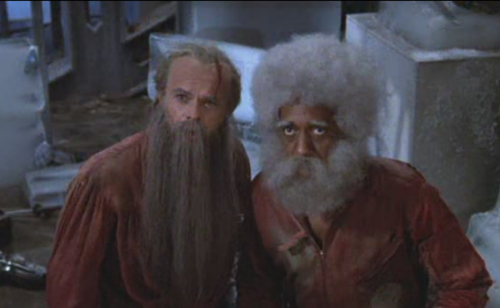 This was always one of my favorites as a kid, and it's held up for me. Seeing actors at the beginning of their careers that have since gone on to become superstars is always a treat as well. So, if you have a chance and like some finely aged cheese, check out The Ice Pirates. Just watch out for Space Herpes.  It's catching!
USA/C-94 m./Dir: Stewart Raffill/Wr: Stewart Raffill and Stanford Sherman/Cast: Robert Urich, Mary Crosby, Michael D. Roberts, Anjelica Houston, John Matuszak, Ron Perlman, John Carradine, Natalie Core, Jeremy West, and Bruce Vilanch
If You Like: If you are a fan of Flash Gordon (1936 or 1980) but didn't think it was cheesy enough, this flick will fully satisfy.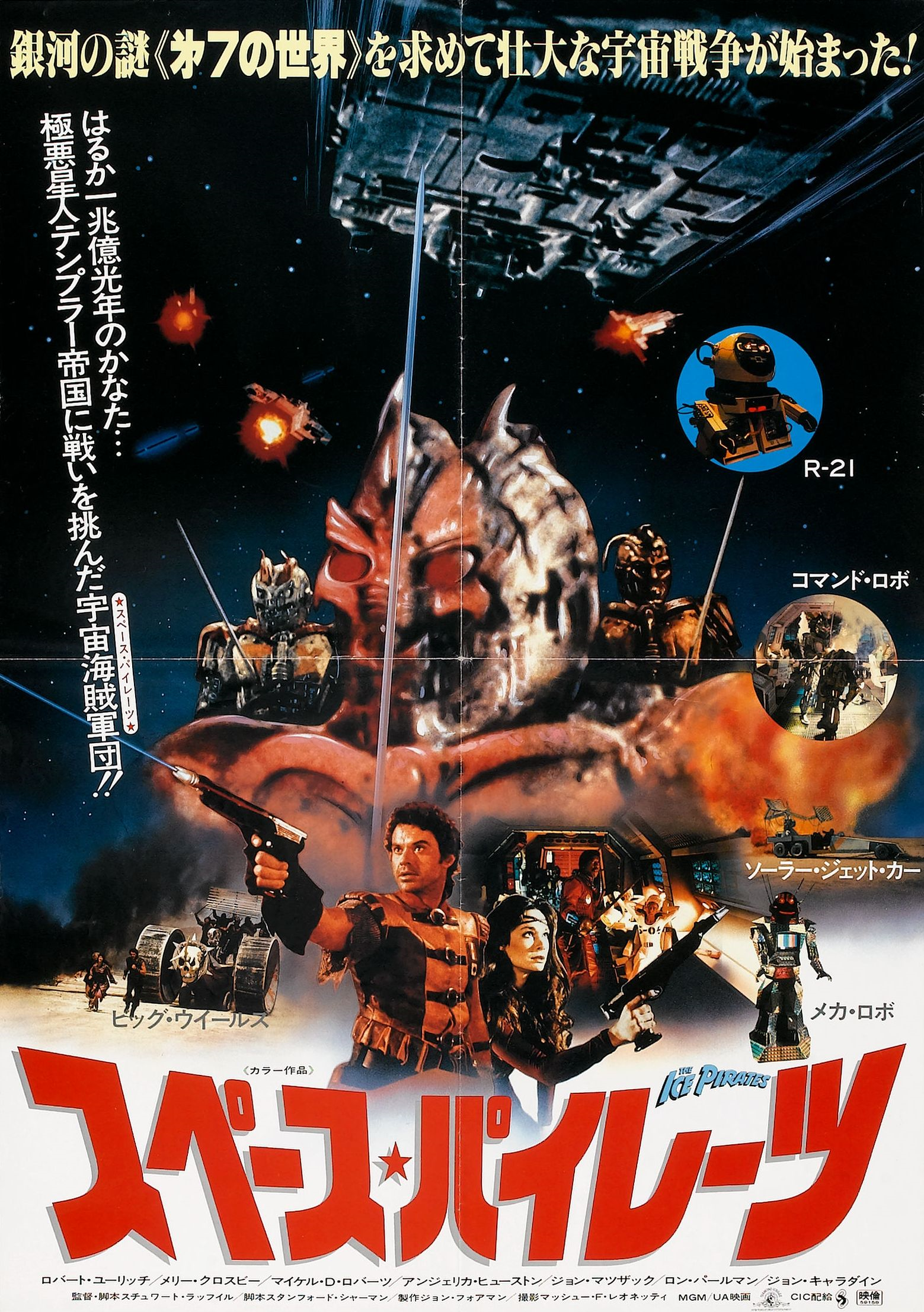 Video: The The Ice Pirates [Blu-ray]
release from the Warner Archive is fairly bare-bones. It does sport a 1080p HD widescreen master in the original aspect ratio of 1.85:1, a nice DTS-HD Master Audio, SDH subtitles, and a theatrical trailer to round out the disc.
Streaming: The Ice Pirates is currently available to stream on Amazon for $2.00.
More to Explore: For more 80's sci-fi fun, definitely check out Spacehunter: Adventures in the Forbidden Zone in 3D, Krull, and one of my personal favorites, The Last Starfighter.
Trivia: Kevin Costner turned down the role of Jason.
Movie "A-Ha" Moment: When I realized that we have the daughter of the amazing director John Huston, the daughter of Bing Crosby (one of the most celebrated actor/singers in Hollywood history), and John Carradine (the patriarch of the Carradine family) in the same movie…  and it's The Ice Pirates, I couldn't wipe the goofy grin off my face!