We previously announced the Cohen Film Collection's upcoming Blu-ray release of James Whale's The Old Dark House (1932).  Just yesterday, the Cohen Media Group revealed the cover image and special features that will be included on the Blu-ray.  I normally wouldn't post multiple announcements for a single movie, but this under-seen classic is my favorite of Universal horror film.  Just look at that beautiful cover!  I am simply giddy with excitement.
Below is the full information on the release, as well as the Amazon pre-order link (and a link to the equally fine book, Benighted, on which the film was based: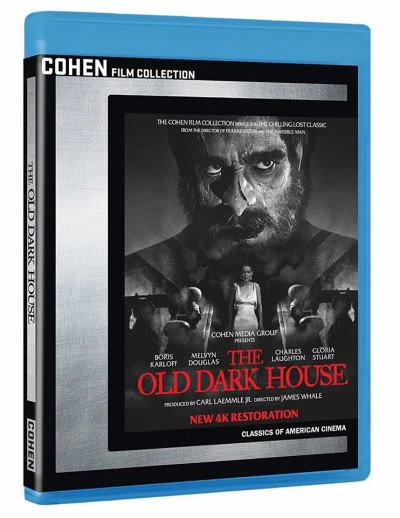 Synopsis
From the director of Frankenstein, a group of stranded travelers stumble upon a strange old house, and find themselves at the mercy of the highly eccentric, and potentially dangerous, Femm family. This well-performed, atmospheric thriller features the first starring horror role for Boris Karloff, as the hulking, disfigured butler. Based on the novel Benighted (1927) by J. B. Priestley.
Special Features and Technical Specs:
NEW 4K RESTORATION of the film
NEW video interview with Sara Karloff
Feature length audio commentary by actor Gloria Stuart
Feature length audio commentary by James Whale biographer James Curtis
Interview with director Curtis Harrington on the rediscovery of this once thought-lost film
Re-release restoration trailer