New boutique label ClassicFlix has been wasting no time.  Each month they are making surprising and very welcome announcements of Blu-ray debuts of classic titles, most of which are arriving in beautiful new restorations.  For December, they have announced two titles from Gary Cooper, plus a special edition Blu-ray of a beloved film noir from Anthony Mann.
Here are the details from their website:
Along Came Jones (1945) and Casanova Brown (1944), both starring Gary Cooper are coming to Blu-ray and DVD this December 5th from ClassicFlix.  This marks the first time both films will premiere on Blu-Ray. English subtitles are included.
Anthony Mann's Raw Deal (1948) comes to Blu-ray in a Special Edition this December 12th from ClassicFlix. This highly celebrated film noir re-teams director Mann with his T-Men collaborator cinematographer John Alton and stars Dennis O'Keefe, Claire Trevor and Marsha Hunt (WHO TURNS 100 TODAY!). Having undergone a major restoration, this Special Edition will also be loaded with bonus features, including a 24-page booklet (info below).
CASANOVA BROWN (1944)
SYNOPSIS: It's spring in Rossmore, Illinois, and Professor Casanova Q. Brown returns to his hometown anxious to tie the knot with his sweetheart Madge Ferris. But Cass is in a "strange situation" and seems much more nervous than a first-time groom ought to be.
Then, on the eve of their wedding, Cass receives a letter from a nearby maternity hospital he first suspects is an advertisement, but upon investigation, proves to be much more.
Gary Cooper brings the comic sensibilities he displayed in such films as Mr. Deeds Goes to Town and Ball of Fire toCasanova Brown, a wacky romantic comedy that reunites him with his The Pride of the Yankees leading lady, Teresa Wright. It's old home week for Teresa as well; Patricia Collinge, who played her mother in Shadow of a Doubt, repeats that function here along with a splendid supporting cast that includes a scene-stealing Frank Morgan (as Coop's would-be father-in-law), Anita Louise, Edmund Breon, Mary Treen and Emory Parnell.
Directed by Sam Wood (who made four films with star Cooper, including Yankees and For Whom the Bell Tolls), Casanova Brown boasts a hilarious script co-authored by Nunnally Johnson and by none other than character actor Thomas Mitchell!  It's truly an old-fashioned kind of comedy—irresistible fun that will make you laugh and cry.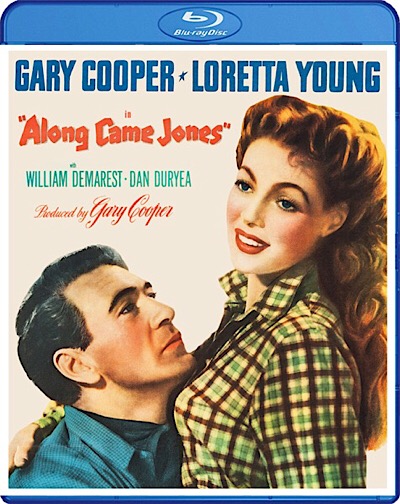 ALONG CAME JONES (1945)
SYNOPSIS: "Bronc stomper" Melody Jones rides into the sleepy little hamlet of Paynesville, with his saddle pal George, where the good townsfolk have mistaken Melody for another man with the initials "M.J." The gentleman in question is "Monte Jarrad," a bad hombre with a $1,000 price on his head for a recent stagecoach robbery. Unaware of the peril brought about by their presumed identities, Melody and George get a little help from Cherry De Longpre who's eager to get them out of town ahead of an anxious posse.
Cherry's motives aren't entirely pure, however, as she hopes her scheme will ensure the successful escape of her wounded boyfriend — none other than the Monte Jarrad himself. But Melody becomes wise to Cherry's plotting and uses the situation to his advantage by trying to capture Jarrad, gain the reward and fame, all the while trying to escape the long arm of the law.
An actor who always rode tall in the saddle, Gary Cooper spoofs his laconic cowpoke image in Along Came Jones, playing an unconventional cowboy who can't even shoot straight! Loretta Young co-stars as Cherry, with William Demarest as Coop's loyal sidekick and Dan Duryea as the villainous Jarrad.
Based on the 1943 novel The Useless Cowboy by Alan Le May, Jones has great fun with the conventional movie Western, bolstered by an amusing script courtesy of Nunnally Johnson (who wrote Cooper's previous Casanova Brown). Directed by Stuart Heisler (The Glass Key), this sprightly comedy-western was the only time the Oscar® winning Cooper added "producer" to his lengthy list of classic movie credits.
RAW DEAL (1948)
SYNOPSIS: All Joe Sullivan wants is "a breath of fresh air." But when you're serving time in stir for robbery, fresh air is a rare commodity. That's about to change though as mob boss Rick Coyle has greased the skids inside the prison walls, so Joe can make it outside where girlfriend Pat will be waiting.
But things don't exactly go as planned for the duo as car trouble during their getaway forces them to get help from the only person nearby — strait-laced legal assistant Ann Martin, whom they kidnap and use to evade capture. Things aren't going as planned for Rick either who set up the escape fulling expecting the fugitive to get "cut down" so he could keep the $50,000 he owes Joe for taking the rap for him.
Now past the dragnet, the trio each find themselves increasingly conflicted in their loyalties and core beliefs as Joe is torn between the two women, who both care for him, while Pat and Ann each make decisions that prove they're not as bad, or as good, as they're supposed to be.
Raw Deal presents the moviemaking team of director Anthony Mann and cinematographer John Alton at the peak of their success (fresh off their box office smash T-Men), offering dark, moody atmosphere filled with fog-shrouded landscapes and characters who are no strangers to the "left-handed endeavor" of crime. Scenarist John C. Higgins (He Walked by Night) and co-writer Leopold Atlas offer a taut, suspenseful tale of one man's desperate bid for freedom and the two women who love him.
Dennis O'Keefe, star of the earlier T-Men, contributes a first-rate performance as the determined Joe, with Marsha Hunt (Pride and Prejudice) as Ann and Oscar® winning actress Claire Trevor (Key Largo) as the fiercely loyal Pat. Raw Deal also features a suitably slimy Raymond Burr as Rick, John Ireland as Burr's sadistic henchman Fantail, and noir standbys Regis Toomey and Whit Bissell. Raw Deal is film noir at its finest!
BONUS FEATURES (Blu-ray Only):
Feature length audio commentary by author and film historian Jeremy Arnold
Deadly is the Male: The Making of Raw Deal – A Featurette with writer and film historian Julie Kirgo, film historian & director Courtney Joyner and biographer & producer Alan K. Rode
Dennis O'Keefe: An Extraordinary Ordinary Guy – A featurette with Jim O'Keefe (son of Dennis O'Keefe) and biographer & producer Alan K. Rode & film historian & director Courtney Joyner
An image gallery with rare stills, posters and other promotional material
PLUS: A 24 page booklet with an essay by author Max Alvarez (The Crime Films of Anthony Mann) featuring stills, posters and other production material
The mono soundtrack has been restored is uncompressed on this release