In 1978, the controversial British punk band The Sex Pistols scheduled a seven-city tour of the U.S.; and Tom Forcade, the founder of cannabis culture mag High Times, decided to invest in making a concert film/documentary about his favorite band.  He hired unknown London director Lech Kowalski to document the tour; but beyond Forcade and Kowalski, no one was much interested in having the concert film see the light of day.  Warner Brothers, the band's label, tried to ban Kowalski and his the 16mm cameras from entering the scheduled concerts, the rest of the High Times editorial staff tried to cut off funding for the film (which seemed out of step with their hippie audience), and various politicians and "moral activists" derided the the film while using punk rock as a scapegoat for thornier social ills.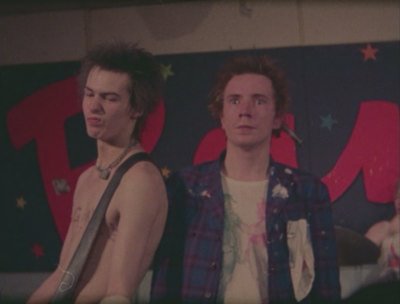 By the time the movie, D.O.A.: A Right of Passage, was ready for release, The Sex Pistols had disbanded, and their bassist, Sid Vicious, and his girlfriend, Nancy Spungen, were both dead.  At that point, it was determined that the film should morph from a Sex Pistols concert film into an overview of the early years of punk rock as a whole.  Kowalski and his cameras were dispatched to England to capture performances of other punk acts, while also interviewing fans, band members, and detractors.  The new footage included performances by Generation X (with a baby-faced Billy Idol), The Dead Boys, The Rich Kids (featuring ousted Sex Pistol Glen Matlock), X-Ray Spex, Sham 69, and Terry and the Idiots.  Tunes by The Clash and Iggy Pop were also added as background to some of the footage.  The final result was a mishmash of a film, but one that contains precious documentation of a bygone era and sound.
While Kowalski's film lost a heap of money during its original release, and manic-depressive producer Tom Forcade committed suicide even before the movie even hit theaters, time has been kind to D.O.A.: A Right of Passage.  The Sex Pistols, while short-lived, turned out to be no flash in the pan.  Their only studio album, Never Mind the Bollocks is still a steady seller on vinyl, CD, and MP3, and the outfit turned out to be incredibly influential, due in large part to the unique vocal styling and mesmerizing stage presence of lead singer Johnny Lydon.  It also must be said that for all the talk of The Sex Pistols being crap musicians, they turned out a handful of unforgettable songs that have undeniable earworm appeal.  Without Kowalski's film, there would be no record of the band's American tour, which turned out to be the final live appearances of a legendary act.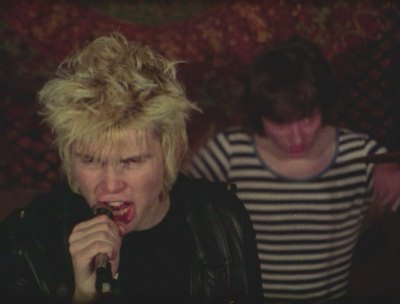 The movie also does a wonderful job of documenting the punk lifestyle and the overreaction to the movement and its music by the older generation.  Kowalski posits the notion that punk rock was simply a rawer version of rock 'n' roll (no more subversive than early Elvis recordings), which was a response to both economic disparity in England and to the overproduced records that dominated radio airplay at the time.  As someone who has a minimal knowledge of punk rock beyond The Sex Pistols (who I've always loved), I found the film to be a wealth of great live performance footage.  I especially loved the the almost melodic "Kiss Me Deadly" by the Billy Idol-led Generation X (a song that I will be adding to my iPod).
Of course, documentaries are not concert films, so often the performance footage is cut short in D.O.A. before a song reaches its conclusion.  While it would have been nice to see more complete performances, much of the interview footage is almost as fascinating as the music.  In fact, if D.O.A. has a claim to fame, it is due to the unintentionally haunting interview footage with an obviously strung out Sid Vicious and girlfriend Nancy Spungen in bed, which was filmed shortly before their deaths.
My only true complaint about the film is that director Kowalski spends a bit too much time interviewing the pretentious and preternaturally untalented Terry Sylvester of the justifiably forgotten "band" Terry and the Idiots.  Thankfully, the director has the good taste to only include a snippet of the band's caterwauling.  However, there is so much of interest in Kowalski's documentary that one can easily forgive this single misstep.  For fans of punk rock or of music documentaries in general, D.O.A.: A Right of Passage is a time-capsule ripe for rediscovery.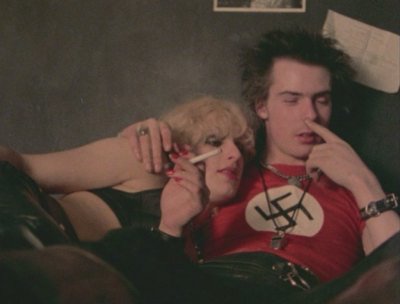 USA/C-95m./Dir: Lech Kowalski/Wr: Lech Kowalski, Chris Salewicz/Cast: The Sex Pistols, The Dead Boys, Generation X (with Billy Idol), The Rich Kids, X-Ray Spex, Sham 69, Terry and the Idiots
If You Like: Fans of Alex Cox's biopic Sid & Nancy (1986)
may be interested in seeing footage of the real couple that inspired Cox's film.
Video:  MVD is launching their new boutique video label, the MVD Rewind Collection, celebrating "cult classics and more from the video store" with the D.O.A.: A Right of Passage [Blu-ray + DVD]
.  The company couldn't have picked a better title to promote as numbered edition #1, as this little-known puck rock artifact is exactly the kind of treasure that one might find tucked away on the bottom shelf of a more eclectic brick and mortar video store in the 1980s.
The film is presented on both a high definition Blu-ray (1080p) and a Standard Definition DVD in its original 1.33:1 (4×3) aspect ratio.  Trying to measure the picture quality by regular Blu-ray standards is useless.  The film was lensed on low-budget 16mm stock, and scratches, hairs, and specs were printed in the original master to add to the grungy, gritty look, which was altogether appropriate for the subject matter.  D.O.A.: A Right of Passage doesn't look good, but it was never meant to.  That said, the original 2.0 mono audio (uncompressed PCM on the Blu-ray) sounds fantastic, even at high levels.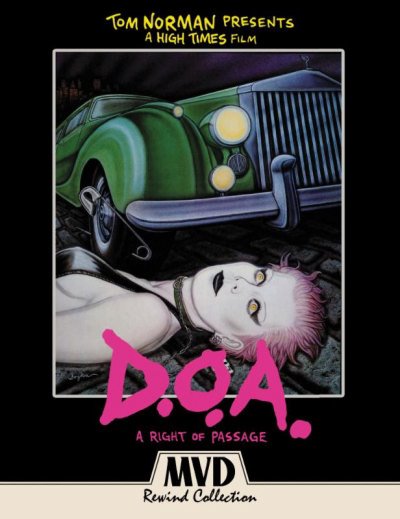 As is promised with the future MVD Rewind Collection titles, this release is packed with extras, including a documentary that is longer than Lech Kowalski's film itself.:
"Dead On Arrival: The Punk Documentary That Almost Never Was" – A feature length documentary about the making of D.O.A. A Rite of Passage produced by award-winning filmmaker (and former MTV Senior Producer) Richard Schenkman and featuring exclusive new interviews with PUNK magazine founder and Ramones cover-artist John Holmstrom, renowned music journalist Chris Salewicz, legendary photographer Roberta Bayley, Sex Pistols' historian Mick O'Shea, former Rich Kid guitarist and Ultravox lead singer Midge Ure, and original D.O.A. crew members David King, Mary Killen, Rufus Standefer, plus never-before-seen interview footage of Pistols founder, Malcolm McLaren. (HD)
12 page booklet with liner notes written by John Holmstrom, founding editor of PUNK Magazine
Reversible artwork
Rare Sex Pistols Photo Gallery
2-Sided Poster included
Original Theatrical Trailer (3:48, SD)
Streaming: D.O.A.: A Right Of Passage
is available for purchase or rental in digital form through Amazon Prime.
More to Explore: If you are interested in checking out more footage of The Sex Pistols in action, Julien Temple directed two films featuring the band — The Great Rock 'n' Roll Swindle (1980)
, a semi-fictionalized piece of self promotion, concocted by the band's manager Malcolm McLaren, and The Filth and the Fury - A Sex Pistols Film
, a more traditional documentary.
Trivia: D.O.A.'s poster is featured prominently in one scene of the John Belushi/Dan Aykroyd comedy Neighbors (1981).
For More Info: The Sex Pistols' U.S. tour was also documented in the book, 12 Days on the Road: The Sex Pistols and America
by Noel E. Monk and Jimmy Guterma.