Greetings, physical media fans,
It took me a long time to jump on the 4K UHD bandwagon.  Admittedly, until recently, I didn't own a 4K TV, but lack of hardware has never stopped me in the past.  I collected CDs prior to owning a CD player, DVDs prior to owning a DVD player, and Blu-rays prior to owning a Blu-ray player.
So why did I shy away from 4K UHD until recently?  Quite simply, the selection of titles was pretty poor.  Apart from a handful of excellent recent releases, such as Mad Max: Fury Road (2015) and Logan (2017), there was very little offered in 4K with which I was interested.  My biggest issue was the almost complete lack of catalog titles.  My opinion was that once titles such as Once Upon a Time in the West (1968) and It's a Mad, Mad, Mad, Mad World (1963) began to transition to UHD, I would as well.  Until then, it really wasn't made for me.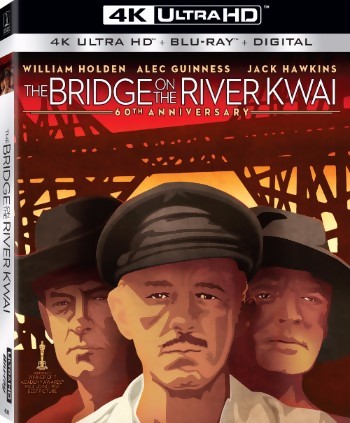 Well, Sony Pictures Home Entertainment is starting the trickle of classic catalog titles with the announcement that they will release director David Lean's epic film The Bridge on the River Kwai (1957) on 4K UHD on October 3rd.  Rumor has it that Lawrence of Arabia (1962) and other classic titles are also being prepped for the format.  And with that, I'm officially on the bandwagon.
Here's what we know about the October 3rd 4K UHD release of The Bridge on the River Kwai:
Fully restored in 4K resolution and presented with High Dynamic Range (HDR) and Dolby Atmos audio, The Bridge on the River Kwai won seven Academy Awards, including Best Picture, Best Director (David Lean) and Best Actor (Alec Guinness).
In 1997, The Bridge on the River Kwai was deemed "culturally, historically, or aesthetically significant" and selected for the National Film Registry by the United States Library of Congress. The American Film Institute included it among the best American films ever and in 1999, the British Film Institute voted it the 11th greatest British film of the 20th Century.
Special Features
Crossing the Bridge: Picture-in-Picture Graphics Track
Making of The Bridge on the River Kwai
The Steve Allen Show with William Holden & Alec Guinness
The Bridge on the River Kwai Premiere Narrated by William Holden
"Rise and Fall of a Jungle Giant" Featurette
USC Short Film Introduced by William Holden
An Appreciation by Filmmaker John Milius
Photo Gallery
Theatrical Trailers
Cheers,
garv
P.S. — Not a fan of the cover.