For the release week of December 5th: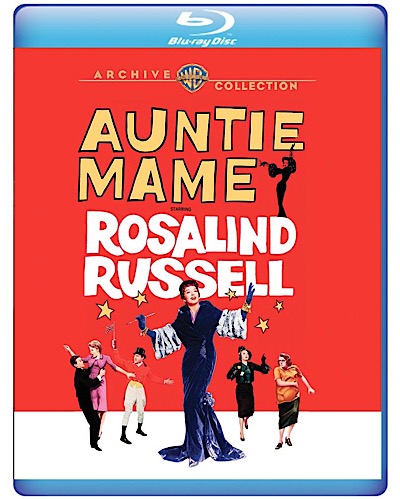 Garv's Pick of the Week: Auntie Mame (1958) [Blu-ray / Warner Archive]
: Life is a banquet, and most poor suckers are starving to death; but that can't be said for Mame Dennis, played to perfection by Rosalind Russell.  I'm looking forward to revisiting this colorful comedy in this new Blu-ray edition from the Warner Archive Collection.
By the way, if you like the movie, I highly recommend the original books by Patrick Dennis, Auntie Mame: An Irreverent Escapade
and Around the World With Auntie Mame
. They are even wittier and more subversive than the film.
Additional Titles of Interest —
Maigret Sets a Trap [Blu-ray / Kino Lorber]
: Speaking of literary adaptations, two beautiful black & white films based on Georges Simenon's popular mystery novels, starring Jean Gabin as Inspector Maigret, get very welcome Blu-ray debuts from Kino Lorber.  You can find my full review of the first film here.
Maigret & St Fiacre Case [Blu-ray / Kino Lorber]
: I also reviewed the follow-up film here.  Both movies are highly recommended for mystery lovers.
New Leaf [Blu-ray / Olive Signature]
: Elaine May's dark comedy, starring both May and Walter Matthau, gets a new 4K scan and a bounty of extras in this Signature Edition from Olive Films.
Letter From an Unknown Woman [Blu-ray / Olive Signature]
: Olive is also releasing a Signature Edition of Letter From an Unknown Woman (1948).  I've never seen the film, but it is directed by Max Ophüls (The Earrings of Madame de…, Lola Montès), so it is probably a pretty safe blind buy.
By the way, I haven't forgotten about The Amicus Collection [Blu-ray / Severin Films]
, which was scheduled to be released today. The box set has been pushed back to December 19th, so I'll mention it again in a couple of weeks.