It is estimated that 75% of silent film is lost forever — the victim of time, neglect, decomposition, and the occasional studio vault fire.  Consequently, when Ben Model released 10 silent shorts by forgotten comedian Marcel Perez through his Undercrank Productions label as The Marcel Perez Collection
, he thought that a Volume 2 was impossible.  There simply were not enough existing Marcel Perez films to fill out another DVD.
Happily, in the past couple of years, additional Marcel Perez footage has been discovered and restored.  As a result, Undercrank Productions annouced today that they will release The Marcel Perez Collection: Vol. 2
on DVD on February 27th.
Here is the full press release from Undercrank Productions: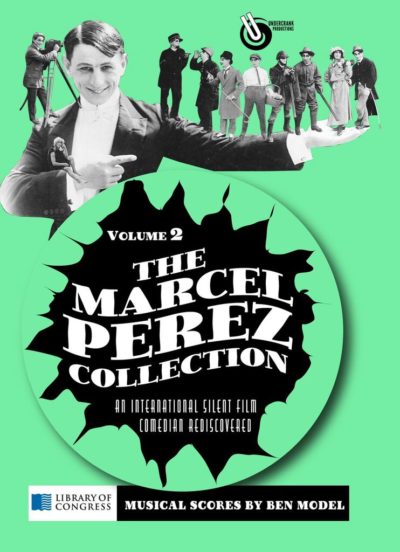 SILENT ERA COMEDIAN MARCEL PEREZ, NO LONGER FORGOTTEN, SHINES IN EIGHT NEWLY FOUND AND RESTORED COMEDY SHORTS ON SECOND DVD VOLUME
Undercrank Productions Teams with Library of Congress And The Museum of Modern Art to Bring Rare Silent Comedy Gems To Fans, Digitally Restored and with New Musical Scores
NEW YORK, N.Y. (WEDNESDAY February 7, 2018) – Undercrank Productions (www.undercrankproductions.com) announced today that THE MARCEL PEREZ COLLECTION: VOL. 2 will be released on DVD February 27, 2018. The eight slapstick shorts in this collection star the largely forgotten silent-era comedian Marcel Perez. The award-winning first volume, released by Undercrank in 2015, has earned Perez a new fan base among classic film buffs and silent comedy aficionados.
Following a 15-year career in movies in Europe, Marcel Perez came to the US in 1915 where he made another 60 comedy shorts as the character Tweedledum or "Tweedy" or "Twede-Dan" for a number of independent studios in Florida, New York and New Jersey. Perez is the only silent screen comedian besides Max Linder to have had this kind of long-reaching career on both continents. Perez's charming and acrobatic screen persona, as well as his inventive directorial flair, make his short comedies stand out from those made by most of the better-known "second-tier" slapstick comics. Sadly, only a fraction of Perez' output, which spanned 1900-1928, survives. In the three years since the release of the first DVD, however, eight more films have either surfaced or become available for this home video release.
"It's exciting to see all the new films of Marcel Perez that have recently turned up," says Steve Massa, author of Slapstick Divas: The Women of Silent Comedy and Lame Brains and Lunatics: The Good, The Bad and the Forgotten of Silent Comedy. "The first Marcel Perez Collection DVD and its companion book Marcel Perez: The International Mirth-Maker seem to have helped to put a face on this once over-looked clown and bring new attention to his role as an early screen comedy creator and innovator. This new focus on Perez's career has helped to locate films long thought to be lost and has made it possible to round up more of his comedies."
"What continues to impress me in seeing more of Marcel Perez and his films," said DVD Producer Ben Model, "is how inventive the humor, storytelling and filmmaking is considering they're from 1916-1922. He's doing stunt work and surreal gags before Keaton or Larry Semon did, and one of the shorts – A Scrambled Honeymoon (1916) – opens with a gag sequence that is nearly directly copied in a Chaplin short made the following year. It's been a thrill working with the Library of Congress and MoMA on the disc, as well as being supported by fan crowdfunding, t o be able to restore Perez' reputation and renown. Hopefully it won't take another three years for more of his films to turn up, and I'll bet there's more of them out there."
The films on the The Marcel Perez Collection: Volume 2 were preserved by or were sourced from the Library of Congress and the Museum of Modern Art. The rare archival 35mm copies are presented in new 2K digital scans, with new musical scores by noted silent film accompanist Ben Model.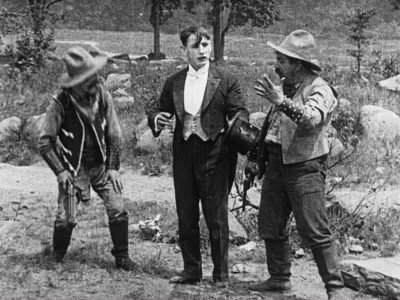 THE MARCEL PEREZ COLLECTION: VOLUME 2
The Films: The Near-Sighted Cyclist (1907), Some Hero (1916), Lend Me Your Wife (1916), A Scrambled Honeymoon (1916), Oh! What a Day (1918), Chickens in Turkey (1919), Wild (1921), Pinched (1921), and a fragment of Friday the 13th (1923).
Directors: Marcel Perez, William Seiter
Starring Marcel Perez, with Nilde Barrachi, Dorothy Earle, Tom Murray, Louise Carver, Pierre Collosse, William Slade
Genre: Comedy
DVD Street Date: February 27, 2018
DVD SRP: $19.95
97 mins – B&W – stereo – NTSC – not rated – region-free
new musical scores composed and performed by Ben Model
DVD curated by Steve Massa and Ben Model
produced for video by Ben Model
released by Undercrank Productions