This September, Kino Lorber will release new 2K restorations of four classic films by Italian writer-director Lina Wertmüller on Blu-ray and DVD.  The titles are Swept Away (1974), Seven Beauties (1975), Summer Night (1986), and Ferdinando and Carolina (1999). 
This is in addition to the three Lina Wertmüller titles, The Seduction of Mimi (1972), Love and Anarchy (1973), and All Screwed Up (1974), that they previously released as the Kino Classics Lina Wertmuller Collection (3-Disc Set) [Blu-ray]
.
The only Wertmüller film that I have seen up until now is Seven Beauties, but that film was stylish, dark, funny, and bizarre. It is one of my absolute favorite films of the 1970's. As a result, I am eager to dive deeper into Ms. Wertmüller's filmography. Thanks, Kino!
Here are the specs from the Kino Lorber Facebook page:
Coming to DVD and Blu-ray! Four Lina Wertmüller classics!
"The most important director since Ingmar Bergman." – New York Magazine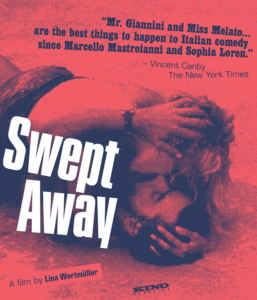 SWEPT AWAY (1974)
Release Date: September 12th
Synopsis: Set against the backdrop of the beautiful Mediterranean, Swept Away is Lina Wertmuller's most famous and controversial film about sex, love and politics. On an elegant yacht cruising off the coast of Sardinia, Raffaella (Mariangela Melato), a rich and stunning capitalist, enjoys tormenting Gennarino (Giancarlo Giannini), a Communist sailor. Fate weaves a different scenario and roles become reversed when the two find themselves stranded together on a deserted island. Raffaella must submit to Gennarino in order to survive, which culminates in a dramatic climax when they are rescued. They must determine if their love can survive the harsh realities of civilization.
Bonus Features:
*Audio Commentary by Valerio Ruiz, director of BEHIND THE WHITE GLASSES
*Booklet essays by director Allison Anders and film historian Grace Russo Bullaro
*Excerpt from documentary BEHIND THE WHITE GLASSES
*Interview with director Amy Heckerling
*Trailers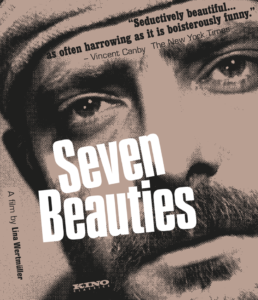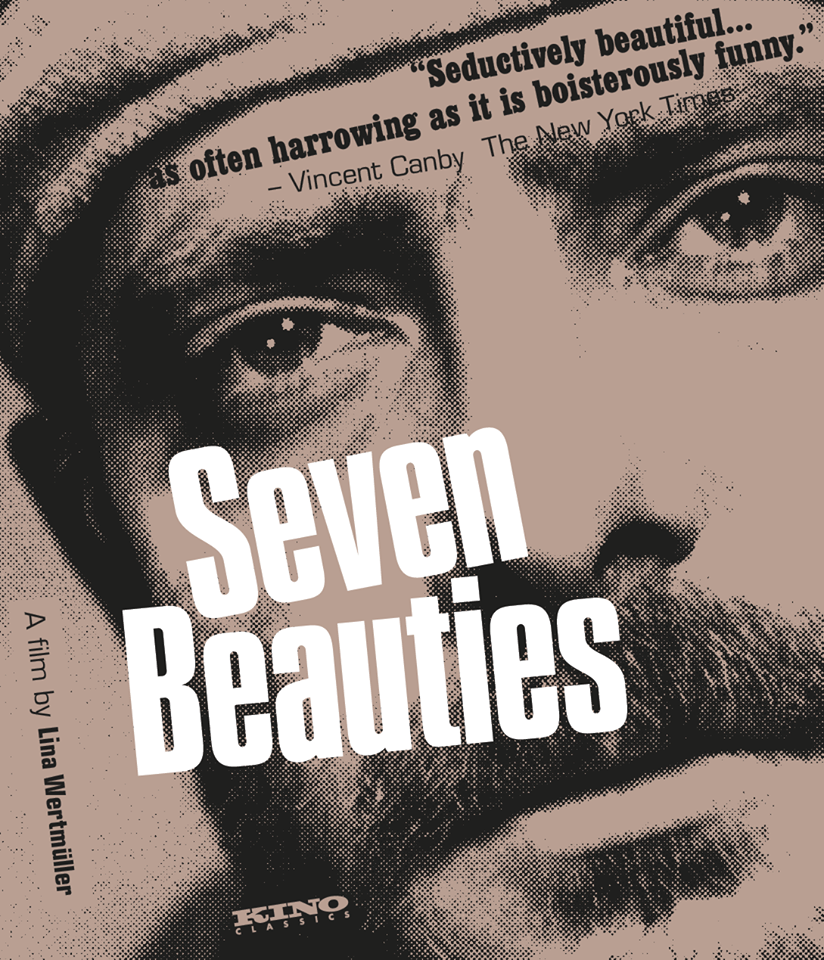 SEVEN BEAUTIES (1975)
Release Date: September 12th
Synopsis: Nominated for four Academy Awards® including Best Director, Seven Beauties stars Giancarlo Giannini (Swept Away) as Pasqualino Frafuso, known in Naples as "Pasqualino Seven Beauties." A petty thief who lives off of the profits of his seven sisters while claiming to protect their honor at any cost, Pasqualino is arrested for murder and later sent to fight in the army after committing sexual assault. The Germans capture him and he gets sent to a concentration camp where he plots to make his escape by seducing a German officer.
Bonus Features:
*Booklet Essays by director Allison Anders and film historian Clauda Consolati, Ph.D
*Excerpt from documentary BEHIND THE WHITE GLASSES
*Interview with director Amy Heckerling
*Trailers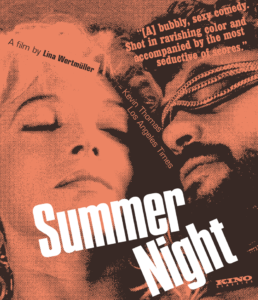 SUMMER NIGHT (1986)
Release Date: September 19th
Synopsis: Mariangela Melato (Swept Away) stars as Signora Bolk, a self-made tycoon interested in ecological preservation. She is fed up with the terrorists who poach Italy's rich beauty, and as part of a crazy retaliation scheme she hires a former CIA agent to abduct the number one violator, Giuseppe 'Beppe' Catania. Catania is taken to her villa on a private island where he insists that as a man, he cannot go without sex. She relents and hires two prostitutes to pleasure him. Blindfolded and chained, Beppe realizes that the third woman is none other than the woman who kidnapped him and agrees to pay the $100 million but only with a twist.
Bonus Features:
*Booklet essay by film critic Simon Abrams
*Trailers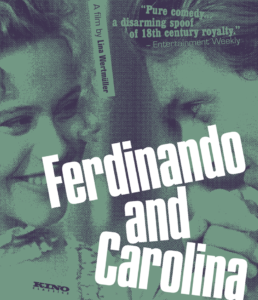 FERDINANDO AND CAROLINA (1999)
Release Date: September 19th
Synopsis: In the dazzling court of 18th century Naples, against their wishes, young King Ferdinando will wed Carolina, the sweet 16 year-old daughter of Empress Maria Theresa of Austria. As the monarchies of Europe hold their breath, something unexpected happens. King Ferdinando and Carolina share one common interest–a rollicking, orgiastic celebration of the senses, and plunge with gusto into the silken bed sheets to uphold their regal duties. As the court continues on with magnificent splendor, the sovereigns continue to reign, oblivious to the revolutionary tides that are on the verge of tearing France apart and overtaking all of Europe.
Bonus Features:
*Booklet essay by film critic Simon Abrams
*Trailers